Outdoor 4K 8MP Night Color AI Bullet IP PoE Camera with 5X Optical Zoom
▶  Superb Clarity & Color Night Vision: 8MP@20fps for Ultrahd images; color night vision ensures vivid colors in low light too.
▶  Wide-Angle Zoom, No Blind Spots: 135° wide angle view, 5x optical zoom; adjust angles for comprehensive coverage.
▶  Smart Detection, Mobile Alerts: Deep learning AI distinguishes humans and vehicles, enabling quick and accurate alerts.
▶  2-Way Audio: Built-in microphone for real-time audio interaction and recording.
▶  Mobile App Access: Stay connected via the app, receive instant motion alerts, and monitor remotely.
▶  Wide Compatibility: Plug & Play with Hikvision; ONVIF support for NVR integration, such as Dahua, and work with Blur Iris and iSpy.
▶  Remote Control: Support Remote Control by Web Browser IE,Firefox,Safari and Chrome
▶  Effortless PoE Installation: Single cable for power and data; Simplified setup, reduced costs.
▶  Weatherproof Reliability: IP67-rated, withstands tough weather conditions for continuous video recording.
Availability: 99 in stock
All these resources and support services are subject to updates, so check back regularly for the latest releases and information.
---
Firmware
Download it to update and enhance the ip camera's surveillance performance.
User Instruction
Detailed steps to ensure users install and configure the camera correctly.
Quick Start Guide
Provides simple steps to help users quickly install and configure the camera.


8MP Ultra HD resolution
Outputs max. 8MP , real monitoring scene, ultimate clarity images quality, good low illumination effect, providing the smoother video, and bring you higher definition and more details, which is 4 times the resolution of full HD 1080P.

5X Optical Zoom
The outdoor poe ip camera features a 2.7~13.5mm Motorized Zoom VF lens, along with the viewing angle varying from 117°~20°, allowing you view more sharper details with 5X optical zoom auto focus.

2-Way Audio
It comes with listen-in audio come with a built-in microphone that can hear and record audio.

Human & Vehicle Detection
Intelligent analysis based on deep learning algorithms, capable of target classification (human, vehicle, etc.) and detection for efficient monitoring and searching.

WDR
Wide Dynamic Range(WDR) technology in abnormal environment,the camera can combines long and short exposures into one frame, even the images surrounded by the bright field and dim,it still can capture clear pictures at any time. Applied in alternating light and shade environment

Smart Detection
You can mark out the relevant areas for motion detection to free yourself from false alerts. Whenever motion detection is triggered, you will receive instant email alerts with snapshots and APP alarm pushes so that appropriate precautions could be taken.

IP67 Water-Proof
The camera passes a series of strict test on dust and soak. It has dust-proof function, waterproof function, that complying to the standards of IP67, to enclosure can works normal after soaking in 1 m deep water for 30 minutes.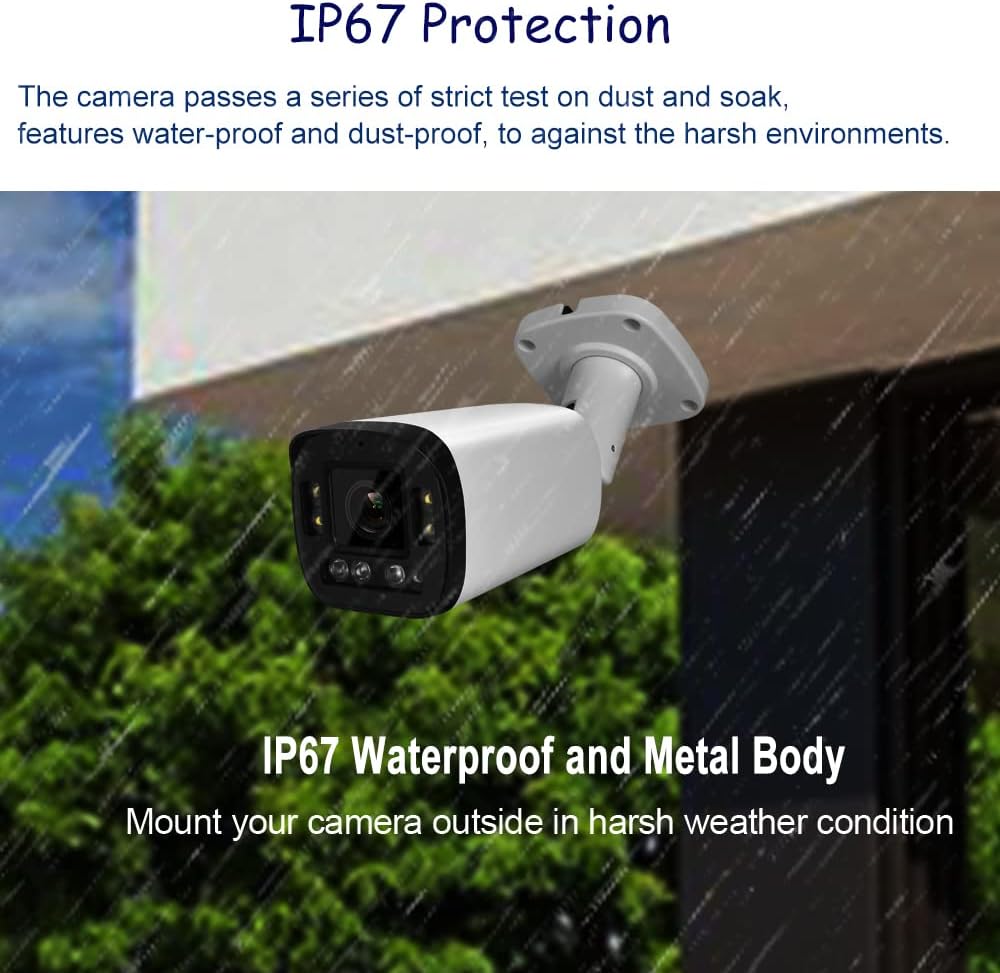 PoE(Power over Enthernet)
Powered over Ethernet (with Cat 5 & Cat 6 cable) – only single Ethernet cable for power and data connection, plug in PoE injector/switch/NVR and camera will be up and running.This eliminates the need to install a separate power cable, simplifies installation, and lowers cabling costs.