4K 8MP 8CH PoE Security Camera System with 2TB HDD and 4Pcs 8MP Outdoor IP Turret Cameras for Starlight Night Vision
▶  High quality imaging with 4K resolution
▶  Efficient H.265+ compression technology
▶  Clear imaging even with strong back lighting due to 120 dB WDR
▶  Water and dust resistant (IP67)
▶  EXIR 2.0 advanced infrared technology with long IR range
▶  Hik-Connect cloud service and APP for remote management and views of devices
▶  Built-in microphone for real-time audio security
▶  Support up to 256 GB SD card storage
▶  Focus on human and vehicle targets classification based on deep learning
Availability: 99 in stock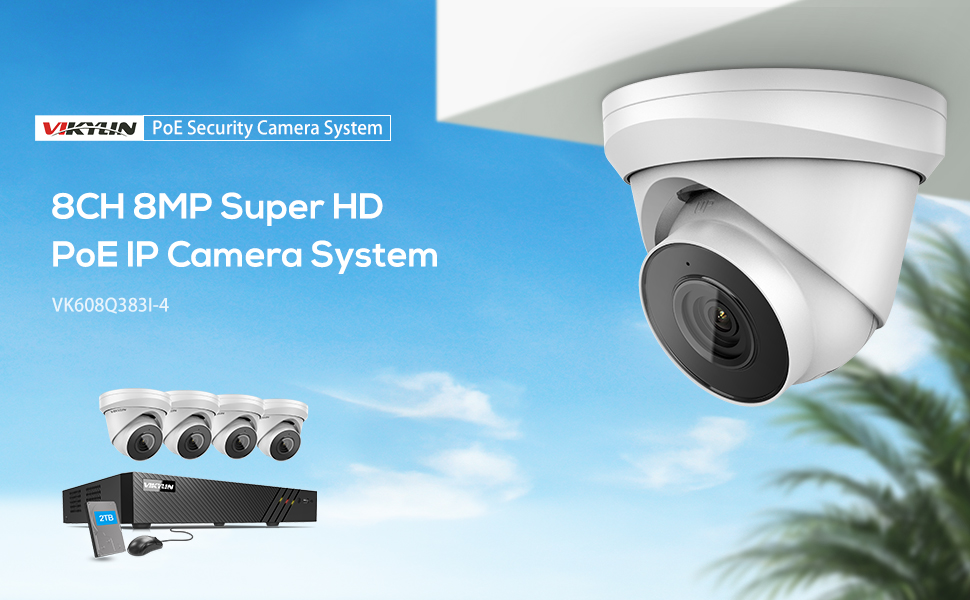 Q&A Time:
Question 1: Can I add a different camera to this system?
Answer: Yes. You can add any VIKYLIN VK-Series or Hikvision PoE cameras, They can be plug & play. Or add cameras with Onvif protocol, most of them are compatible, if you don't know, you can consult VIKYLIN technical team in advance.
Question 2: Can it work without internet?
Answer: Yes. All VIKYLIN PoE systems can work offline. However, in this case, you will not be able to access the system remotely through the VKLOOK App/Client.
Question 3: How is the connection? Is the system truly plug and play?
Answer: Yes. PoE (Power over Ethernet) enables the camera to receive power while entering the network with only one Ethernet cable connected to the NVR recorder. Setup can be done in minutes.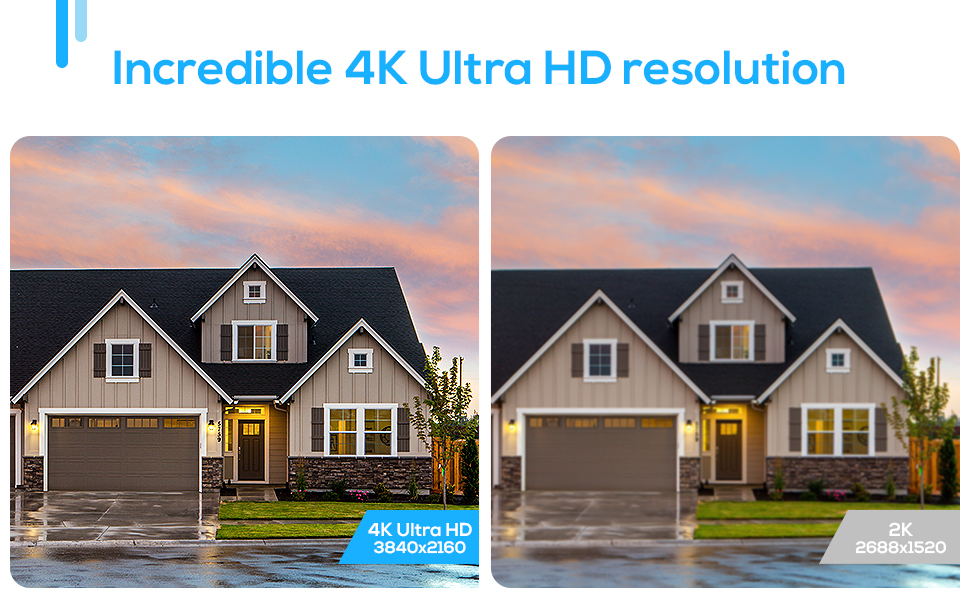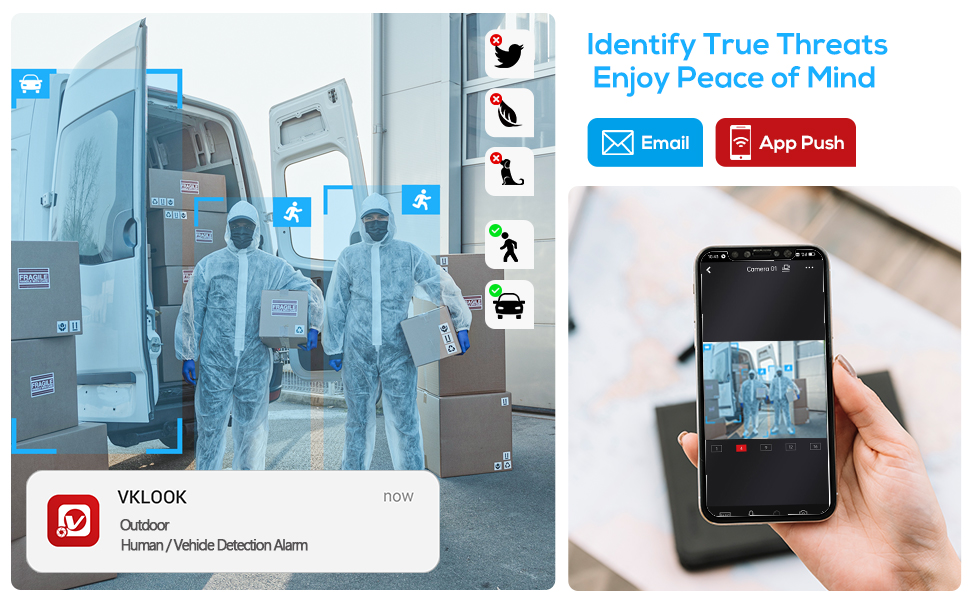 Smart Motion Detection
This security camera system is based on Hikvision intelligent detection algorithm, thereby minimizing unwanted alarms such as leaves or shadows. When a moving object is detected, it will automatically record and take a snapshot, and then send you an email alert through the mobile phone software "VKLOOK", no need to record 24 hours, and save more storage space intelligently.
VK608Q383I-4 PoE Security Camera System Specifications

Display Resolution: Up to 8MP for this kit (depands on the resolution of cameras, up to 8MP supported) Compression Format: H.265+/H.265/H.264+/H.264

Power over Ethernet Sockets: IEEE 802.3 af/at

Power Supply: DC 48V/2A

VK383I 8MP PoE IP Camera Specifications

App: VKLOOK, Hik-Connect

PC&MAC: VKTOOL, iVMS-4200

Audio: One-way Audio

Power supply: 12 VDC, 0.4 A, max. 5 W;

PoE: 802.3af, 36 V to 57 V

What's in the Box?

1 x 8CH NVR with 48/52V Adaptor

4 x VK383I 8MP PoE Cameras

1 x USB Mouse

1 x 1M Cat5 Cable

1 x 1M HDMI Cable

4 x Quick Start Guide

4 x Packs of Screws and Other Accessories

VIKYLIN System is Perfectly Compatible with Hikvision Camera, Plug and Play The system's cameras can work without an NVR.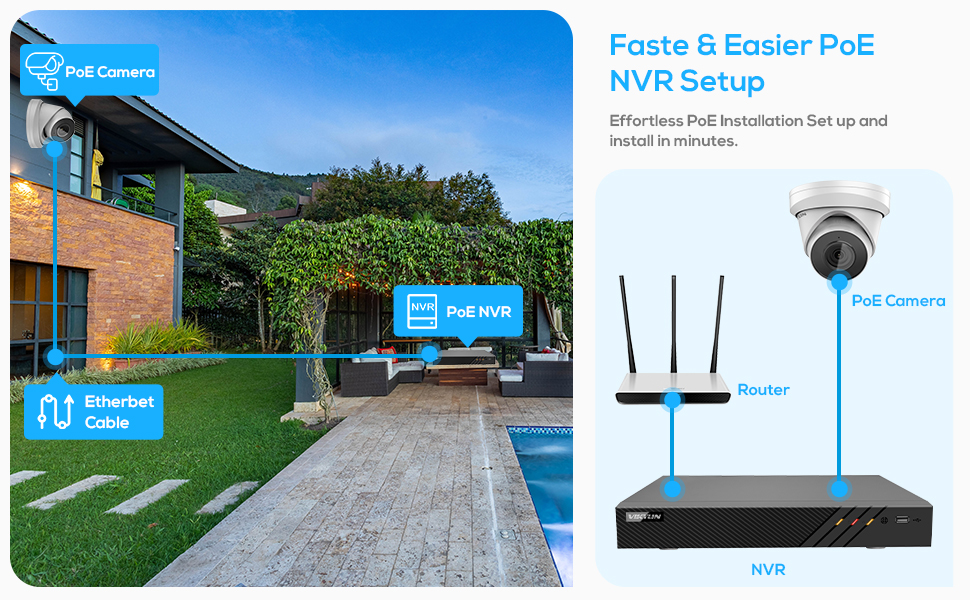 Leading-Edge H.265+ Technology

H.265+ technology provides better image quality and not only reduces bandwidth up to 75%, but also saves storage space up to 75%.

Smart 24/7 recording

Here are three kinds of recording modes for you to choose: 24/7 recording, schedule recording, motion detection recording.

Easy to Operate

Thanks to the simple and intuitive VKLOOK software, the system can be accessed in multiple ways for remote control with no need of any subscription. Also, up to 32 user accounts can be created to share access.