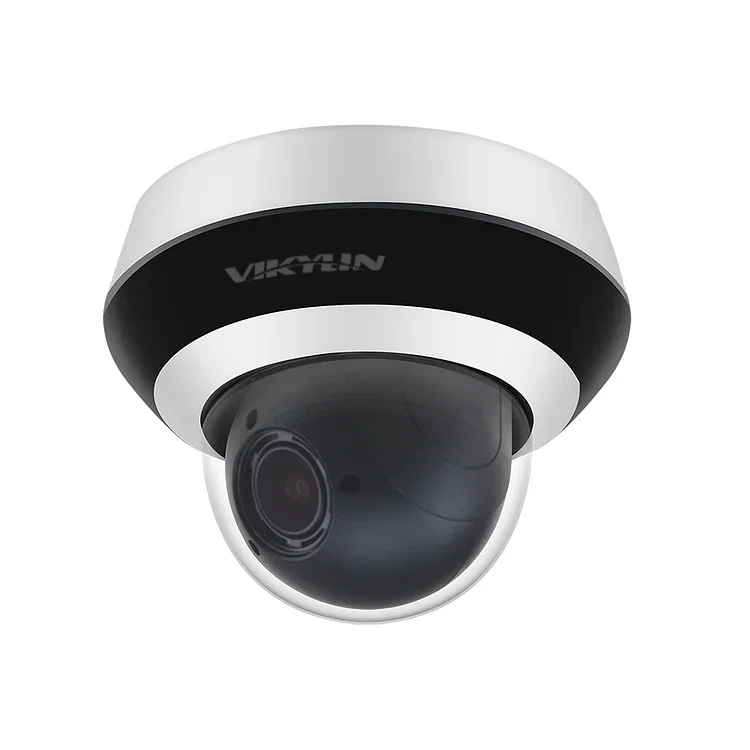 Download the latest firmware for DT2A404 hikvision camera system. Enhance the camera's surveillance performance and security features through software updates to ensure that your smart ip camera operates at its best.
Access all the resources you need to optimize your product experience - firmware updates, software releases, user manuals, and instruction guides are just a click away.
Note: that these resources and support services are subject to updates, so check back regularly for the latest releases and information.
▶ 4MP PTZ Camera: Up to 8 megapixel high resolution
▶ Max. 3840 × 2160 20fps
▶ 2.8 mm/4 mm/6 mm/8 mm/12 mm fixed lens, optional
▶ H.265, H.265+, H.264+, H.264
▶ 120dB Wide Dynamic Range
▶ 3D Digital Noise Reduction
▶ DC12V & PoE (802.3af)
▶ IR range: up to 30 m
▶ Support on-board storage, up to 128 GB
▶ IP66
Face Detection

When you set up face detection, someone go into your surveillance area, that someone can be detected and alarm.

Intrusion Detection

Setting up an area and the time allowed to pass through this area. when human or vehicle enter this area over the time set, the alarm will be triggered. The time range allowed to be set is 0-10 seconds.

Line Crossing Detection

Rule1: A<->B when human or vehide across the configured line,both directions can be detected and alarms are triggered;Rule-2: A->B only the human or vehiclet crossing the configured line from the Aside to the Bside can be detected and alarm ;Rule-3: B->A only the human or vehicle crossing the configured line from the B side to the A side can be detected and alarm.
Unattended Baggage Detection

When you set up unattended baggage detection, once the baggage is not taken away ,the baggage can be detected and alarm

Object Removal Detection

When you set up object removal detection, once the object is stolen or missing,the missing object can be detected and alarm Region Entrance DetectionWhen you set up an area ,once the human or vehicle enter this area can be detected and alarm

Region Exiting Detection

When you set up an area , once the human or vehicle exiting this area can be detected and alarm

Region Exiting Detection


When you set up an area , once the human or vehicle exiting this area can be detected and alarm
4MP 4X Powered by DarkFighter IR Network Speed Dome

High quality imaging with 4 MP resolution
Excellent low-light performance via powered-by-DarkFighter technology
Clear imaging against strong back lighting due to 120 dB WDR technology
Pan and tilt ability enables camera to monitor zones of interest
4x optical zoom allows for closer viewing of subjects in expansive areas
Up to 20m IR range ensures safety at night.

What's included:

4MP PTZ PoE IP Camera
Quick User Guide
CD Software
Mounting Hole Template
Waterproof Accessorie
Camera

Image Sensor:

1/3" progressive scan CMOS

Effective Pixels:

2560(H)×1440(V)

Signal System:

PAL/NTSC

Minimum Illumination:

Color: 0.005 Lux @(F1.6, AGC ON)

B/W: 0.001 Lux @(F1.6, AGC ON)

0 Lux with IR

White Balance:

Auto/Manual/ATW (Auto-Tracking White Balance)/Indoor/Outdoor/Fluorescent Lamp/Sodium Lamp

AGC:

Auto/Manual

HLC:

Support

WDR:

120dB

Shutter Time:

50Hz: 1/1 s to 1/30,000 s

60Hz: 1/1 s to 1/30,000 s

Day& Night:

ICR

Digital Zoom:

16×

Privacy Masking:

24 privacy masks programmable

Auto Focus:

Auto / Semi-automatic / Manual

Lens

Focal Length:

2.8 to 12mm, 4× optical zoom

Zoom Speed:

Approx. 2s (optical lens, wide-tele)

Angle of View:

Horizontal field of view: 100° to 33° (Wide-Tele)

Vertical field of view: 53° to 18° (Wide-Tele)

Diagonal field of view: 119° to 37.5° (Wide-Tele)

Minimum Working Distance:

10 to 1500mm (wide-tele)

Aperture Range:

F1.6 to F2.7

Pan & Tilt

Pan Range:

0° to 330°

Pan Speed:

Configurable, from 0.1°/s to 100°/s,

Preset speed: 100°/s

Tilt Range:

Tilt: 0°~90°

Tilt Speed:

Configurable, from 0.1°/s to 100°/s

Preset Speed: 100°/s

Proportional Zoom:

Rotation speed can be adjusted automatically according to zoom multiples

Number of Preset:

300

Power-off Memory:

Support

Infrared

IR irradiation distance:

20m

IR irradiation angle:

Adjustable by zoom

Input & Output

Audio Input:

1-ch audio input

Audio Output:

1-ch audio output

Network

Ethernet:

10Base -T, /100Base-TX, RJ45 Connector

Max.Image Resolution:

2560 × 1440

Main Stream:

50Hz: 25fps (2560 × 1440, 2048 × 1536, 1920 × 1080, 1280 × 960, 1280 × 720) 60Hz: 24fps (2560 × 1440), 30fps (2048 × 1536, 1920 × 1080, 1280 × 960, 1280 × 720)

Sub Stream:

50Hz: 25fps(704×576, 640x480,352×288); 60Hz: 30fps(704×480, 640x480,352×240)

Third Stream:

50Hz: 25fps (1280 × 720, 704 × 576, 640 × 480, 352 × 288) 60Hz: 30fps (1280 × 720, 704 × 480, 640 × 480, 352 × 240)

Video Compression:

Main Stream: H.265+/H.265/H.264+/H.264

Sub-Stream: H.265/H.264/MJPEG

Third Stream: H.265/H.264/MJPEG

ROI encoding:

Support 2 areas with adjustable levels

Audio Compression:

G.711ulaw/G.711alaw/G.726/MP2L2/G.722

Audio Mode:

OFF/Audio input/Audio output

Protocols:

IPv4/IPv6, HTTP, HTTPS, 802.1x, Qos, FTP, SMTP, UPnP, SNMP, DNS, DDNS, NTP, RTSP, RTCP, RTP, TCP, UDP, IGMP, ICMP, DHCP, PPPoE, Bonjour

No. of Simultaneous Users:

Up to 20 users

Three-Stream:

Support

Mini SD Card:

Built-in memory card slot, support Micro SD/SDHC/SDXC, up to 256 GB

User/Host Level:

Up to 32 users, 3 levels: Administrator, Operator and User

Security Measures:

User Authentication (User ID and Password), Host Authentication (MAC address), HTTPS Encryption, IEEE 802.1x Port-Based Network Access control, IP address Filtering

Hik-Connect:

Support

General

Power Supply:

12 VDC & PoE

Power Consumption:

Max.: 12 W (Max. 3.9 W for IR)

Working Temperature/Humidity:

-20°C to 60°C (-4°F to 140°F)

Protection Level:

IP66 Standard, IK10, TVS 4000V Lightning Protection, Surge Protection and Voltage Transient Protection

Material:

Aluminum alloy, PC, PC+ABS

Dimensions:

Φ 130.7 mm × 101.7 mm (Φ 5.15" × 4.00")

Weight (approx.):

Approx. 0.53 kg (1.17 lb)
Camera

Image Sensor:

1/3" progressive scan CMOS

Effective Pixels:

2560(H)×1440(V)

Signal System:

PAL/NTSC

Minimum Illumination:

Color: 0.005 Lux @(F1.6, AGC ON)

B/W: 0.001 Lux @(F1.6, AGC ON)

0 Lux with IR

White Balance:

Auto/Manual/ATW (Auto-Tracking White Balance)/Indoor/Outdoor/Fluorescent Lamp/Sodium Lamp

AGC:

Auto/Manual

HLC:

Support

WDR:

120dB

Shutter Time:

50Hz: 1/1 s to 1/30,000 s

60Hz: 1/1 s to 1/30,000 s

Day& Night:

ICR

Digital Zoom:

16×

Privacy Masking:

24 privacy masks programmable

Auto Focus:

Auto / Semi-automatic / Manual

Lens

Focal Length:

2.8 to 12mm, 4× optical zoom

Zoom Speed:

Approx. 2s (optical lens, wide-tele)

Angle of View:

Horizontal field of view: 100° to 33° (Wide-Tele)

Vertical field of view: 53° to 18° (Wide-Tele)

Diagonal field of view: 119° to 37.5° (Wide-Tele)

Minimum Working Distance:

10 to 1500mm (wide-tele)

Aperture Range:

F1.6 to F2.7

Pan & Tilt

Pan Range:

0° to 330°

Pan Speed:

Configurable, from 0.1°/s to 100°/s,

Preset speed: 100°/s

Tilt Range:

Tilt: 0°~90°

Tilt Speed:

Configurable, from 0.1°/s to 100°/s

Preset Speed: 100°/s

Proportional Zoom:

Rotation speed can be adjusted automatically according to zoom multiples

Number of Preset:

300

Power-off Memory:

Support

Infrared

IR irradiation distance:

20m

IR irradiation angle:

Adjustable by zoom

Input & Output

Audio Input:

1-ch audio input

Audio Output:

1-ch audio output

Network

Ethernet:

10Base -T, /100Base-TX, RJ45 Connector

Max.Image Resolution:

2560 × 1440

Main Stream:

50Hz: 25fps (2560 × 1440, 2048 × 1536, 1920 × 1080, 1280 × 960, 1280 × 720) 60Hz: 24fps (2560 × 1440), 30fps (2048 × 1536, 1920 × 1080, 1280 × 960, 1280 × 720)

Sub Stream:

50Hz: 25fps(704×576, 640x480,352×288); 60Hz: 30fps(704×480, 640x480,352×240)

Third Stream:

50Hz: 25fps (1280 × 720, 704 × 576, 640 × 480, 352 × 288) 60Hz: 30fps (1280 × 720, 704 × 480, 640 × 480, 352 × 240)

Video Compression:

Main Stream: H.265+/H.265/H.264+/H.264

Sub-Stream: H.265/H.264/MJPEG

Third Stream: H.265/H.264/MJPEG

ROI encoding:

Support 2 areas with adjustable levels

Audio Compression:

G.711ulaw/G.711alaw/G.726/MP2L2/G.722

Audio Mode:

OFF/Audio input/Audio output

Protocols:

IPv4/IPv6, HTTP, HTTPS, 802.1x, Qos, FTP, SMTP, UPnP, SNMP, DNS, DDNS, NTP, RTSP, RTCP, RTP, TCP, UDP, IGMP, ICMP, DHCP, PPPoE, Bonjour

No. of Simultaneous Users:

Up to 20 users

Three-Stream:

Support

Mini SD Card:

Built-in memory card slot, support Micro SD/SDHC/SDXC, up to 256 GB

User/Host Level:

Up to 32 users, 3 levels: Administrator, Operator and User

Security Measures:

User Authentication (User ID and Password), Host Authentication (MAC address), HTTPS Encryption, IEEE 802.1x Port-Based Network Access control, IP address Filtering

Hik-Connect:

Support

General

Power Supply:

12 VDC & PoE

Power Consumption:

Max.: 12 W (Max. 3.9 W for IR)

Working Temperature/Humidity:

-20°C to 60°C (-4°F to 140°F)

Protection Level:

IP66 Standard, IK10, TVS 4000V Lightning Protection, Surge Protection and Voltage Transient Protection

Material:

Aluminum alloy, PC, PC+ABS

Dimensions:

Φ 130.7 mm × 101.7 mm (Φ 5.15" × 4.00")

Weight (approx.):

Approx. 0.53 kg (1.17 lb)