5MP HD H.265 PoE Camera P2P Motion Detect Metal Dome IP Cam
▶  1/2.8″ 5Megapixel Sony Sensor
▶  ColorVu Full color technology
▶  Day/Night(ICR), Ultra DNR
▶  MAX. 15fps 5MP(2592 × 1944),25fps 4MP(2560×1440)25fps 3MP
▶  H.265/H.264 dual-stream media server
▶  Compatibility: HIKVISION,,RTSP
▶  Multi web browser, PC Client, mobile APP remote access
▶  Support PoE
▶  IP67 waterproof
▶  built-in Mic
Availability: 99 in stock
All these resources and support services are subject to updates, so check back regularly for the latest releases and information.
---
Firmware
Download it to update and enhance the ip camera's surveillance performance.
User Instruction
Detailed steps to ensure users install and configure the camera correctly.
Quick Start Guide
Provides simple steps to help users quickly install and configure the security camera.
Please note the camera function has been upgraded, if you receive the old version of the camera please dont worry we will immediately solve for you

Remote Viewing, Simple Setting, Compatible with Hikvision, Plug and Play
You can access Apple App or Google Play Store through your smartphone to download the "Danale" app for iOS or Android devices for P2P control, and watch real-time videos at any time. The poe camera is compatible with Hikvision, also can work with most of NVRs, and the camera can be worked with most of security monitor software, like Blue Iris, iSpy, VLC, and so on
Default IP address: 192.168.1.110, username: admin, password: 123456
Please modify the default ip address and password by installing the device search tool 'SADP Tool or AjDevTools, But Retset the password need use the AjDevTools or change througt Internet Explorer
The color warm light can be adjust to turn on or ture off in needs( no built in IR leds)
Working with Internet Explorer by type the camera's ip address
Real time view on mobile phone after installing the 'Danala' app from APP Store or GooglePlay Market
Compatible with Hi-kvision,Plug and Play with hikvision NVR
Support most of the other brands NVR that support on-vif protocol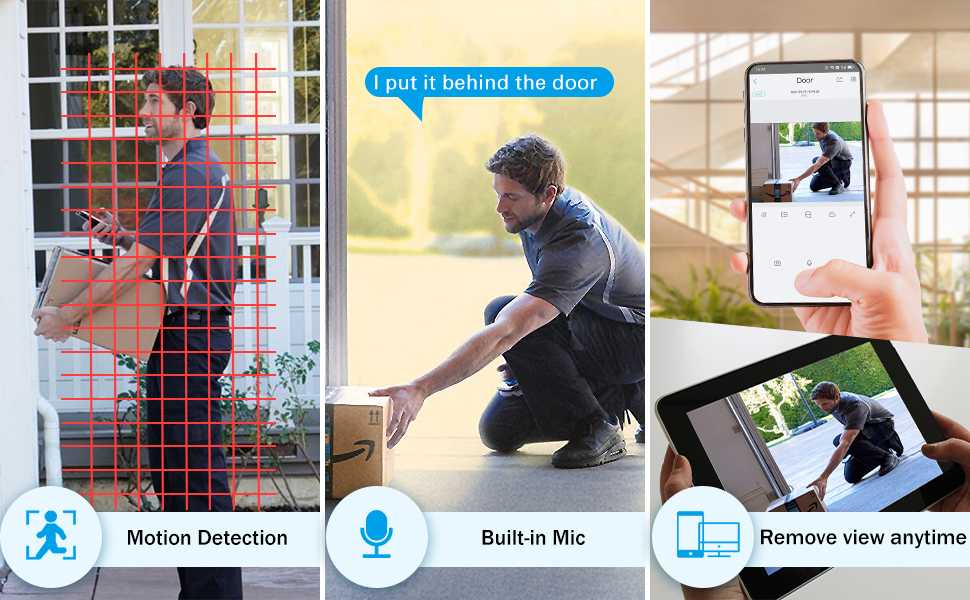 5MP Super HD &24/7 Color Night Vision
2592 × 1944@15fps 5 Megapixel resolution featuring enhanced Full-color utilizing the latest 1/2.8″ image Sony sensor ,With full color technology,high-performance sensor, large aperture lens and soft supplemental lighting come together can capture more available light, and display more colorful image details, even in total darkness

Advanced Video Format
Smart video format technology reduces bit rate and storage requirements by up to 50% when compared to standard H.264 video compression. More video recordings can be stored on the same capacity hard drive, which avoids losing important storage recordings because of insufficient capacityConnect the PoE surveillance camera to almost all brands' NVRs that support standard procotol for 24/7 recording based on the NVR's coding format.

Smart Motion detection
The camera support the motion detection, recording by the alarm detection.

Built-in Microphone

P2P Real-time Remote Monitoring
This 5mp ip camera compatible for Hi-kvision, plug and play with Hi-kvision video recorders, and work with Blue Iris and iSpy, compatible ON-VIF protocol, can be used with other brands of NVRs and cameras, perfect connection, such as Dahua, Amcrest, etc.Please pay attention When you can't add our camera with danale app, please change AC18pro APP to add our camera, because our product danale app updated to AC18pro APP Access Apple App or Google Play Store through your smartphone to download the "AC18pro" or "Danale" app for iOS or Android devices for P2P control, You can view, record and playback UltraHD footage directly from your smartphone with the app to got a better clear viewing experience.
The camera Compatible for Hikvision and Open Network Video Interface, the camera can Plug and play with Hikvison NVR, compatible with Blue Iris, Ispy, and etc, Power Over Ethernet (POE 802.3af), easy to use.

Power Over Ethernet (POE camera)
Only a normal network cable(cat5 or cat6) can realize data and power transmission, it reduces the need to add a power adapter., thus simplified installation and saves money.