3MP Wireless NVR Kit Security Surveillance Camera Kit Wifi Audio CCTV Camera Outdoor System
▶  3MP pixels, enjoy high-definition picture quality
▶  8-channel host with 4pcs cameras, can add 4pcs cameras
▶  H.265+ high compression ratio, reducing storage space and transmission bandwidth
▶  Built-in wireless network card, get rid of the shackles of network cables
▶  Built-in security dedicated WIFI module, stable signal and strong anti-interference ability
▶  Built-in high-sensitivity MIC, sound and picture synchronization
▶  Regional motion detection, real-time push alarm information
▶  Support mobile phone, PC client multi-channel remote monitoring, view anytime, anywhere
▶  IP66 waterproof, no fear of wind and rain
Availability: 99 in stock
3MP HD Video Resolution
For protecting the things that matter most, having a security camera with 2304*1296 HD resolution is vital. With HD clarity and sharpness, you won`t have to worry about missing crucial details if an incident happens to occur on your property.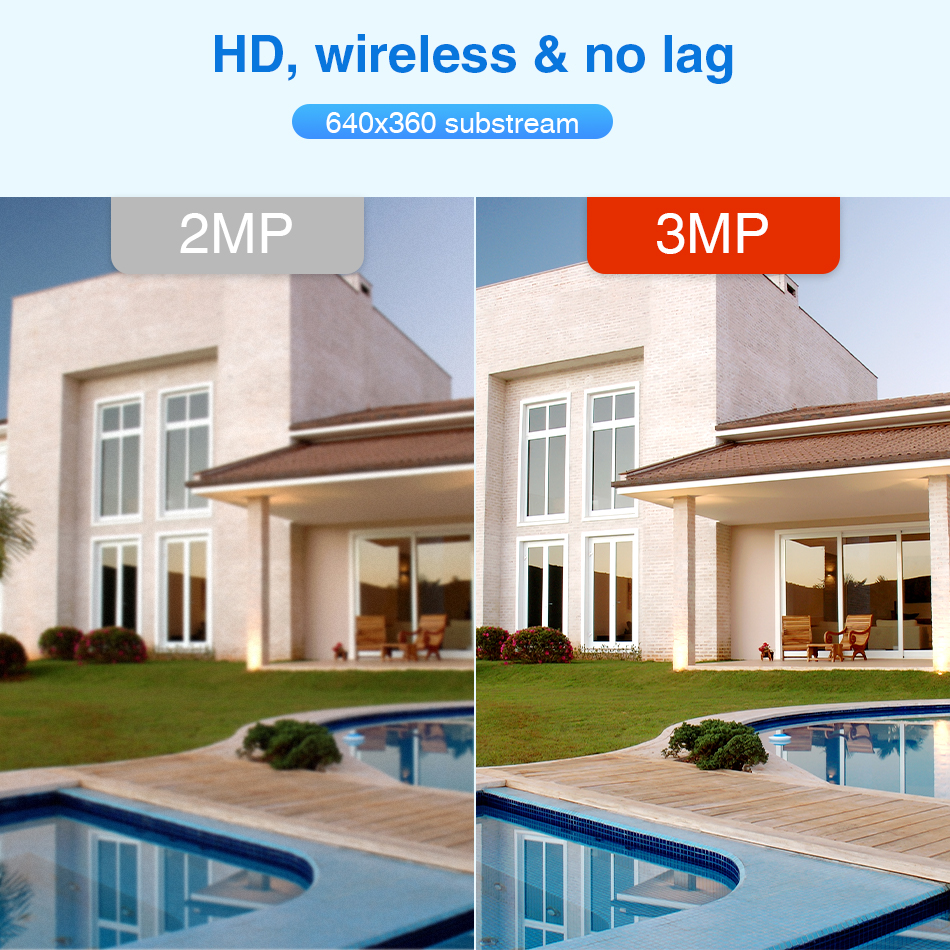 Plug in Play, Easy Connection
Connect the Monitor/TV to the NVR via its or VGA port. Connect the NVR and cameras to power(bigger 12V 2A power adapter for NVR,smaller 12V 1A for camera). About 1-2 minutes, you can see cameras` images on the screen. Connect the mouse to the USB port on the back of the NVR. Then you can run it on your system.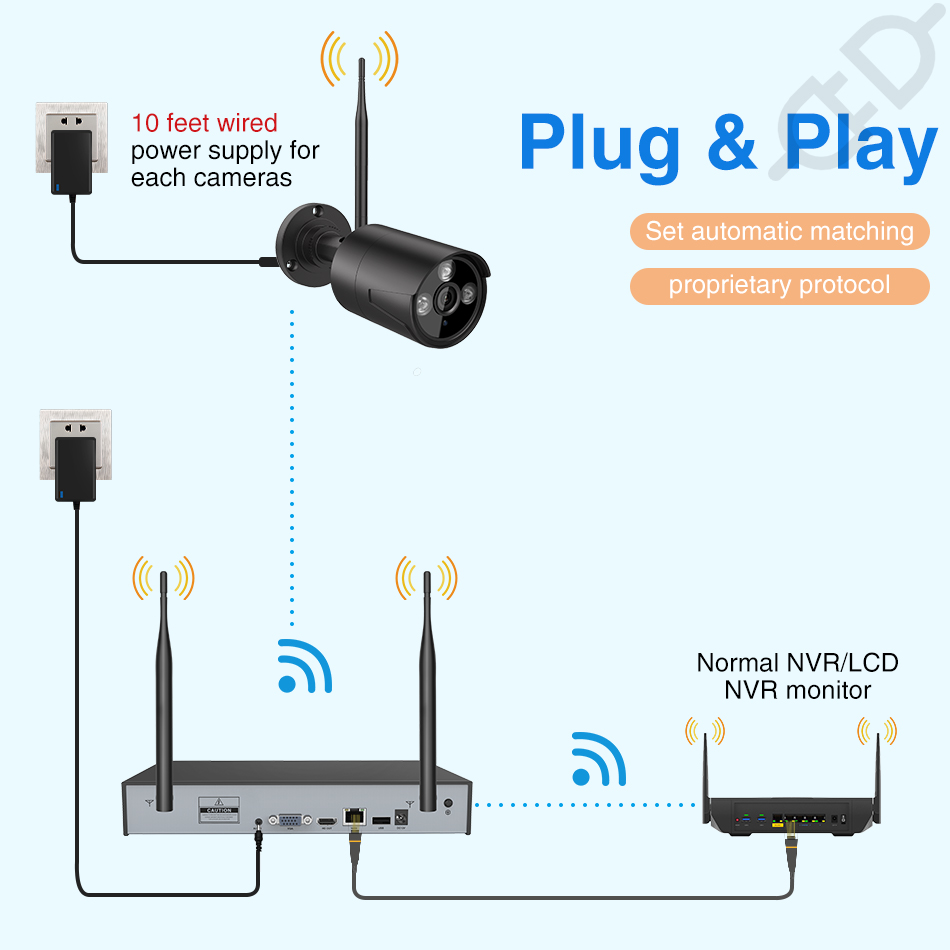 Motion Detection & Instant Alert
When you are outside or at home, it will send alert notifications to your phone once it detected any movement in the monitoring area to keep your home safe. No matter where you are, this security camera will be a reliable protector for your home and let you be assured.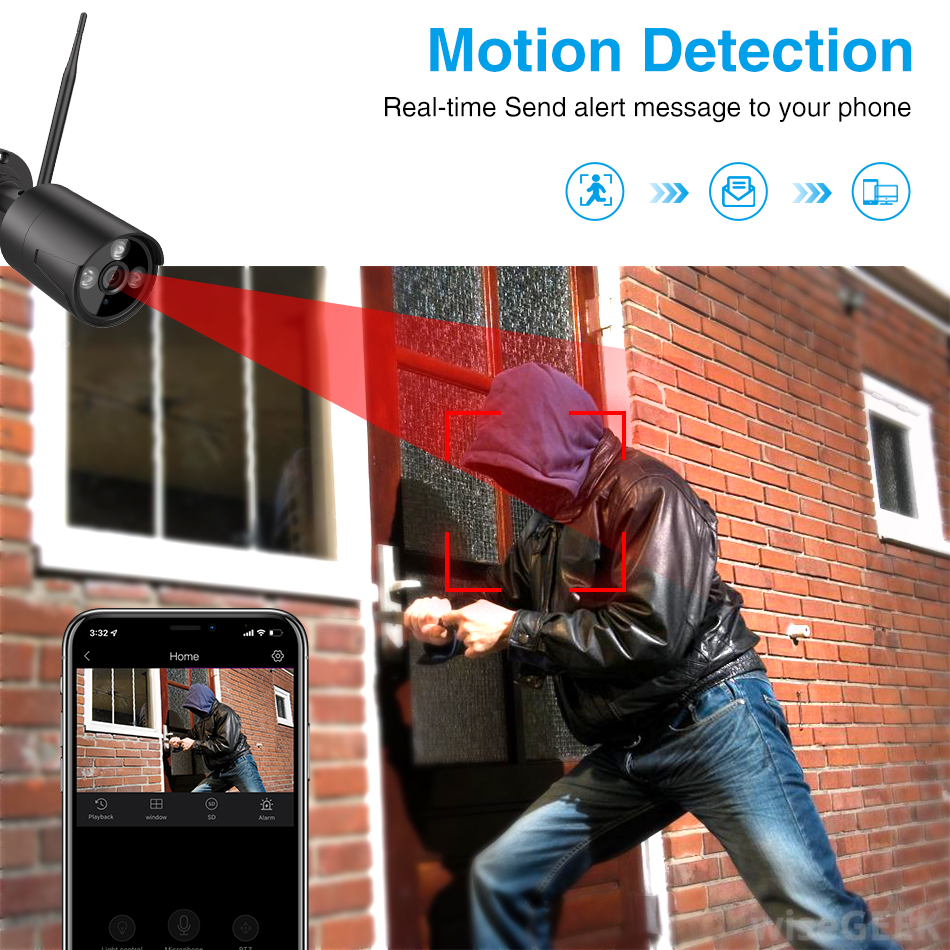 Support Several Devices View Simultaneously 
Whenever it is or where you are, as long as you can connect the Internet, you can watch the real time image of your home, support smart phone, ipad,Laptop,PC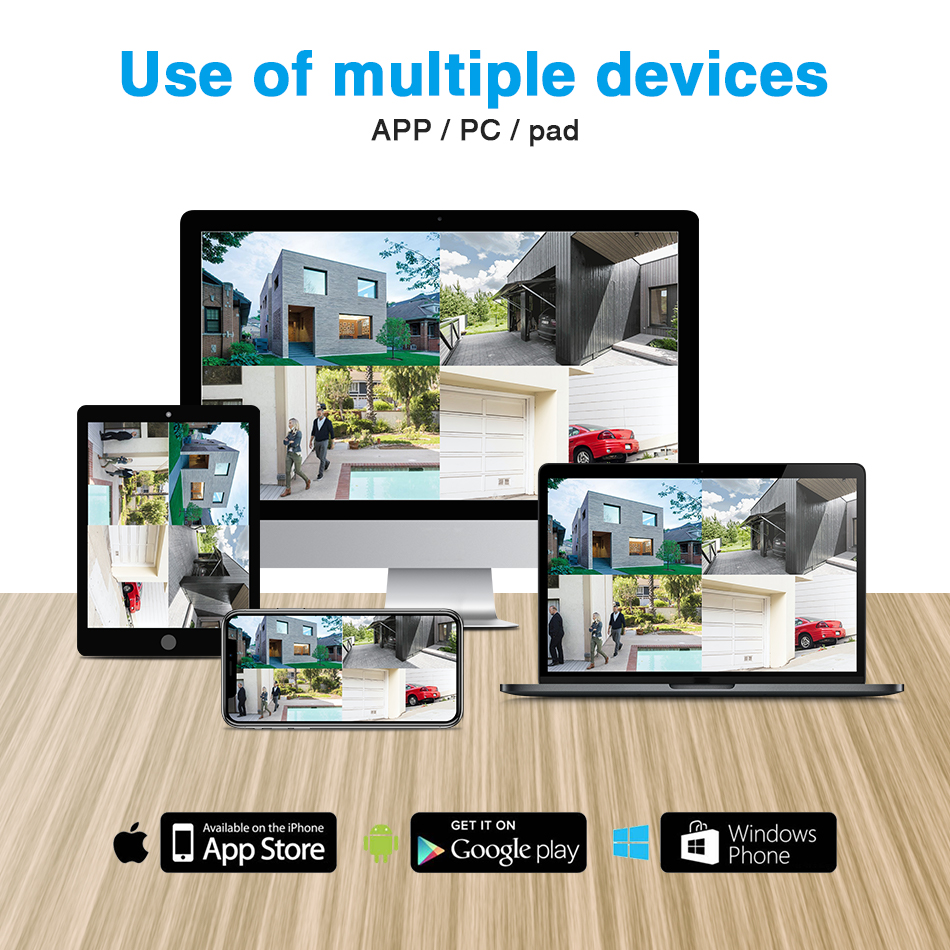 Pre-installed 6TB HDD for Reliable Recording
The wifi surveillance camera system comes without Hard Drive. You will get rid of looking for one compatible hard drive or tools to install HDD yourself. The 2TB HDD helps to record 7/24. 
Hard disk and recording time:
1)When the hard disk is full, the system will automatically delete the oldest recorded video, thus achieving intelligent loop recording.
2)Data are for reference only, subject to actual use.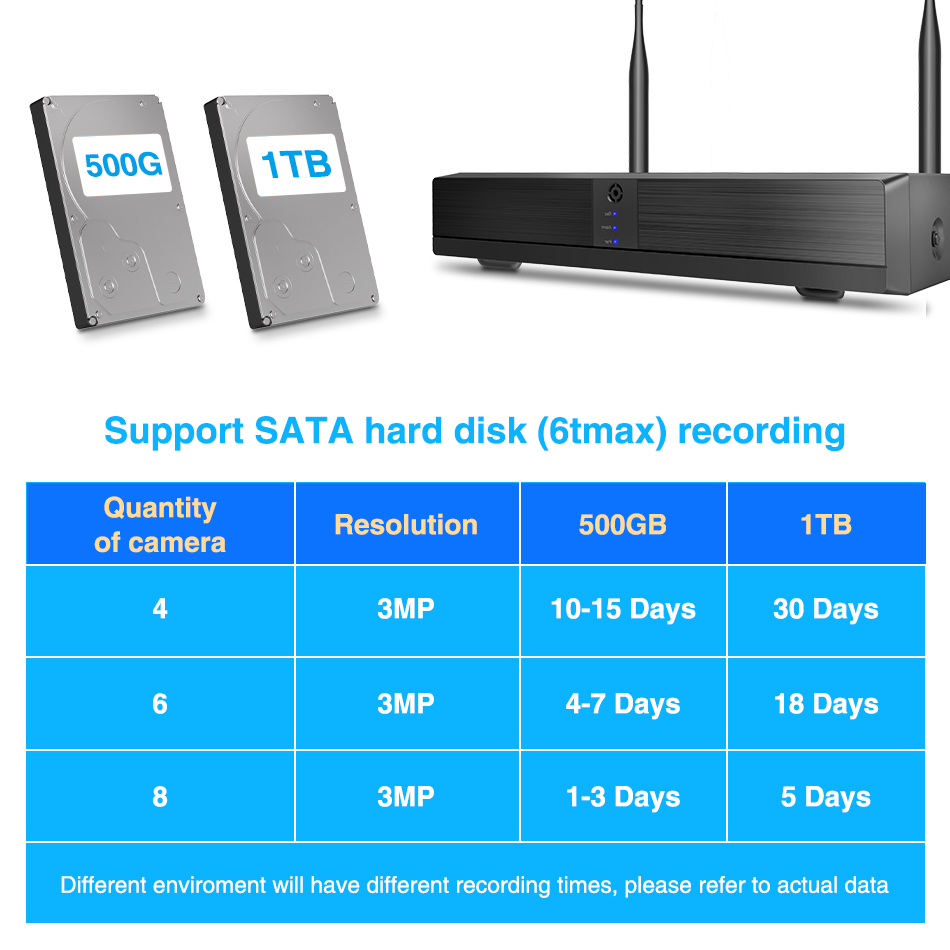 Support multi-language
It supports : English,Russian,French,Turkey,Italy,Spanish,Germany,Korean,Japanese,etc.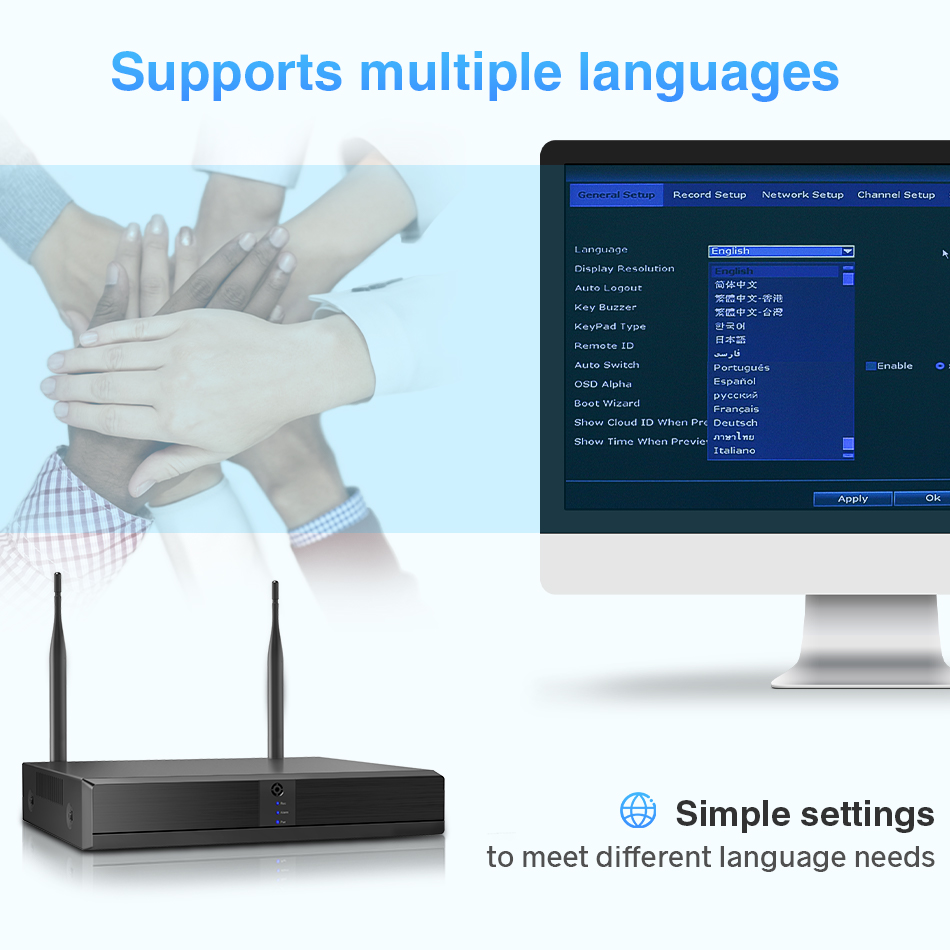 Plug Specification
We provide EU / US/ UK/ AU Plug ,By default, it is sent by your country.If there are special circumstances, please contact us.

Infrared Night Vision
Securing your loved ones and property is a 24-hour operation.Infrared distance 65ft.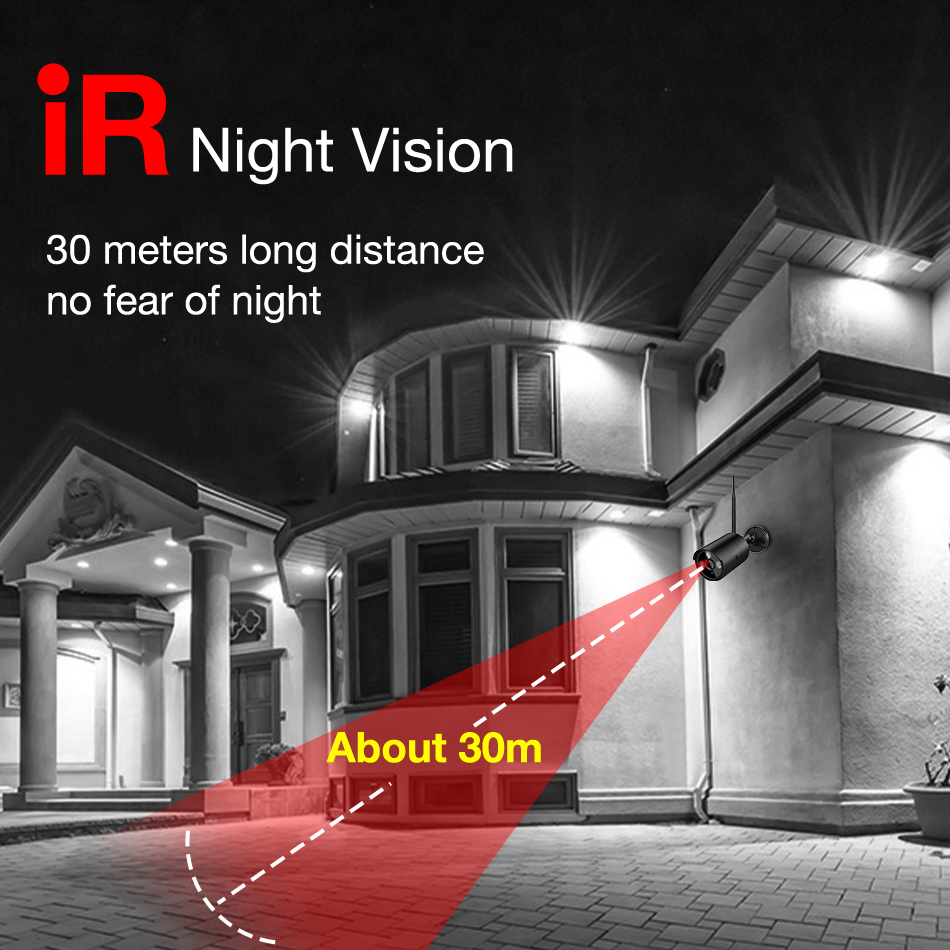 Audio Record Sound Wifi Camera
Built-in microphone records what people say, make it authentic with sound video recording.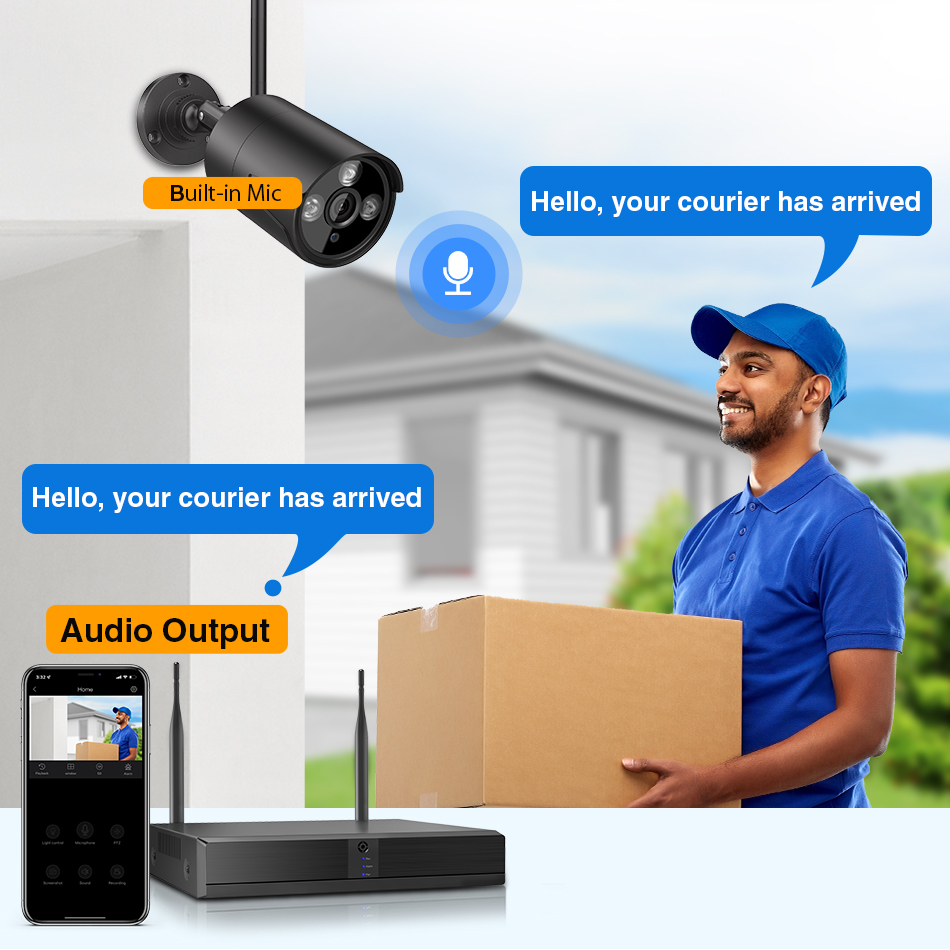 H.265 CCTV System
H.265 More Clear , HD resolution offer you best image quality in a lower bit rate. Save more storage space,can reduce 40%-50% file size,save your HDD storage space and reduce your purchase cost.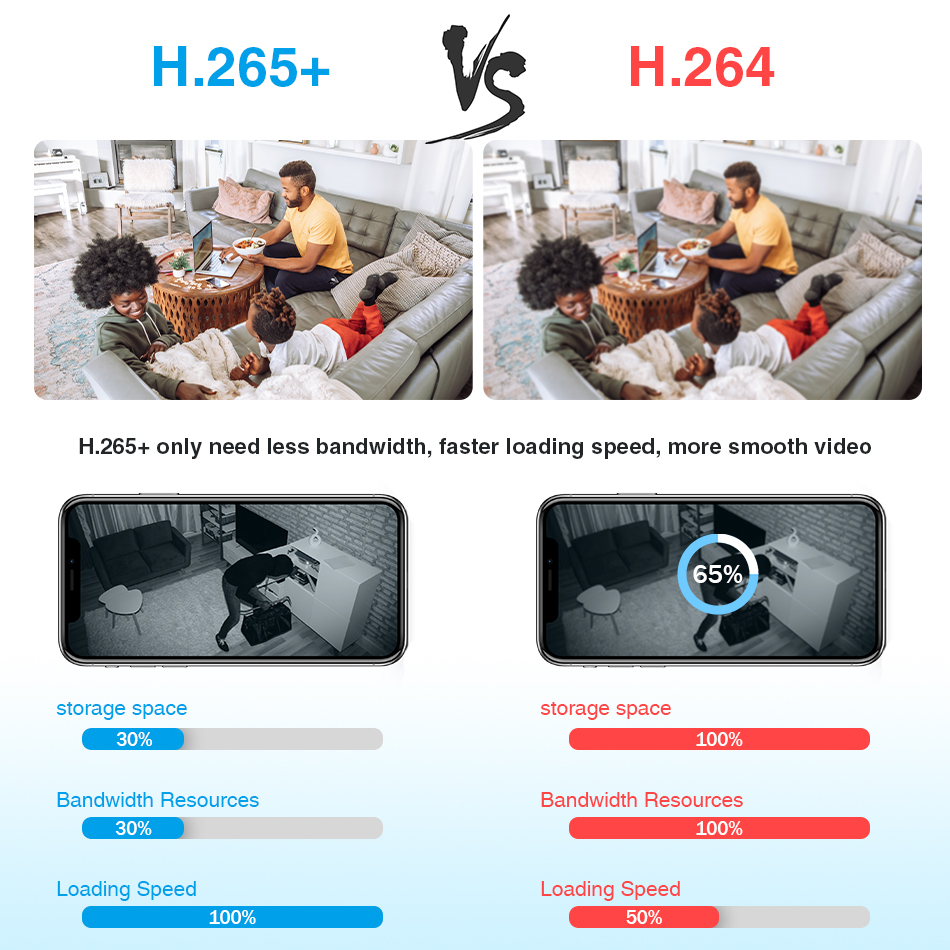 Wireless NVR WIFI Range
50 Meters Wireless Transmission(no obstacle) Built-in high power wireless router module, support 30-50 meters wireless transmission.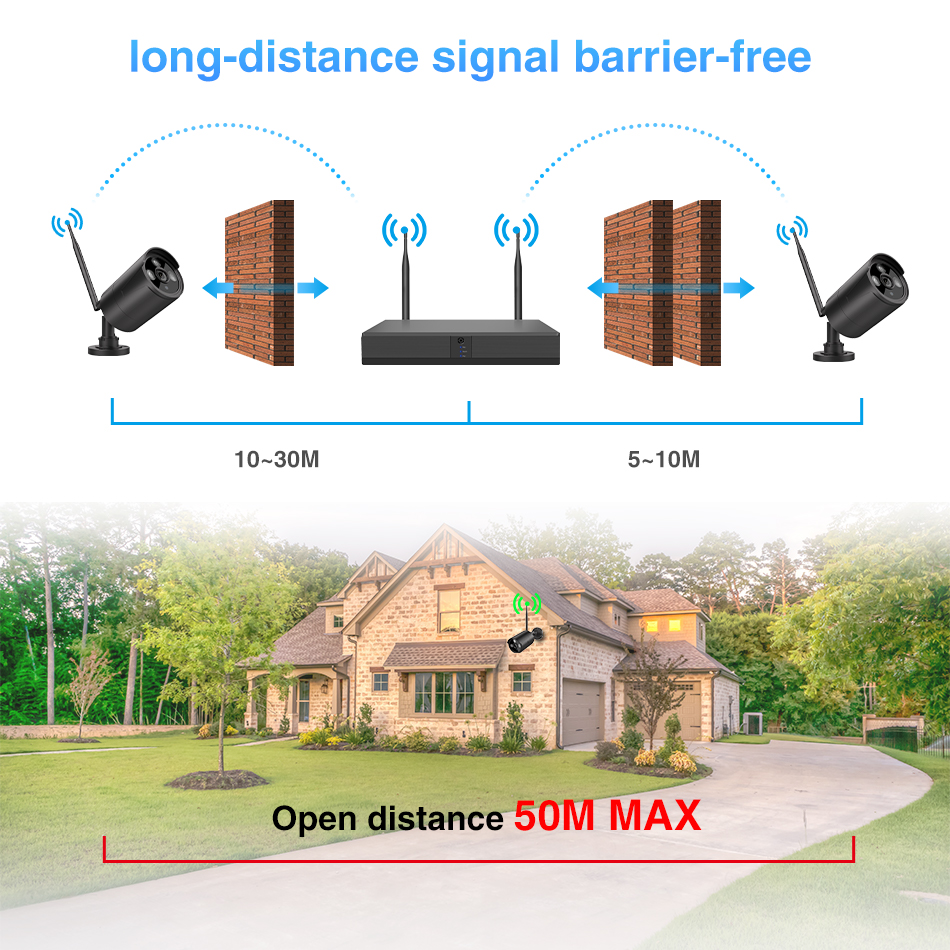 50 Meters Wireless Transmission(no obstacle)
Built-in high power wireless router module, support 30-50 meters wireless transmission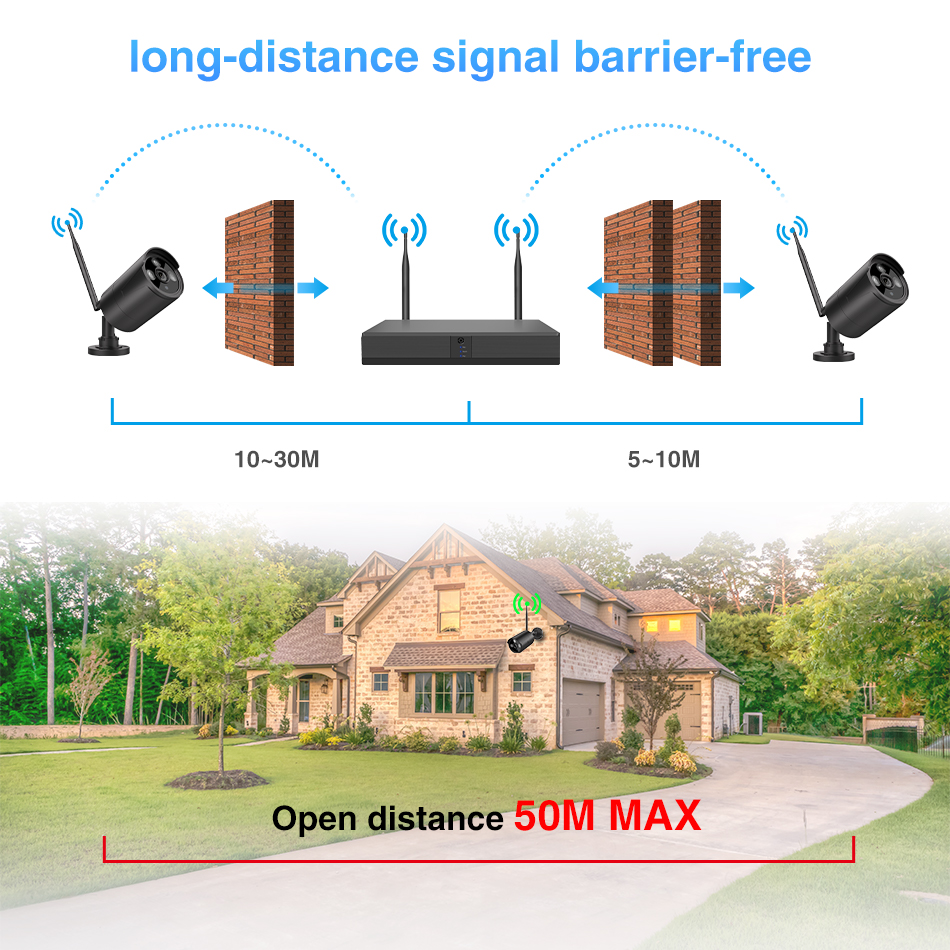 IP66 Waterproof Security Camera
Our camera all can suit for both outdoor and indoor usage.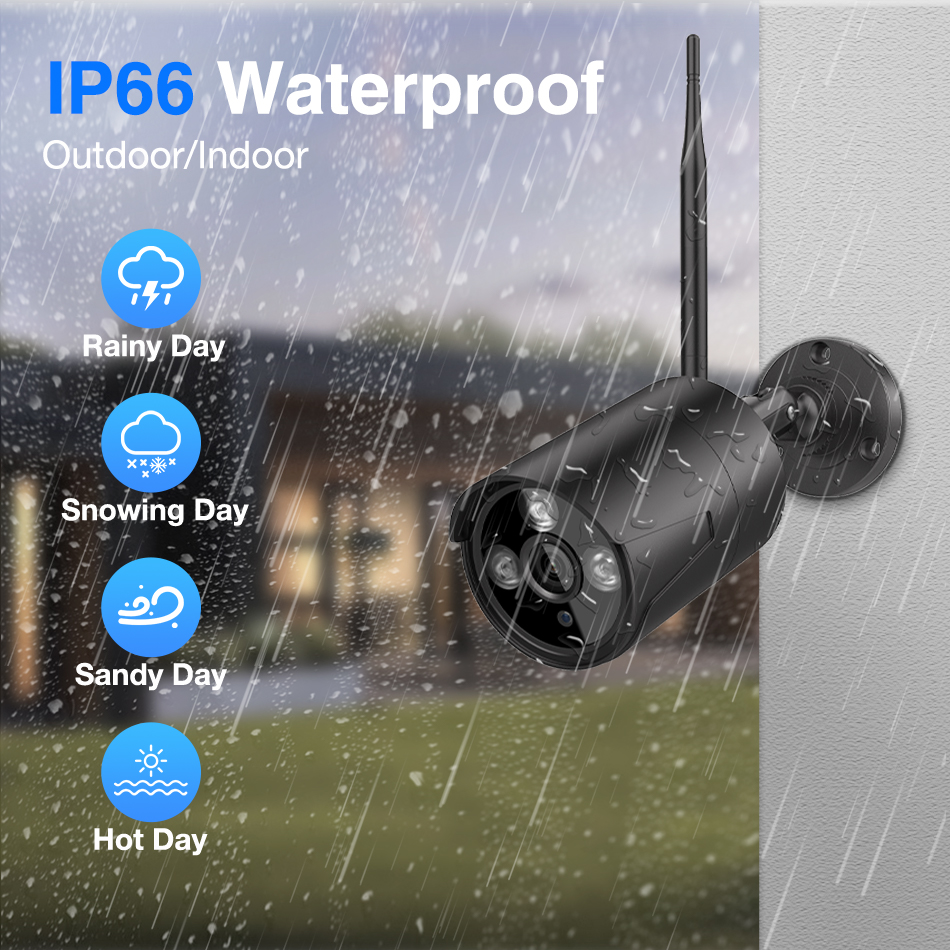 Advanced Human Detection and E-mail Alert
The human detection recording function: when motion is detected the NVR will save the footage into hard disk without missing any important events. You can even ensure that false alarms are avoided by setting the motion detection "mask" to block areas with constant movement.
NVR will send you mail automatically if there is any motion detected.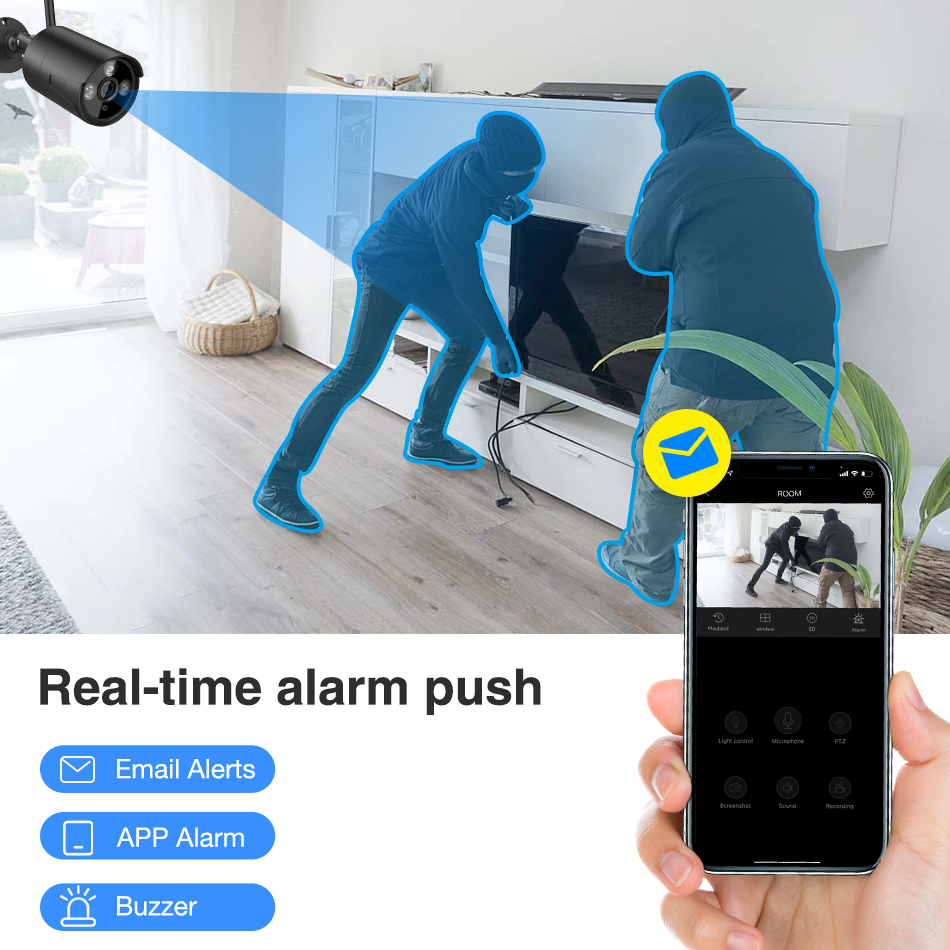 Video With Smart Playback
Smart playback available with customizable searching area, playback time is greatly reduced by speeding through unimportant videos.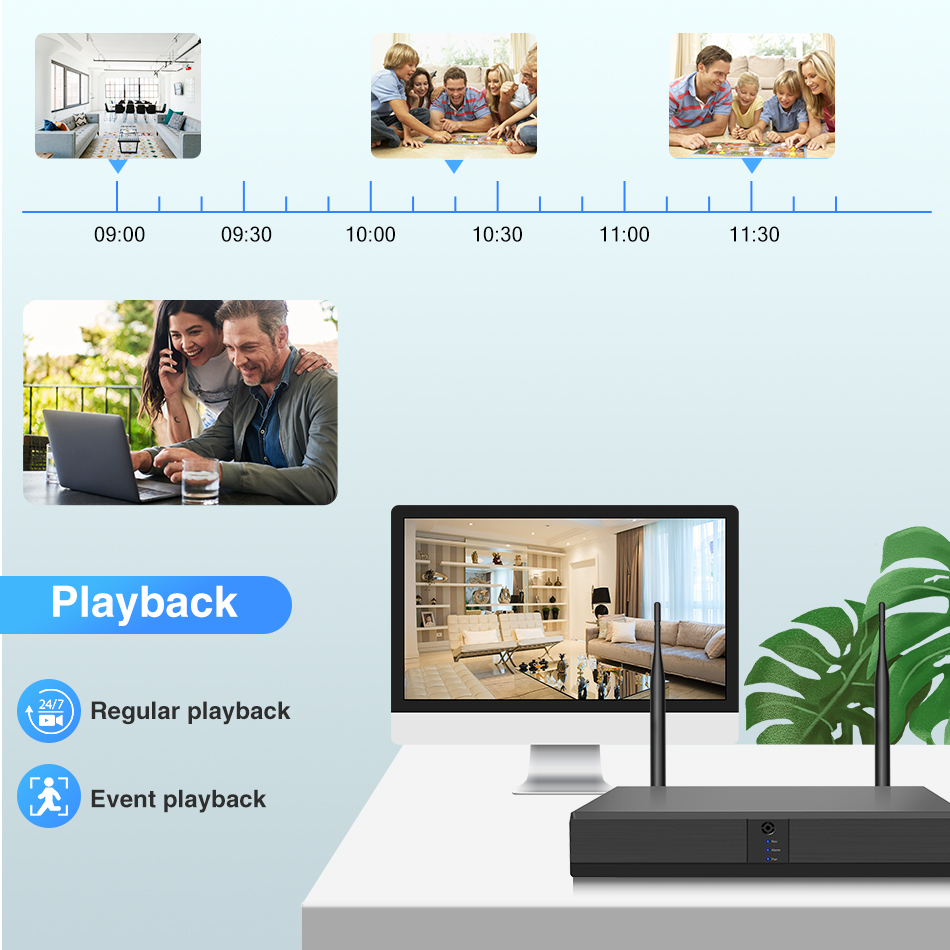 Auto Pair
The security camera system will auto pair security cameras to NVR recorder,there is no need to hook any video cables from the cameras to the NVR video recorder. We offer 3ft(1 meters)power adapter for camera, to make sure you have enough length for installation. 
Local View or Remote View from Multiple Devices
We provide free and easy-to-use app for your smartphone, tablet and computer, so that you can monitor your home and office remotely from anywhere in the world. With this app, you`ll see whatever the cameras see in real-time and have full control over the recordings. Connect the WIfi NVR to your router by network cable. Download the App and install it on the phone. Run the App and register an account (for first time using). Login App and click the button `+` to add devices. You can add the devices by auto search or scan the NVR device ID. You can view the cameras video on your phone.