8MP Auto Tracking Pan Tilt Zoom PTZ PoE IP Camera Speed Dome
▶  UltraHD PTZ Security IP Camera with 8MP resolution for clear and detailed surveillance.
▶  Equipped with 6 IR LEDs for excellent night vision up to 164ft, even in low light or complete darkness.
▶  High-speed dome with 360° Pan and 90° Tilt for a larger coverage area.
▶  Auto-tracking and human/vehicle detection functions to reduce false alarms. Automatically tracks and sends real-time video/snapshots to your mobile phone when a person enters the monitored area.
▶  Supports 8 groups of cruising routes with 16 preset positions for efficient monitoring.
▶  Built-in microphone and speakers for two-way audio communication. Advanced WDR and 3D DNR technology for clear details even in challenging lighting conditions.
▶  Easy remote access via mobile app for real-time video viewing, playback, snapshots, and motion alerts. Can also be shared with family and friends.
▶  Power over Ethernet (PoE) support for simplified installation with a single network cable. IP66 weatherproof rating for outdoor use.
▶  Compatible with Hikvision NVRs and supports RTSP and ONVIF protocols for connection with other brands of NVRs. Works with Blue Iris, iSpy, web viewer, and mobile app for remote viewing and alarm notifications.
All these resources and support services are subject to updates, so check back regularly for the latest releases and information.
---
User Instruction
Detailed steps to ensure users install and configure the camera correctly.
Quick Start Guide
Provides simple steps to help users quickly install and configure the camera.
8MP Auto Tracking Pan Tilt Zoom Speed IP Camera

How to use the Auto tracking for human deteaction?
step 1: pls log in trough IE brower by typing the camera's IP,
step 2: click Event to Check whether the human detection function is turned on, should be turned on
step 3: Click "live" to enable automatic tracking in "Preset" call92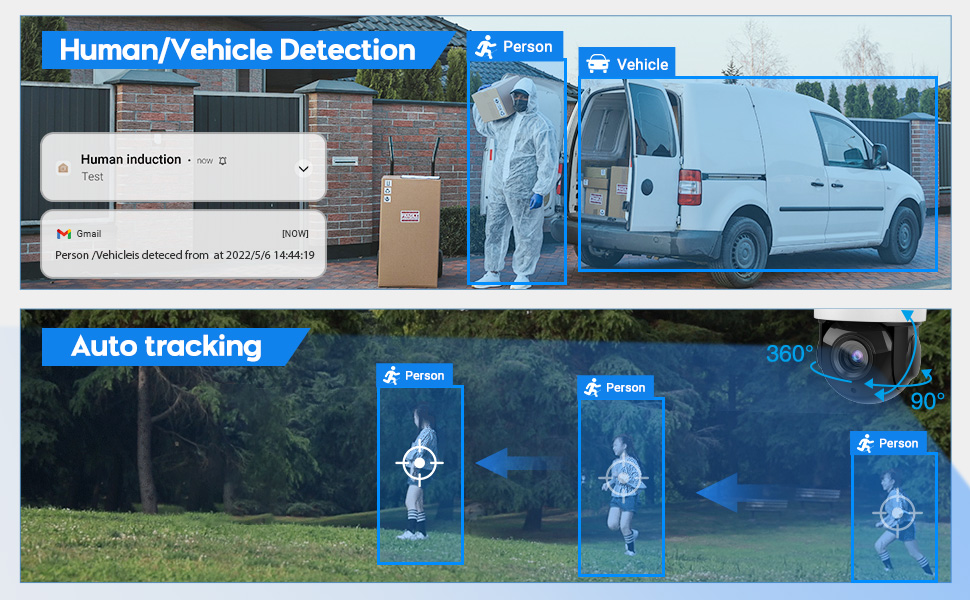 How to set the the time between cruise?
for example when you want to set the cruise 41 and the interval time need 15seconds
step 1: typing 114 ,click add
step 2: typing 15,click add
step 3: typing 41,click call, then the cruise 41 start to cruise , and stop for 15 seconds,then restart to cruise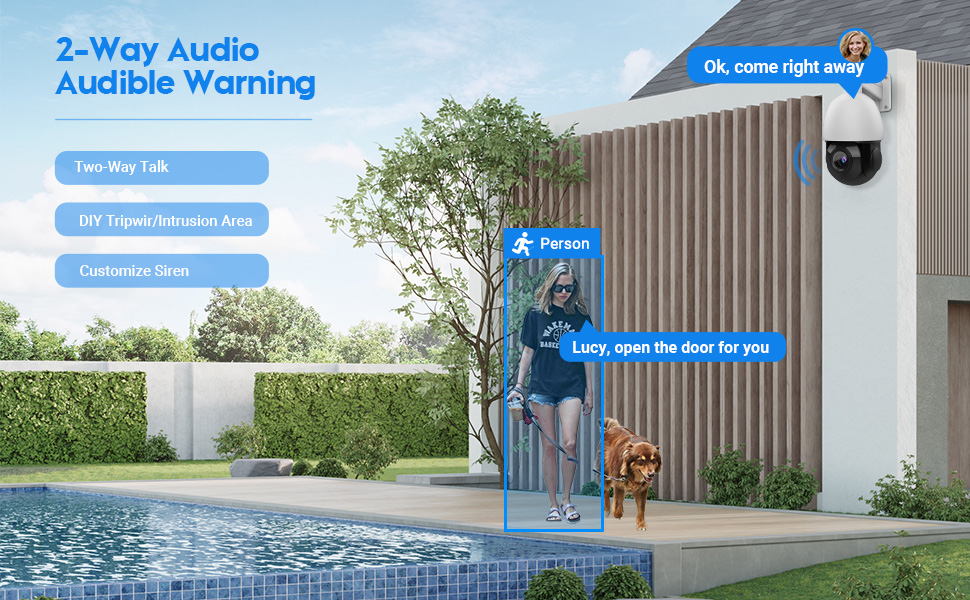 4K/8MP Ultra HD Image
8MP,1/2.8" 8Megapixel CMOS, Max. (3840 × 2160)@20fps, ultra high definitio resolution can see clearer image, 20FPS can provide the smoother video, bring you more details.

18X Optical Zoom
Dome Camera
The camera supports 18x optical zoom 4.7~84.6 mm Motorized Varifocal Auto-focus Lens supports 360°Pan/90°Tilt,Automatically track suspicious personnel activities
Smart Detection & Auto Tracking
Human/vehicle detection technology based on cutting-edge detection algorithms helps to identify real threats and reduce false positives, it supports humanoid automatic tracking

ICR Day/Night Auto IR-cut Filter
With ICR day/night auto ir-cut filter switch, improve the sensitivity of the camera in low illumination scene effectively, to provid 24h real and clear live time image. Clear IR night vision range up to 165ft.
Motion Detect and Alerts
You can mark out the relevant areas for motion detection to free yourself from false alerts. Whenever motion detection is triggered, you will receive instant APP alarm pushes so that appropriate precautions could be taken.
High Codec Technology
High Efficient encoding technology greatly saves bandwidth resource and storage space. Better encoding algorithm to save more bandwidth and storage.
120 dB(WDR) True Wide Dynamic
This camera uses advanced wide dynamic range (WDR) technology to provide clear details in environments with strong brightness contrast. he WDR enable objects in both bright and dark areas of a scene to be visible(a short exposure for very bright areas and long exposure for dark areas)
IP66 Water-Proof Protection
The camera passes a series of strict test on dust and soak. It has dust-proof function, and the enclosure can works normal after soaking in 1 m deep water for 30 minutes.