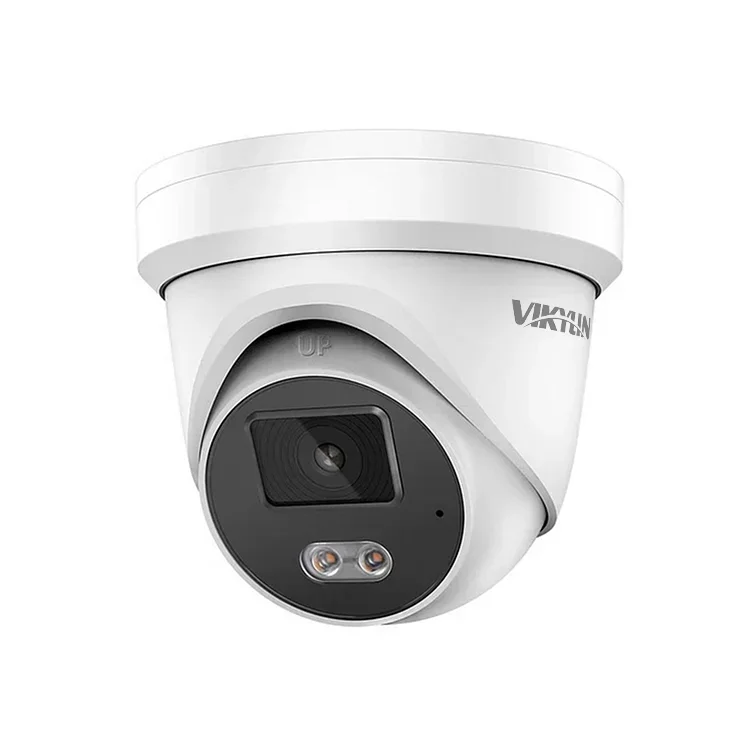 ▶ 8MP IP HD Night Vision Bullet Camera: High quality imaging with 8 MP resolution
▶ Excellent low-light performance with
▶ powered-by-DarkFighter technology
▶ Clear imaging against strong back light due to 120 dB true WDR technology
▶ Efficient H.265+ compression technology
▶ Focus on human and vehicle targets classification based on deep learning
▶ Active strobe light and audio alarm to warn intruders off
▶ Provides real-time security via built-in two-way audio
▶ Water and dust resistant (IP67)
8MP Ultra HD resolution
Outputs max. 8MP , real monitoring scene, ultimate clarity images quality, good low illumination effect, providing the smoother video, and bring you higher definition and more details, which is 4 times the resolution of full HD 1080P.
How do i connect the camera
There are many ways to connect the camera, it can be directly connected through a DC12V power supply, or it can be connected through an NVR, router or switch, etc.
Infrared camera,Clear Night Vision
Home outdoor camera equipped with infrared lights for IR detection that provides clear images up to 30m away.It can automatically switch to black-white night vision, capture every movement in low light.
Two Way Audio ( Built-in mic/speaker)
Built in responsive microphone on the camera, you can listen and talk via App.
Whether courier parcels are often lost? Are you worried that strangers are threatening to approach your house? IP outdoor camera can save you from these troubles, Security camera will detect motion and push you notifications, then you can watch live video and talk to courier or stranger, Tell him where to put the courier, Prohibit access to your house.
IP67 Protection
Mount your camera outside against harsh environments with IP67 weather proof and mental housing to Withdstand vandalism.
VCA Detection - Video Content AnalysisCamera
Provides (Smart Event) LineCrossing / Intrusion Detection detection features which are based on the LTS DVR / LTS IP Camera function itself. The NVR can link the action with the LTS IP Camera.
Day/Night auto IR Cut Filter switch
With ICR day/night auto ir-cut filter switch, improve the sensitivity of the camera in low illumination scene effectively, to provid 24h real and clear live time image. Also built-in ir lens that offer up to 98ft ir night vision range. And Smart IR can control the intensity of infrared light to prevent the picture from being too bright or too dim.
H.265 Encoding
High Efficient encoding technology greatly saves bandwidth resource and storage space. Better encoding algorithm to save more bandwidth and storage.
120 dB True WDR & 3D DNR
* The true WDR ensures even ilumination for all areas of an image and balances the lighting to produce sharper videos.
* Eliminate the image noise day night greatly with the 3D DNR for clean images and save the video storage space
Mobile Remote Access
Easy to add the camera to mobile phone via IVMS4200, HIK-Connect Free APP, video surveillance is a total breeze. You can enjoy live video, play back, take snapshots, receive motion alarms anytime from anywhere. You can also share the device's live video with your families and friends.
Camera
Image Sensor
1/1.8" Progressive Scan CMOS
Min. Illumination
Color: 0.003 Lux @ (F1.6, AGC ON), B/W: 0 Lux with IR
Shutter Speed
1/3 s to 1/100,000 s
Slow Shutter
Yes
P/N
P/N
Wide Dynamic Range
120 dB
Day & Night
IR cut filter
Angle Adjustment
Pan: 0° to 360°, tilt: 0° to 90°, rotate: 0° to 360°
Lens
Lens Type
Fixed focal lens, 2.8, 4, and 6 mm optional
Iris Type
Fixed
Focal Length & FOV
2.8 mm, horizontal FOV 111°, vertical FOV 59°, diagonal FOV 131°
4 mm, horizontal FOV 87°, vertical FOV 47°, diagonal FOV 102°
6 mm, horizontal FOV 51°, vertical FOV 28°, diagonal FOV 60°
Aperture
F1.6
Lens Mount
M12
DORI
DORI
2.8 mm: D: 89.2 m, O: 35.4 m, R: 17.8 m, I: 8.9 m
4 mm: D: 99.4 m, O: 39.4 m, R: 19.9 m, I: 9.9 m
6 mm: D: 140.0 m, O: 55.6 m, R: 28.0 m, I: 14.0 m
Illuminator
Supplement Light Type
IR
IR Range
Up to 60 m
IR Wavelength
850 nm
Smart Supplement Light
Yes
Visual Alarm
Yes
Video
Max. Resolution
3840 × 2160
Main Stream
50 Hz: 25 fps (3840 × 2160, 3200 × 1800, 2688 × 1520, 1920 × 1080, 1280 × 720)
60 Hz: 24 fps (3840 × 2160)
30 fps (3200 × 1800, 2688 × 1520, 1920 × 1080, 1280 × 720)
Sub-Stream
50 Hz: 25 fps (640 × 480, 640 × 360)
60 Hz: 30 fps (640 × 480, 640 × 360)
Third Stream
50 Hz: 10 fps (1920 × 1080, 1280 × 720, 640 × 480, 640 × 360)
60 Hz: 10 fps (1920 × 1080, 1280 × 720, 640 × 480, 640 × 360)
*Third stream is supported under certain settings.
Video Compression
Main stream: H.265/H.264/H.264+/H.265+
Sub-stream: H.265/H.264/MJPEG
Third stream: H.265/H.264
*Third stream is supported under certain settings.
Video Bit Rate
32 Kbps to 16 Mbps
H.264 Type
Baseline Profile/Main Profile/High Profile
H.265 Type
Main Profile
H.264+
Main stream supports
H.265+
Main stream supports
Bit Rate Control
CBR/VBR
Scalable Video Coding (SVC)
H.264 and H.265 encoding
Region of Interest (ROI)
1 fixed region for main stream and sub-stream
Audio
Audio Type
Mono sound
Environment Noise Filtering
Yes
Audio Sampling Rate
8 kHz/16 kHz/32 kHz/44.1 kHz/48 kHz
Audio Compression
G.711ulaw/G.711alaw/G.722.1/G.726/MP2L2/PCM/MP3/AAC
Audio Bit Rate
64 Kbps (G.711ulaw/G.711alaw)/16 Kbps (G.722.1)/16 Kbps (G.726)/32 to 192 Kbps (MP2L2)/8 to 320 Kbps (MP3)/16 to 64 Kbps (AAC)
Network
Simultaneous Live View
Up to 6 channels
API
Open Network Video Interface (PROFILE S, PROFILE G, PROFILE T), ISAPI, SDK
Protocols
TCP/IP, ICMP, HTTP, HTTPS, FTP, DHCP, DNS, DDNS, RTP, RTSP, NTP, UPnP, SMTP,
IGMP, 802.1X, QoS, IPv4, IPv6, UDP, Bonjour, SSL/TLS, PPPoE, SNMP, ARP
User/Host
Up to 32 users. 3 user levels: administrator, operator and user
Security
Password protection, complicated password, HTTPS encryption, IP address filter,
Security Audit Log, basic and digest authentication for HTTP/HTTPS, TLS 1.1/1.2, WSSE
and digest authentication for Open Network Video Interface
Network Storage
MicroSD/SDHC/SDXC card (256 GB) local storage, and NAS (NFS, SMB/CIFS), auto network replenishment (ANR)
Together with high-end Hikvision memory card, memory card encryption and health detection are supported.
Client
iVMS-4200, Hik-Connect, Hik-Central
Web Browser
Plug-in required live view: IE 10+
Plug-in free live view: Chrome 57.0+, Firefox 52.0+
Local service: Chrome 57.0+, Firefox 52.0+
Image
SNR
≥ 52 dB
Target Cropping
Yes
Day/Night Switch
Day, Night, Auto, Schedule
Image Enhancement
BLC, HLC, 3D DNR
Image Parameters Switch
Yes
Image Settings
Rotate mode, saturation, brightness, contrast, sharpness, gain, white balance adjustable by client software or web browser
Interface
Alarm
1 input, 1 output (max. 24 VDC/24 VAC, 1 A)
Audio
1 input (line in), terminal block, max. input amplitude: 3.3 Vpp, input impedance:
2.2KΩ, interface type: non-equilibrium;
1 output (line out), terminal block, max. output amplitude: 3.3 Vpp, output
impedance: 100 Ω, interface type: non-equilibrium
Built-in Speaker
Power: 2 W. Max. sound pressure level: 10 cm: 97 dB
Built-in Microphone
Yes
On-Board Storage
Built-in micro SD/SDHC/SDXC slot, up to 256 GB
Hardware Reset
Yes
Ethernet Interface
1 RJ45 10 M/100 M self-adaptive Ethernet port
Event
Basic Event
Motion detection (human and vehicle targets classification), video tampering alarm,exception
Smart Event
Scene change detection
Deep Learning Function
Face Capture
Yes
Perimeter Protection
Line crossing detection, intrusion detection, region entrance detection, region exiting detection
Supports human and vehicle targets classification
General
Linkage Method
Upload to FTP/NAS/memory card, notify surveillance center, send email, trigger recording, trigger capture, trigger alarm output, audible warning, strobe light
Web Client Language
33 languages
English, Russian, Estonian, Bulgarian, Hungarian, Greek, German, Italian, Czech, Slovak,
French, Polish, Dutch, Portuguese, Spanish, Romanian, Danish, Swedish, Norwegian,
Finnish, Croatian, Slovenian, Serbian, Turkish, Korean, Traditional Chinese, Thai,
Vietnamese, Japanese, Latvian, Lithuanian, Portuguese (Brazil), Ukrainian
General Function
Anti-flicker, heartbeat, mirror, privacy mask, flash log, password reset via email, pixel counter
Software Reset
Yes
Firmware Version
V5.5.112
Storage Conditions
-30 °C to 60 °C (-22 °F to 140 °F). Humidity 95% or less (non-condensing)
Startup and Operating Conditions
-30 °C to 60 °C (-22 °F to 140 °F). Humidity 95% or less (non-condensing)
Power Supply
12 VDC ± 25%, reverse polarity protection
PoE: 802.3af, Class 3
Power Consumption and Current
12 VDC, 0.88 A, max. 10.5 W
PoE (802.3af, 36 V to 57 V), 0.34 A to 0.21 A, max. 12.5 W
Power Interface
Ø 5.5 mm coaxial power plug
Camera Material
Metal
Camera Dimension
Ø 105 mm × 287.6 mm (Ø 4.1" × 11.3")
Package Dimension
386 mm × 156 mm × 155 mm (15.2" × 7.5" × 7.1")
Camera Weight
Approx. 1130 g (2.5 lb.)
With Package Weight
Approx. 1654 g (3.6 lb.)
Approval
EMC
FCC (47 CFR Part 15, Subpart B); CE-EMC (EN 55032: 2015, EN 61000-3-2: 2014, EN
61000-3-3: 2013, EN 50130-4: 2011 +A1: 2014); RCM (AS/NZS CISPR 32: 2015); IC
(ICES-003: Issue 6, 2016); KC (KN 32: 2015, KN 35: 2015)
Safety
UL (UL 60950-1); CB (IEC 60950-1:2005 + Am 1:2009 + Am 2:2013, IEC 62368-1:2014 );
Environment
CE-RoHS (2011/65/EU); WEEE (2012/19/EU); Reach (Regulation (EC) No 1907/2006)
Protection
IP67 (IEC 60529-2013)