Outdoor 5MP PoE IP Camera Speed Dome Auto Tracking PTZ Camera
▶  Compatible with Hikvision and ONVIF protocols, allowing easy integration with Hikvision NVRs and most third-party NVRs.
▶  5MP PTZ camera with Pan/Tilt/18X Optical Zoom for clear and detailed surveillance.
▶  Supports auto-tracking of humans and vehicles, as well as customizable cruise routes for efficient monitoring.
▶  Built-in IR LEDs for excellent night vision up to 164ft, ensuring clear images even in low light or complete darkness.
▶  IP66 weatherproof rating for reliable outdoor and indoor use.
▶  Power over Ethernet (PoE) support for convenient installation with a single network cable.
▶  Two-way audio with built-in microphone and speakers for real-time communication.
▶  Easy remote access via mobile app, allowing you to view live video, receive motion alerts, and share footage with family and friends.
Availability: 99 in stock
All these resources and support services are subject to updates, so check back regularly for the latest releases and information.
---
User Instruction
Detailed steps to ensure users install and configure the camera correctly.
Quick Start Guide
Provides simple steps to help users quickly install and configure the camera.

How to use the Auto tracking for human deteaction?
step 1: pls log in trough IE brower by typing the camera's IP,
step 2: click Event to Check whether the human detection function is turned on, should be turned on
step 3: Click "live" to enable automatic tracking in "Preset" call92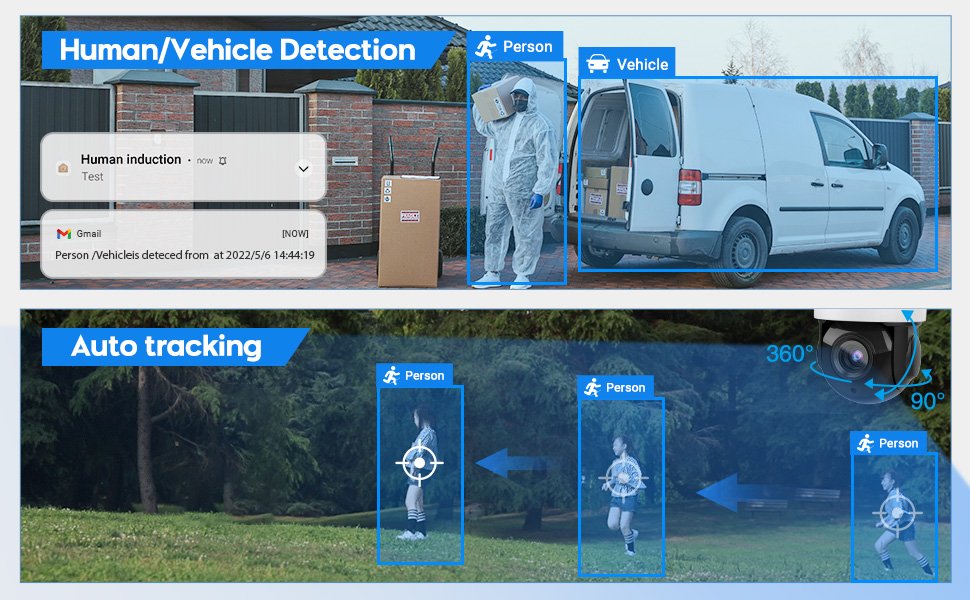 How to set the the time between cruise?
for example when you want to set the cruise 41 and the interval time need 15seconds
step 1: typing 114 ,click add
step 2: typing 15,click add
step 3: typing 41,click call, then the cruise 41 start to cruise , and stop for 15 seconds,then restart to cruise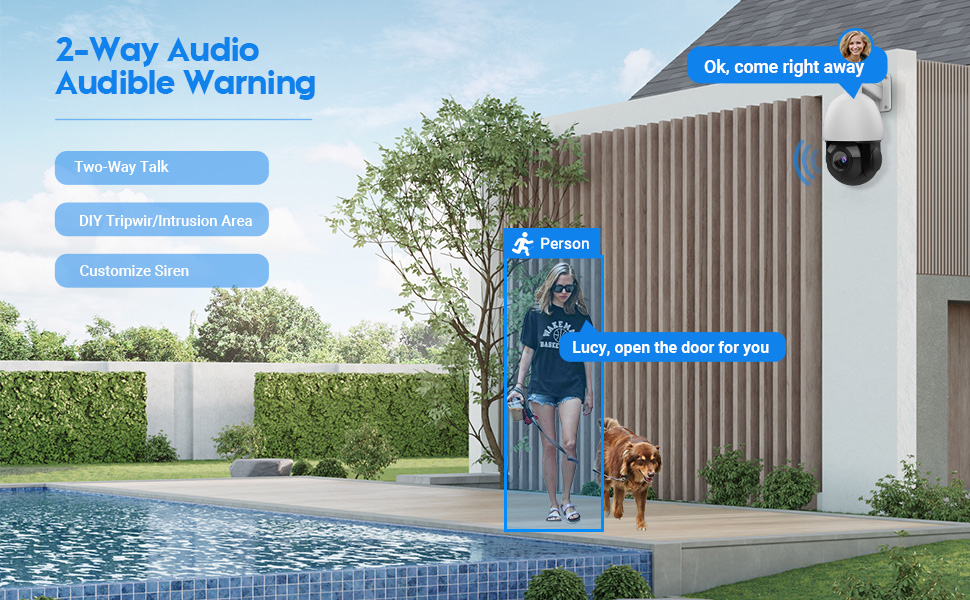 ICR Day/Night Auto IR-cut Filter
With ICR day/night auto ir-cut filter switch, improve the sensitivity of the camera in low illumination scene effectively, to provide 24h real and clear live time image. Clear IR night vision range up to 165ft.

Wide Dynamic Range technology
129dB WDR (Wide Dynamic Range) cameras often incorporate an image sensor that takes different exposures of a scene and combine them into one image, enabling objects in both bright and dark areas of a scene to be visible.

PoE (Power over Ethernet)
PoE outdoor and indoor: Power over Ethernet with only one Ethernet cable (up to 330ft), No power adapter needed, optional PoE switch or injector, easy setup with plug and play. RJ-45 (10/100Base-T). Please use our Power Adapter (DC 12v 3A) in the package or PoE Switch (802.3at).