8MP HD Night Vision IR Network Camera
▶  1/2.8″ 8Megapixel Sony Sensor
▶  Day/Night(ICR), Ultra DNR
▶  H.265/H.264 dual-stream media server
▶  DC 12V / Support PoE
▶  Compatibility: Hikvision Private Protocol, ONVIF, RTSP
▶  Multi web browser, PC Client, mobile APP remote access
▶  IP66 waterproof
▶  Built-in Mic
Availability: 99 in stock
All these resources and support services are subject to updates, so check back regularly for the latest releases and information.
---
User Instruction
Detailed steps to ensure users install and configure the camera correctly.
Quick Start Guide
Provides simple steps to help users quickly install and configure the camera.
4K 8MP PoE IP Camera with Dual IR lights, AI Human/Vehicle Detection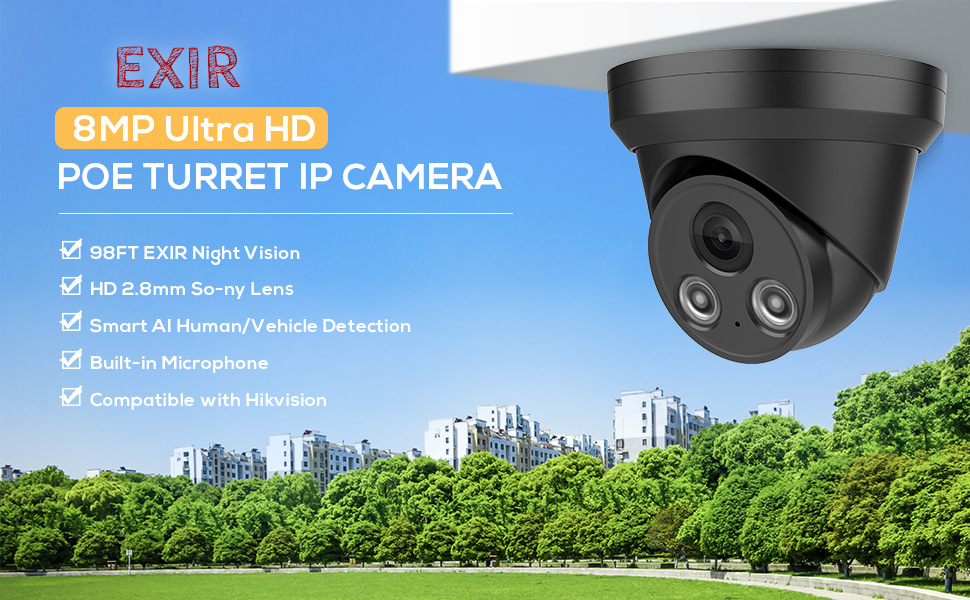 2.8mm Lens, Wide Angle Viewing- Features with 2.8mm lens, this 8mp poe ip camera is able to expand the field of vision from the ordinary 62 ° to 105 °allowing you to view a wider range.
Smart EXIR Technology- This 4k outdoor security camera boasts 4K Ultra HD at 20fps, capturing high-detailed videos smoother than ever. Automatic-switching array IR led allow for unsurpassed IR night vision, ensuring vivid details even at complete darkness.
Built-in Microphone- With the built-in microphone, it also picks up ambient sound for an extra layer of security, suiting for home security such as driveway, front door, garage,office, etc.
AI Human/Vehicle Detection- The smart AI detection will alert you to human presence as well as vehicle presence, whcih identifies true threats to reduce false alerts. Playback via AC18PRO App by filtering person/vehicle events helps to find footages you want quickly.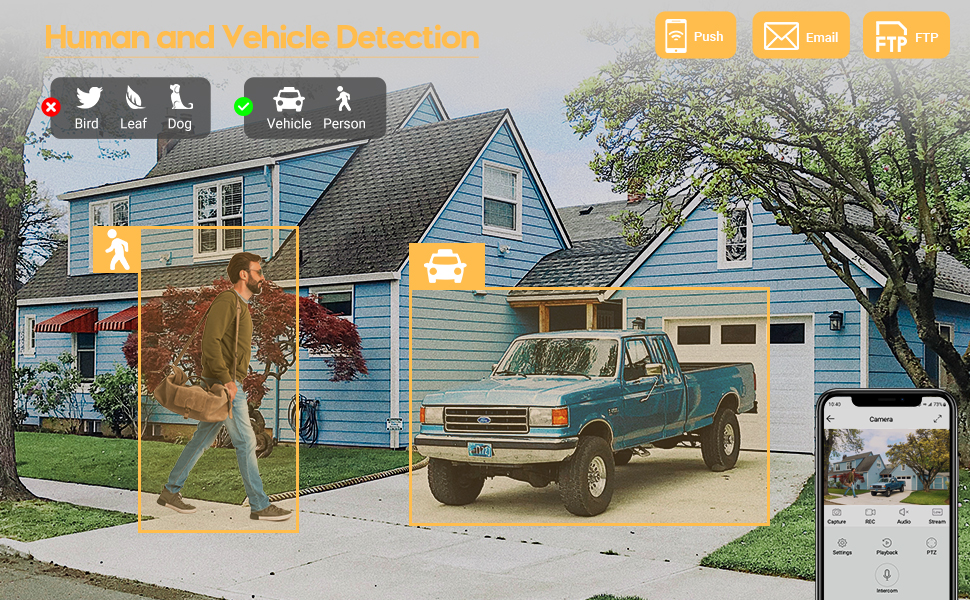 Some Important Tips for You to Use this PoE IP Camera More Easily and Quickly
You can search and download the mobile application "AC18PRO" or "Danale" through the APP Store or Google Play Market for remote real-time monitoring.
This POE IP camera is compatible with Hikvision protocol, plug and play. It also supports ON-VIF protocol and is compatible with other third-party NVRs like Dahua.
This PoE ip camera is compatible with most security monitoring software, such as Blue Iris, iSpy, VLC, etc.
Camera Default IP Address: 192.168.1.110, User Name: admin, Password: 123456
Due to browser compatibility issues, it is recommended to use Internet Explorer to log in to access the ip camera.
Install "AC18PRO" or "Danale" app from APP Store or Google Play Market, scan the P2P QR Code of the ip camera to bind the camera to your mobile phone for remote real-time monitoring.
The electronic user manual or specification sheet of this PoE IP Camera can be downloaded from Product Guides and Documents.
Adding to 3rd-party NVR, please modify the ip address of this camera by "AjDevTools". For further guide, please watch Panoeagle Video.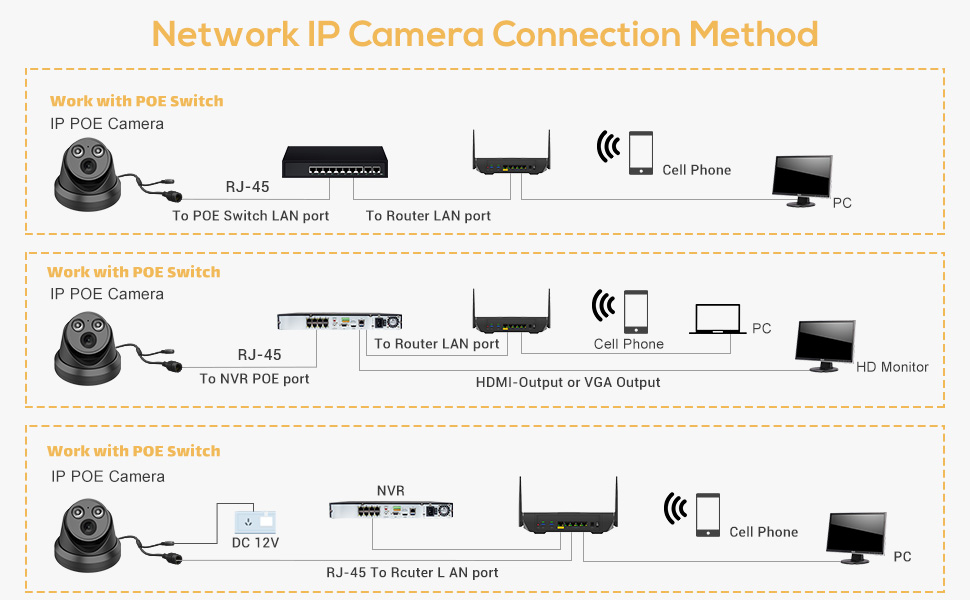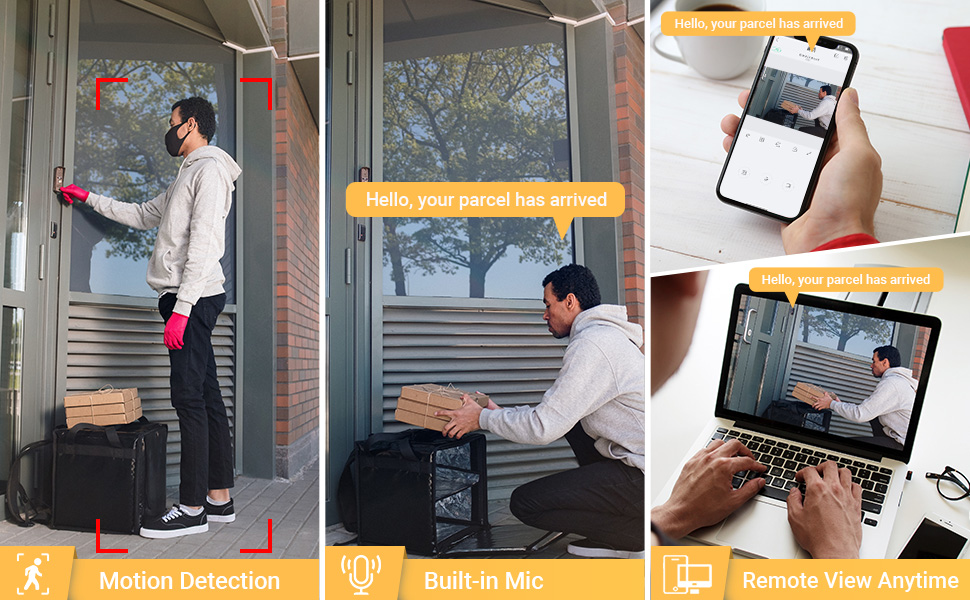 Alt