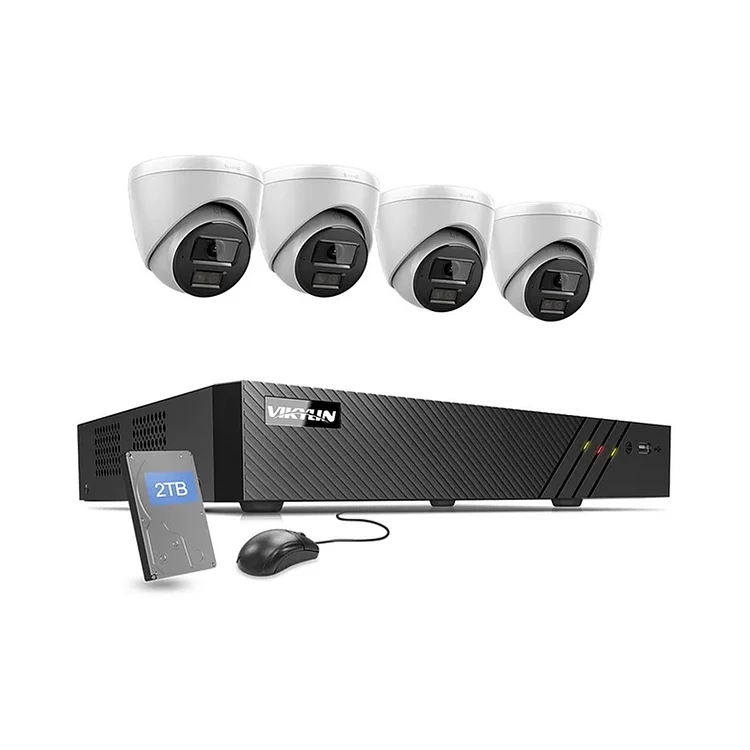 ▶ ColorVu technology provides 24/7 vivid colorful images with F1.0 advanced lenses
and high performance sensors. F1.0 super-aperture collects more light to produce
brighter images. Advanced sensor technology can vastly improve the utilization of
available light.
▶ High quality imaging with 5 MP resolution
▶ Excellent low-light performance
▶ Efficient H.265+ compression technology
▶ Water and dust resistant (IP67)
▶ 24/7 colorful imaging
High-performance Sensors

F1.0 super aperture and advanced sensor for realistic rendering, 4X more light collection than F2.0, Choose a better and more expensive large aperture to restore clearer and more realistic video images,high-definition full-color images, even in dark environments.

Data Encryption, Cyber Security

We use AWS server to achieve remote access to your system, meaning your data stays your data as the Vikylin servers are not involved at all. All the data is dynamically encrypted and well protected.

Smart Motion Alerts

The Vikylin PoE security system detects moving objects and triggers alerts when danger occurs. A prompt e-mail or push notification will be sent to users' smart devices immediately, allowing for quick action when trouble arises.
Camera
Image Sensor
1/3" Progressive Scan CMOS
Min. Illumination
Color: 0.001 Lux @(F1.0, AGC ON), 0 Lux with white light
Shutter Speed
1/3 s to 1/100, 000 s
Slow Shutter
Yes
Wide Dynamic Range
120 dB
Angle Adjustment
Pan: 0° to 360°, tilt: 0° to 90°, rotate: 0° to 360°
Lens
Focal Length & FOV
2.8 mm, horizontal FOV 96.5°, vertical FOV 50.8°, diagonal FOV 113.9°
Lens Mount
M12
Focus
Fixed
Aperture
F1.0
DORI
DORI
2.8 mm, D: 64.0 m, O: 25.4 m, R: 12.8 m, I: 6.4 m
Illuminator
Smart Supplement Light
Yes
White Light Range
Up to 30 m
Video
Max. Resolution

3072

×

1728

Main Stream
50 Hz:

20 fps (

3072

×

1728

),

25 fps (1920 × 1080, 1280 × 720)
60 Hz:

20 fps (

3072

×

1728

),

30 fps (1920 × 1080, 1280 × 720)
Sub-Stream
50 Hz: 25 fps (1280 × 720, 640 × 480, 640 × 360)
60 Hz: 30 fps (1280 × 720, 640 × 480, 640 × 360)
Video Compression
Main stream: H.265/H.264
Sub-stream: H.265/H.264/MJPEG
Video Bit Rate
32 Kbps to 8 Mbps
H.264 Type
Baseline Profile/Main Profile/High Profile
H.265 Type
Main Profile
H.264+
Main stream supports
H.265+
Main stream supports
Region of Interest (ROI)
1 fixed region for main stream
Audio
Audio Compression
-UF: G.711ulaw/G.711alaw/G.722.1/G.726/MP2L2/PCM/AAC
Audio Bit Rate
-UF: 64 Kbps (G.711ulaw/G.711alaw)/16 Kbps (G.722.1)/16 Kbps (G.726)/32 to 160 Kbps (MP2L2)/16 to 64 Kbps (AAC)
Audio Sampling Rate
-UF: 8 kHz/16 kHz
Environment Noise Filtering

-

UF

:

Yes

Network
Protocols
TCP/IP, ICMP, HTTP, HTTPS, FTP, DHCP, DNS, DDNS, RTP, RTSP, RTCP, NTP, UPnP™, SMTP, IGMP, 802.1X, QoS, IPv6, Bonjour, IPv4, UDP, SSL/TLS
Simultaneous Live View
Up to 6 channels
API
Open Network Video Interface, ISAPI
User/Host
Up to 32 users. 3 levels: administrator, operator and user
Client
iVMS-4200, Guarding Vision
Web Browser
Plug-in required live view: IE 10+
Plug-in free live view: Chrome 57.0+, Firefox 52.0+
Local service: Chrome 57.0+, Firefox 52.0+
Image
Image Settings
Saturation, brightness, contrast, sharpness, AGC, white balance adjustable by client software or web browser.
Day/Night Switch
Day, Night, Auto, Schedule
Image Enhancement
BLC, 3D DNR
Interface
Ethernet Interface
1 RJ45 10 M/100 M self-adaptive Ethernet port
On-Board Storage
-UF: Built-in memory card slot, support microSD card, up to 256 GB
Built-in Microphone
-UF: Yes
Hardware Reset
-UF: Yes
Event
Basic Event
Motion detection, video tampering alarm, exception
General
Linkage Method
Upload to FTP/memory card (-UF), notify surveillance center, send email, trigger recording (-UF), trigger capture
Camera Material
Aluminum alloy body
Camera Dimension
Ø76.6 mm × 164.4 mm (Ø3" × 6.5")
Package Dimension
234 mm × 120 mm × 117 mm (9.2" × 4.7" × 4.6")
Camera Weight
Approx. 430 g (0.95 lb.)
With Package Weight
Approx. 648 g (1.43 lb.)
Storage Conditions
-30 °C to 60 °C (-22 °F to 140 °F). Humidity: 95% or less (non-condensing)
Startup and Operating Conditions
-30 °C to 60 °C (-22 °F to 140 °F). Humidity: 95% or less (non-condensing)
Web Client Language
English, Ukrainian
General Function
Anti-flicker, heartbeat, mirror, password protection, privacy mask, watermark, IP address filter
Firmware Version
V5.5.122
Power Consumption and Current
12 VDC, 0.4 A, max. 5 W
PoE: (802.3af, 36 V to 57 V), 0.2 A to 0.15 A, max. 6.5 W
Power Supply
12 VDC ± 25%
PoE: 802.3af, Class 3
Power Interface
Ø5.5 mm coaxial power plug
Approval
EMC
FCC SDoC (47 CFR Part 15, Subpart B);
CE-EMC (EN 55032: 2015, EN 61000-3-2: 2014, EN 61000-3-3: 2013, EN 50130-4: 2011 +A1: 2014);
RCM (AS/NZS CISPR 32: 2015);
KC (KN 32: 2015, KN 35: 2015)
Safety
UL (UL 60950-1);
CB (IEC 60950-1:2005 + Am 1:2009 + Am 2:2013, IEC 62368-1:2014);
CE-LVD (EN 60950-1:2005 + Am 1:2009 + Am 2:2013, IEC 62368-1:2014);
BIS (IS 13252(Part 1):2010+A1:2013+A2:2015)
Environment
CE-RoHS (2011/65/EU);
WEEE (2012/19/EU);
Reach (Regulation (EC) No 1907/2006)
Protection
IP67 (IEC 60529-2013)
Camera
Image Sensor
1/2.7" Progressive Scan CMOS
Min. Illumination
Color: 0.001 Lux @ (F1.0, AGC ON)
Shutter Speed
1/3 s to 1/100,000 s
Angle Adjustment
Pan: 0° to 360°, tilt: 0° to 90°, rotate: 0° to 360°
Slow Shutter
Yes
P/N
P/N
Wide Dynamic Range
120 dB
Lens
Lens Type & FOV
2.8 mm, horizontal FOV 102°, vertical FOV 54°, diagonal FOV 121°
Aperture
F1.0
Lens Mount
M12
Aperture Type
Fixed
Depth of Focus
2.8 mm: 3.1 m to ∞
Illuminator
Smart Supplement Light
Yes
Supplement Light
White
White Light Range
Up to 30 m
Video
Main Stream
50Hz: 20 fps (2560 × 1440)

25 fps (2304 × 1296

,

1920 × 1080, 1280 × 720)

60Hz: 20 fps (2560 × 1440)

30 fps (2304 × 1296

,

1920 × 1080, 1280 × 720)

Sub Stream

50Hz: 25 fps (640 × 480, 640 × 360, 320 ×

240)

60Hz: 30 fps (640 × 480, 640 × 360, 320 ×

240)

* Note: The frame rate of the sub-stream cannot exceed the maximum frame rate of the current main stream.
Video Compression
Main stream: H.265+/H.265/H.264+/H.264
Sub-stream: H.265/H.264
Video Bit Rate
32 Kbps to 8 Mbps
H.264 Type
BaseLine Profile/Main Profile/High Profile
H.265 Type
Main Profile
Region of Interest (ROI)
1 fixed region for main stream
Network
Simultaneous Live View
Up to 6 channels
API
ONVIF (PROFILE S), ISAPI, SDK
Protocols
TCP/IP, ICMP, HTTP, FTP, DHCP, DNS, DDNS, RTP, RTSP, RTCP, NTP, UPnP, SMTP, IGMP,
QoS, IPv6, UDP, Bonjour, SSL/TLS
User/Host
Up to 32 users. 3 user levels: administrator, operator and user
Security
Password protection, complicated password, HTTPS encryption, IP address filter,
security audit log, basic and digest authentication for HTTP/HTTPS, TLS 1.2, WSSE and digest authentication for ONVIF
Client
VKLOOK,VKTOOL
Web Browser
Plug-in required live view: IE 10, IE 11
Local service: Chrome 57.0+, Firefox 52.0+
Image
Day/Night Switch
Day, Night, Auto, Schedule
Image Enhancement
BLC, HLC, 3D DNR
Image Settings
Rotate mode, saturation, brightness, contrast, sharpness, gain, white balance
adjustable by client software or web browser
Interface
Communication Interface
1 RJ45 10M/100M self-adaptive Ethernet port
Intelligent (Traditional Algorithm)
Basic Event
Motion detection, exception (illegal login)
General
Linkage Method
Upload to FTP/NAS, notify surveillance center, send email, trigger recording, triggercapture
Web Client Language
English
General Function
Anti-flicker, heartbeat, mirror, privacy masks, password reset via e-mail
Software Reset
Reset via web browser and client software
Storage Conditions
-30 °C to 60 °C (-22 °F to 140 °F). Humidity 95% or less (non-condensing)
Startup and Operating Conditions
-30 °C to 60 °C (-22 °F to 140 °F). Humidity 95% or less (non-condensing)
Power Supply
12 VDC ± 25%, PoE: 802.3af, Type 1 Class 3, reverse polarity protection
Power Consumption and
12 VDC, 0.37 A, max. 4.5 W
Current
PoE (802.3af, 36 V to 57 V), 0.20 A to 0.10 A, max. 4.5W
Power Interface
Ø5.5 mm coaxial power plug
Material
Metal
Camera Dimension

6

2

×

57.7

× 1

48

.

3

mm

Package Dimension
172 × 104 × 80 mm
Camera Weight
Approx. 430 g (0.9 lb.)
With Package Weight
Approx. 520 g (1.1 lb.)
Model
VK608Q
Video/Audio input
IP video input
8-ch
Up to 8 MP resolution
Two-way audio
1-ch, RCA (2.0 Vp-p, 1 k Ω)
Network
Incoming bandwidth
80 Mbps
Outgoing bandwidth
80 Mbps
Video/Audio output
Recording resolution
8 MP/6 MP/5 MP/4 MP/3 MP/1080p/UXGA/720p/VGA/4CIF/DCIF/ 2CIF/CIF/QCIF
HDMI output resolution
1-ch, 4K (3840 × 2160)/30Hz,
1920 × 1080p/60Hz, 1600 ×
1200/60Hz, 1280 ×
1024/60Hz, 1280 × 720/60Hz,
1024 × 768/60Hz;

HDMI/VGA

simultaneous

output

VGA output resolution
1-ch, 1920 × 1080p/60Hz,
1600 × 1200/60Hz, 1280 ×
1024/60Hz, 1280 × 720/60Hz,
1024 × 768/60Hz ;

HDMI/VGA

simultaneous output

Audio output
1-ch, RCA (Linear, 1 KΩ)
Decoding
Decoding format
H.265/H.265+/H.264/H.264+/MPEG4
Live view / Playback resolution
8 MP/6 MP/5 MP/4 MP/3 MP/1080p/UXGA/720p/VGA/4CIF/DCIF/ 2CIF/CIF/QCIF
Synchronous playback
8-ch
Capability
1-ch @ 8 MP / 4-ch @ 1080p
Network management
Network protocols
TCP/IP, DHCP, Hik-Connect, DNS, DDNS, NTP, SADP, SMTP, NFS, iSCSI, UPnP™, HTTPS
Hard disk
SATA
1 SATA interface
Capacity
Up to 6TB capacity for each disk
External interface
Network interface
1, RJ-45 10/100/1000 Mbps self-adaptive Ethernet interface
USB interface
2 × USB 2.0
POE Interface
Interface

8, RJ-45 10/100 Mbps self-adaptive

Ethernet interface

Power
≤ 75W
Standard
IEEE 802.3 af/at
General
Power supply
48 VDC
Power
≤ 90 W
Consumption(without hard disk)
≤ 10 W (without enabling PoE)
Working temperature
-10 to +55º C (+14 to +131º F)
Working humidity
10 to 90 %
Chassis
1U chassis
Dimensions(W × D × H)
315 × 240 × 48 mm (12.4" × 9.4" × 1.9")
Weight(without hard disk)
≤ 1 kg (2.2 lb)
Camera
Image Sensor
1/3" Progressive Scan CMOS
Min. Illumination
Color: 0.001 Lux @(F1.0, AGC ON), 0 Lux with white light
Shutter Speed
1/3 s to 1/100, 000 s
Slow Shutter
Yes
Wide Dynamic Range
120 dB
Angle Adjustment
Pan: 0° to 360°, tilt: 0° to 90°, rotate: 0° to 360°
Lens
Focal Length & FOV
2.8 mm, horizontal FOV 96.5°, vertical FOV 50.8°, diagonal FOV 113.9°
Lens Mount
M12
Focus
Fixed
Aperture
F1.0
DORI
DORI
2.8 mm, D: 64.0 m, O: 25.4 m, R: 12.8 m, I: 6.4 m
Illuminator
Smart Supplement Light
Yes
White Light Range
Up to 30 m
Video
Max. Resolution

3072

×

1728

Main Stream
50 Hz:

20 fps (

3072

×

1728

),

25 fps (1920 × 1080, 1280 × 720)
60 Hz:

20 fps (

3072

×

1728

),

30 fps (1920 × 1080, 1280 × 720)
Sub-Stream
50 Hz: 25 fps (1280 × 720, 640 × 480, 640 × 360)
60 Hz: 30 fps (1280 × 720, 640 × 480, 640 × 360)
Video Compression
Main stream: H.265/H.264
Sub-stream: H.265/H.264/MJPEG
Video Bit Rate
32 Kbps to 8 Mbps
H.264 Type
Baseline Profile/Main Profile/High Profile
H.265 Type
Main Profile
H.264+
Main stream supports
H.265+
Main stream supports
Region of Interest (ROI)
1 fixed region for main stream
Audio
Audio Compression
-UF: G.711ulaw/G.711alaw/G.722.1/G.726/MP2L2/PCM/AAC
Audio Bit Rate
-UF: 64 Kbps (G.711ulaw/G.711alaw)/16 Kbps (G.722.1)/16 Kbps (G.726)/32 to 160 Kbps (MP2L2)/16 to 64 Kbps (AAC)
Audio Sampling Rate
-UF: 8 kHz/16 kHz
Environment Noise Filtering

-

UF

:

Yes

Network
Protocols
TCP/IP, ICMP, HTTP, HTTPS, FTP, DHCP, DNS, DDNS, RTP, RTSP, RTCP, NTP, UPnP™, SMTP, IGMP, 802.1X, QoS, IPv6, Bonjour, IPv4, UDP, SSL/TLS
Simultaneous Live View
Up to 6 channels
API
Open Network Video Interface, ISAPI
User/Host
Up to 32 users. 3 levels: administrator, operator and user
Client
iVMS-4200, Guarding Vision
Web Browser
Plug-in required live view: IE 10+
Plug-in free live view: Chrome 57.0+, Firefox 52.0+
Local service: Chrome 57.0+, Firefox 52.0+
Image
Image Settings
Saturation, brightness, contrast, sharpness, AGC, white balance adjustable by client software or web browser.
Day/Night Switch
Day, Night, Auto, Schedule
Image Enhancement
BLC, 3D DNR
Interface
Ethernet Interface
1 RJ45 10 M/100 M self-adaptive Ethernet port
On-Board Storage
-UF: Built-in memory card slot, support microSD card, up to 256 GB
Built-in Microphone
-UF: Yes
Hardware Reset
-UF: Yes
Event
Basic Event
Motion detection, video tampering alarm, exception
General
Linkage Method
Upload to FTP/memory card (-UF), notify surveillance center, send email, trigger recording (-UF), trigger capture
Camera Material
Aluminum alloy body
Camera Dimension
Ø76.6 mm × 164.4 mm (Ø3" × 6.5")
Package Dimension
234 mm × 120 mm × 117 mm (9.2" × 4.7" × 4.6")
Camera Weight
Approx. 430 g (0.95 lb.)
With Package Weight
Approx. 648 g (1.43 lb.)
Storage Conditions
-30 °C to 60 °C (-22 °F to 140 °F). Humidity: 95% or less (non-condensing)
Startup and Operating Conditions
-30 °C to 60 °C (-22 °F to 140 °F). Humidity: 95% or less (non-condensing)
Web Client Language
English, Ukrainian
General Function
Anti-flicker, heartbeat, mirror, password protection, privacy mask, watermark, IP address filter
Firmware Version
V5.5.122
Power Consumption and Current
12 VDC, 0.4 A, max. 5 W
PoE: (802.3af, 36 V to 57 V), 0.2 A to 0.15 A, max. 6.5 W
Power Supply
12 VDC ± 25%
PoE: 802.3af, Class 3
Power Interface
Ø5.5 mm coaxial power plug
Approval
EMC
FCC SDoC (47 CFR Part 15, Subpart B);
CE-EMC (EN 55032: 2015, EN 61000-3-2: 2014, EN 61000-3-3: 2013, EN 50130-4: 2011 +A1: 2014);
RCM (AS/NZS CISPR 32: 2015);
KC (KN 32: 2015, KN 35: 2015)
Safety
UL (UL 60950-1);
CB (IEC 60950-1:2005 + Am 1:2009 + Am 2:2013, IEC 62368-1:2014);
CE-LVD (EN 60950-1:2005 + Am 1:2009 + Am 2:2013, IEC 62368-1:2014);
BIS (IS 13252(Part 1):2010+A1:2013+A2:2015)
Environment
CE-RoHS (2011/65/EU);
WEEE (2012/19/EU);
Reach (Regulation (EC) No 1907/2006)
Protection
IP67 (IEC 60529-2013)
Camera
Image Sensor
1/2.7" Progressive Scan CMOS
Min. Illumination
Color: 0.001 Lux @ (F1.0, AGC ON)
Shutter Speed
1/3 s to 1/100,000 s
Angle Adjustment
Pan: 0° to 360°, tilt: 0° to 90°, rotate: 0° to 360°
Slow Shutter
Yes
P/N
P/N
Wide Dynamic Range
120 dB
Lens
Lens Type & FOV
2.8 mm, horizontal FOV 102°, vertical FOV 54°, diagonal FOV 121°
Aperture
F1.0
Lens Mount
M12
Aperture Type
Fixed
Depth of Focus
2.8 mm: 3.1 m to ∞
Illuminator
Smart Supplement Light
Yes
Supplement Light
White
White Light Range
Up to 30 m
Video
Main Stream
50Hz: 20 fps (2560 × 1440)

25 fps (2304 × 1296

,

1920 × 1080, 1280 × 720)

60Hz: 20 fps (2560 × 1440)

30 fps (2304 × 1296

,

1920 × 1080, 1280 × 720)

Sub Stream

50Hz: 25 fps (640 × 480, 640 × 360, 320 ×

240)

60Hz: 30 fps (640 × 480, 640 × 360, 320 ×

240)

* Note: The frame rate of the sub-stream cannot exceed the maximum frame rate of the current main stream.
Video Compression
Main stream: H.265+/H.265/H.264+/H.264
Sub-stream: H.265/H.264
Video Bit Rate
32 Kbps to 8 Mbps
H.264 Type
BaseLine Profile/Main Profile/High Profile
H.265 Type
Main Profile
Region of Interest (ROI)
1 fixed region for main stream
Network
Simultaneous Live View
Up to 6 channels
API
ONVIF (PROFILE S), ISAPI, SDK
Protocols
TCP/IP, ICMP, HTTP, FTP, DHCP, DNS, DDNS, RTP, RTSP, RTCP, NTP, UPnP, SMTP, IGMP,
QoS, IPv6, UDP, Bonjour, SSL/TLS
User/Host
Up to 32 users. 3 user levels: administrator, operator and user
Security
Password protection, complicated password, HTTPS encryption, IP address filter,
security audit log, basic and digest authentication for HTTP/HTTPS, TLS 1.2, WSSE and digest authentication for ONVIF
Client
VKLOOK,VKTOOL
Web Browser
Plug-in required live view: IE 10, IE 11
Local service: Chrome 57.0+, Firefox 52.0+
Image
Day/Night Switch
Day, Night, Auto, Schedule
Image Enhancement
BLC, HLC, 3D DNR
Image Settings
Rotate mode, saturation, brightness, contrast, sharpness, gain, white balance
adjustable by client software or web browser
Interface
Communication Interface
1 RJ45 10M/100M self-adaptive Ethernet port
Intelligent (Traditional Algorithm)
Basic Event
Motion detection, exception (illegal login)
General
Linkage Method
Upload to FTP/NAS, notify surveillance center, send email, trigger recording, triggercapture
Web Client Language
English
General Function
Anti-flicker, heartbeat, mirror, privacy masks, password reset via e-mail
Software Reset
Reset via web browser and client software
Storage Conditions
-30 °C to 60 °C (-22 °F to 140 °F). Humidity 95% or less (non-condensing)
Startup and Operating Conditions
-30 °C to 60 °C (-22 °F to 140 °F). Humidity 95% or less (non-condensing)
Power Supply
12 VDC ± 25%, PoE: 802.3af, Type 1 Class 3, reverse polarity protection
Power Consumption and
12 VDC, 0.37 A, max. 4.5 W
Current
PoE (802.3af, 36 V to 57 V), 0.20 A to 0.10 A, max. 4.5W
Power Interface
Ø5.5 mm coaxial power plug
Material
Metal
Camera Dimension

6

2

×

57.7

× 1

48

.

3

mm

Package Dimension
172 × 104 × 80 mm
Camera Weight
Approx. 430 g (0.9 lb.)
With Package Weight
Approx. 520 g (1.1 lb.)
Model
VK608Q
Video/Audio input
IP video input
8-ch
Up to 8 MP resolution
Two-way audio
1-ch, RCA (2.0 Vp-p, 1 k Ω)
Network
Incoming bandwidth
80 Mbps
Outgoing bandwidth
80 Mbps
Video/Audio output
Recording resolution
8 MP/6 MP/5 MP/4 MP/3 MP/1080p/UXGA/720p/VGA/4CIF/DCIF/ 2CIF/CIF/QCIF
HDMI output resolution
1-ch, 4K (3840 × 2160)/30Hz,
1920 × 1080p/60Hz, 1600 ×
1200/60Hz, 1280 ×
1024/60Hz, 1280 × 720/60Hz,
1024 × 768/60Hz;

HDMI/VGA

simultaneous

output

VGA output resolution
1-ch, 1920 × 1080p/60Hz,
1600 × 1200/60Hz, 1280 ×
1024/60Hz, 1280 × 720/60Hz,
1024 × 768/60Hz ;

HDMI/VGA

simultaneous output

Audio output
1-ch, RCA (Linear, 1 KΩ)
Decoding
Decoding format
H.265/H.265+/H.264/H.264+/MPEG4
Live view / Playback resolution
8 MP/6 MP/5 MP/4 MP/3 MP/1080p/UXGA/720p/VGA/4CIF/DCIF/ 2CIF/CIF/QCIF
Synchronous playback
8-ch
Capability
1-ch @ 8 MP / 4-ch @ 1080p
Network management
Network protocols
TCP/IP, DHCP, Hik-Connect, DNS, DDNS, NTP, SADP, SMTP, NFS, iSCSI, UPnP™, HTTPS
Hard disk
SATA
1 SATA interface
Capacity
Up to 6TB capacity for each disk
External interface
Network interface
1, RJ-45 10/100/1000 Mbps self-adaptive Ethernet interface
USB interface
2 × USB 2.0
POE Interface
Interface

8, RJ-45 10/100 Mbps self-adaptive

Ethernet interface

Power
≤ 75W
Standard
IEEE 802.3 af/at
General
Power supply
48 VDC
Power
≤ 90 W
Consumption(without hard disk)
≤ 10 W (without enabling PoE)
Working temperature
-10 to +55º C (+14 to +131º F)
Working humidity
10 to 90 %
Chassis
1U chassis
Dimensions(W × D × H)
315 × 240 × 48 mm (12.4" × 9.4" × 1.9")
Weight(without hard disk)
≤ 1 kg (2.2 lb)