8MP Lite IR Fixed-focal Bullet Network Camera
▶  8MP, 1/2.7″ CMOS image sensor, low illuminance, high image definition
▶  Outputs max. 8MP (3840 × 2160) @15 fps, and supports 2688×1520 (2688 × 1520) @25/30 fps
▶  H.265 codec, high compression rate, ultra-low bit rate
▶  Built-in IR LED, max IR distance: 30 m
▶  ROI, SMART H.264+/H.265+, flexible coding, applicable to various bandwidth and storage environments
▶  Rotation mode, WDR, 3D NR, HLC, BLC, digital watermarking, applicable to various monitoring scenes
▶  Intelligent detection: Intrusion, tripwire · Abnormality detection: Motion detection, video tampering, no SD card, SD card full, SD card error, network disconnection, IP conflict, illegal access,voltage detection
▶  Supports max. 256 GB Micro SD card
▶  12V DC/PoE power supply
▶  IP67 protection
Availability: 99 in stock
All these resources and support services are subject to updates, so check back regularly for the latest releases and information.
---
User Instruction
Detailed steps to ensure users install and configure the camera correctly.
Quick Start Guide
Provides simple steps to help users quickly install and configure the camera.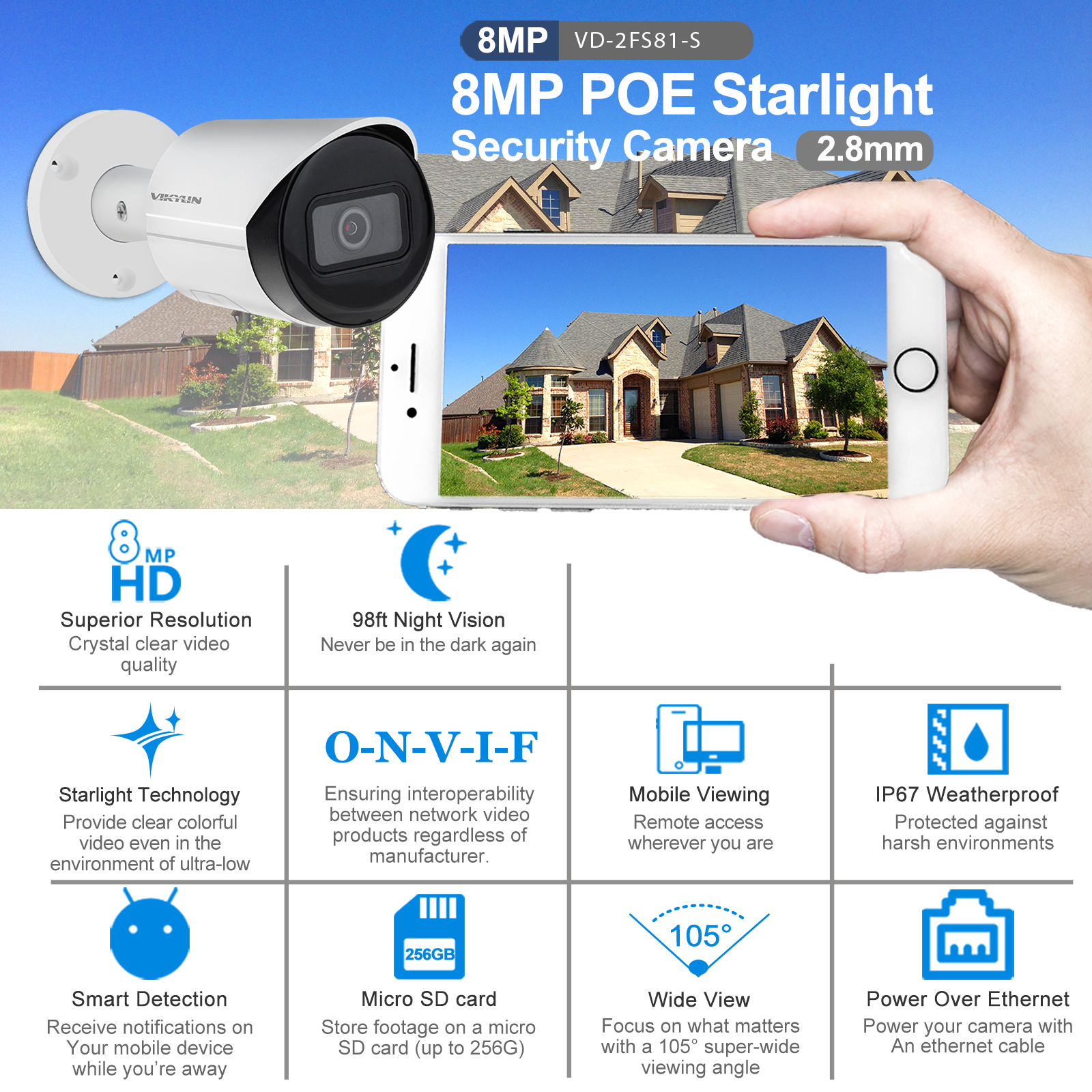 8MP / 4K Ultra HD
Higher resolution means more image details to be captured.Compared with 6MP cameras, 8MP hd security camera not only has better clarity but also better color purity and balance, in the aesthetic sense. 1/2″ CMOS Sensor, 2.8mm lens and 3840*2160 resolution ( 8MP ) play the trick.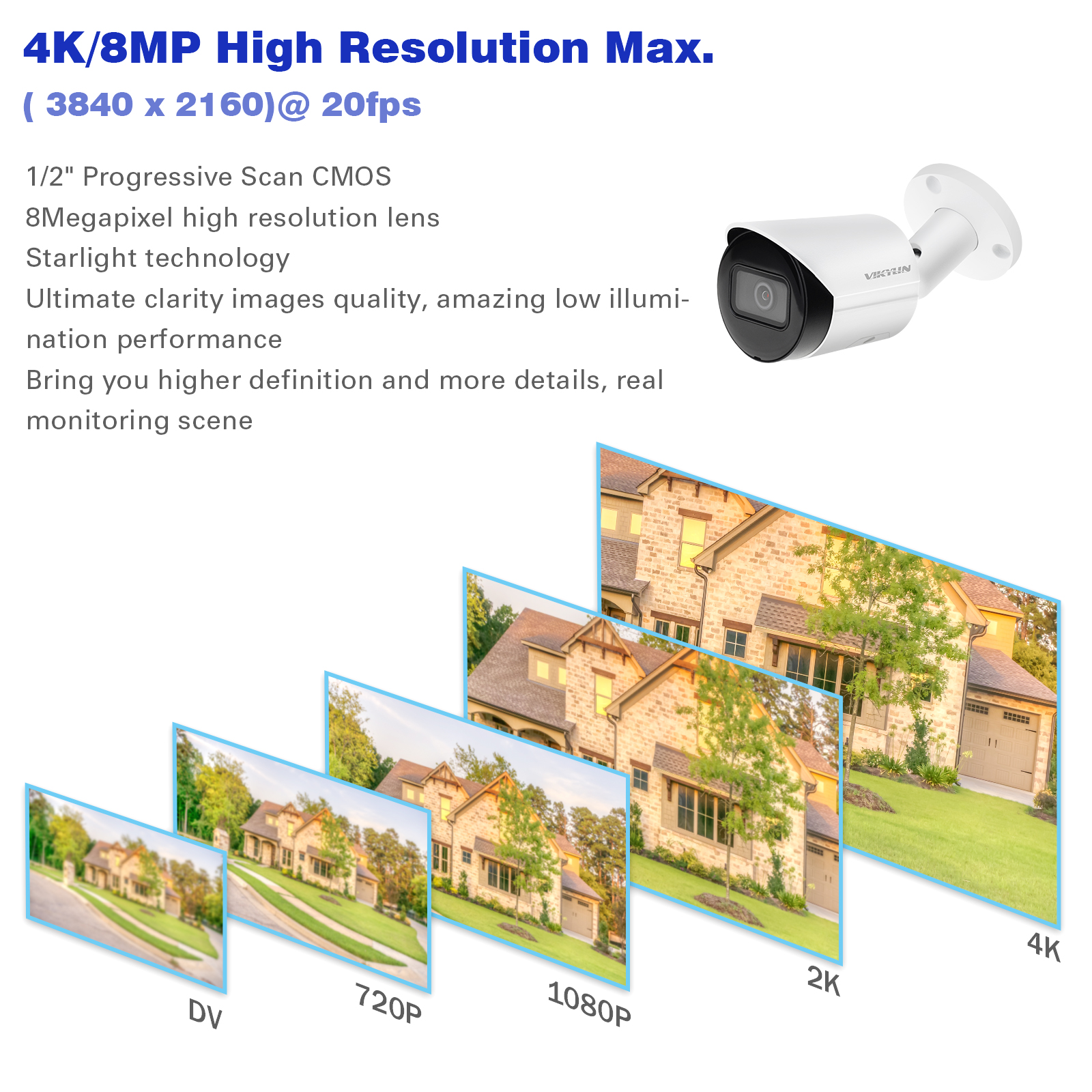 Accurate Alarm for Human and Vehicle
You can focus on alarms triggered by humans and vehicles while false alarms triggered by small animals or other irrelevant objects are vastly reduced. Now you can enjoy this intelligent function with VCA or motion detection.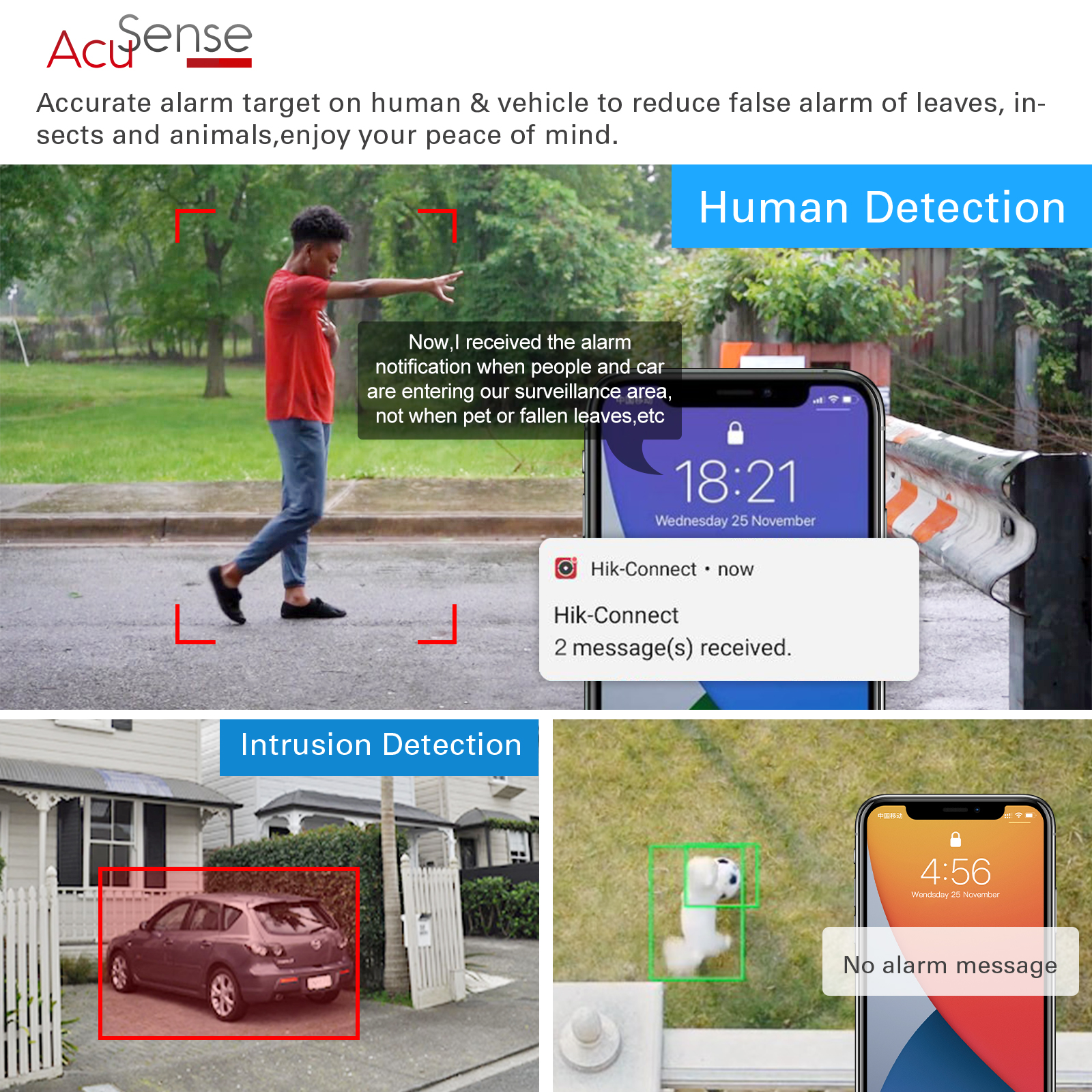 Intrusion Detection
Setting up an area and the time allowed to pass through this area.when human or vehicle enter this area over the time setting, the alarm will be triggered. The time range allowed to be set is 0-10 seconds.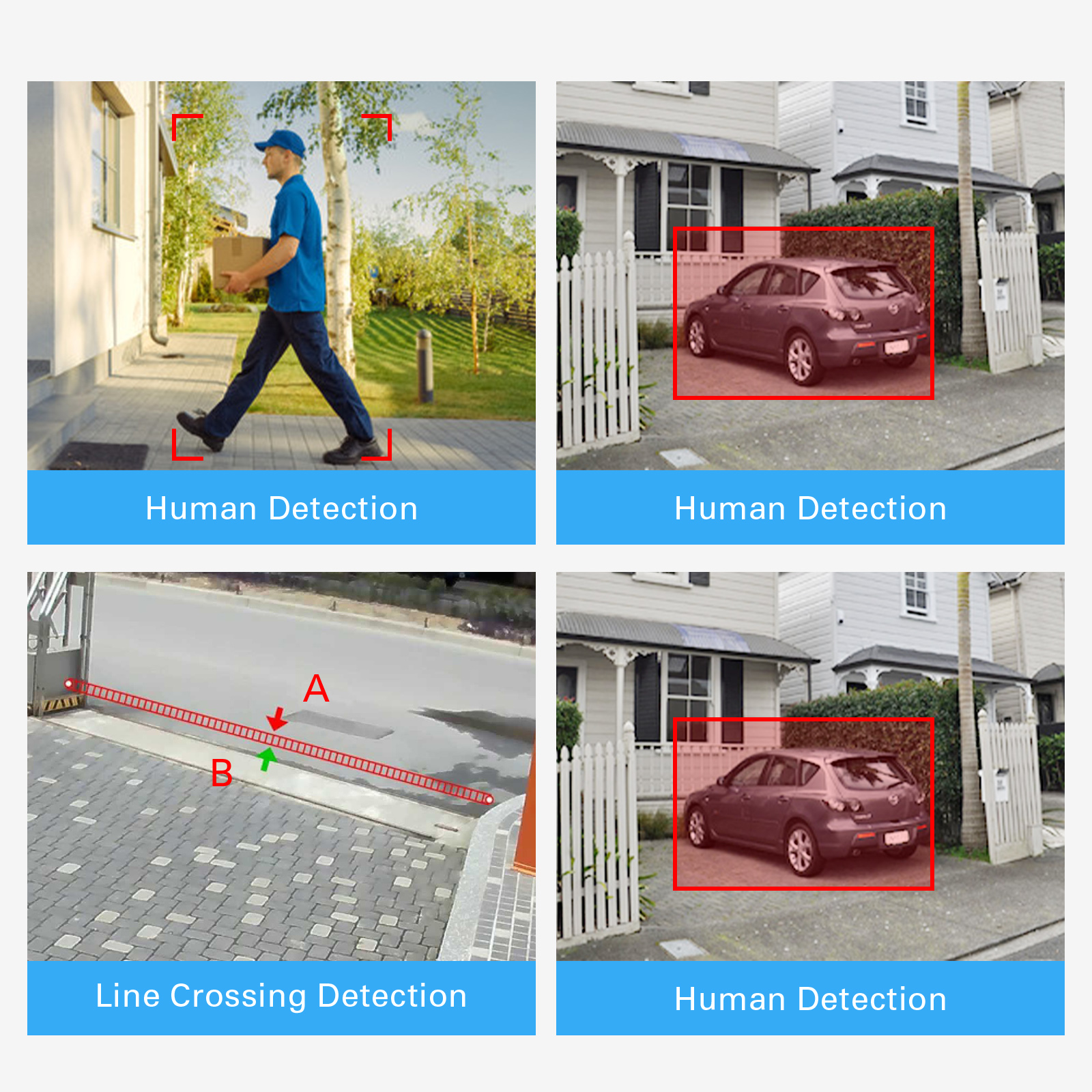 Line Crossing Detection
Cross a pre-defined virtual line,you can set up 3 ways to detect:
Rule1: A<->B when human or vehide across the configured line,both directions can be detected and alarms are triggered;
Rule-2: A->B only the human or vehiclet crossing the configured line from the Aside to the Bside can be detected and alarm;
Rule-3: B->A only the human or vehicle crossing the configured line from the B side to the A side can be detected and alarm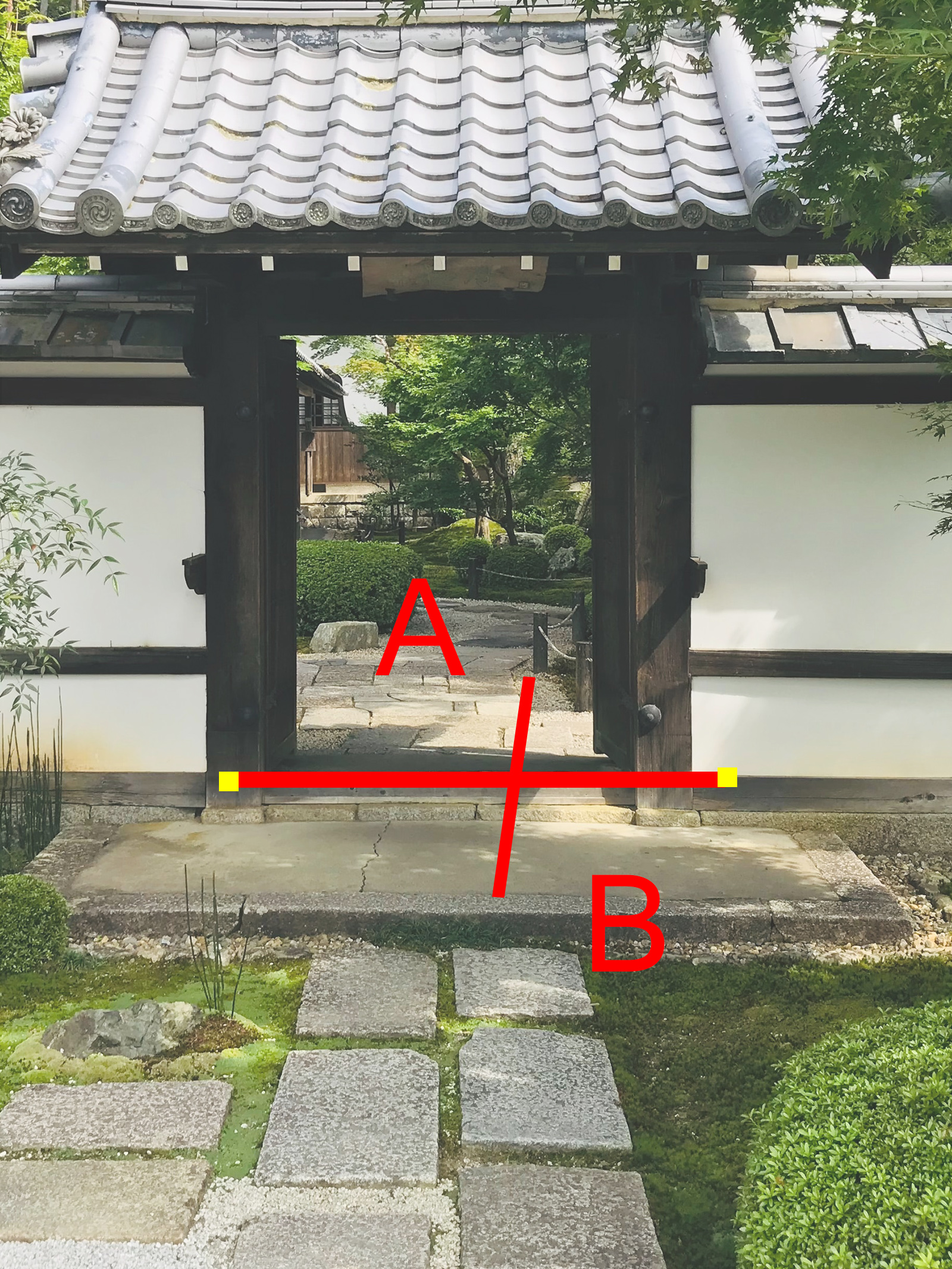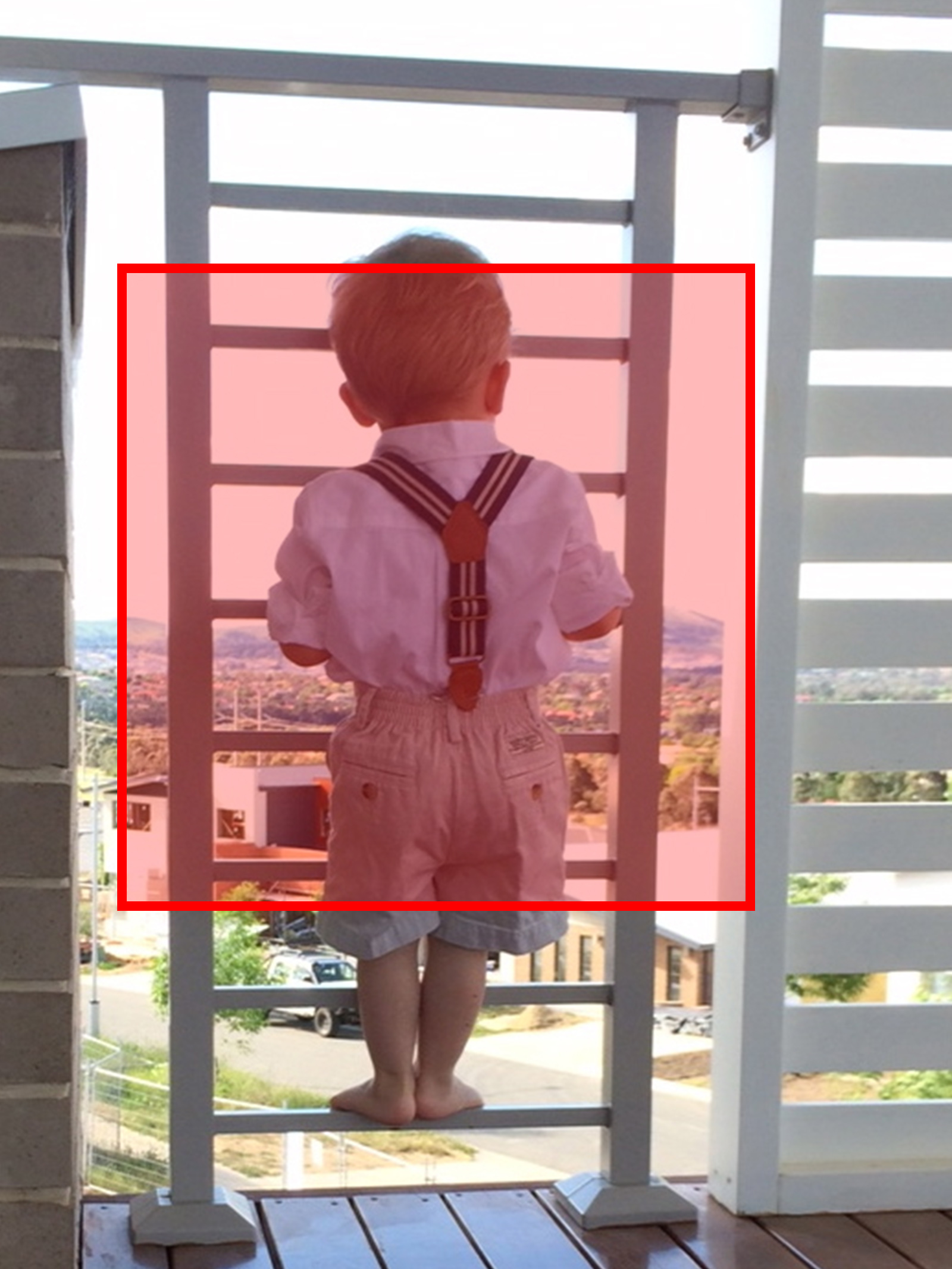 8 Powerful Behavior Analysis
Line Crossing Detection,Face Detection,Region Entrance Detection,Region Exit Detection,Intrusion Detection,Unattended Baggage Detection,Object Removal Detection,Scene Change Detection.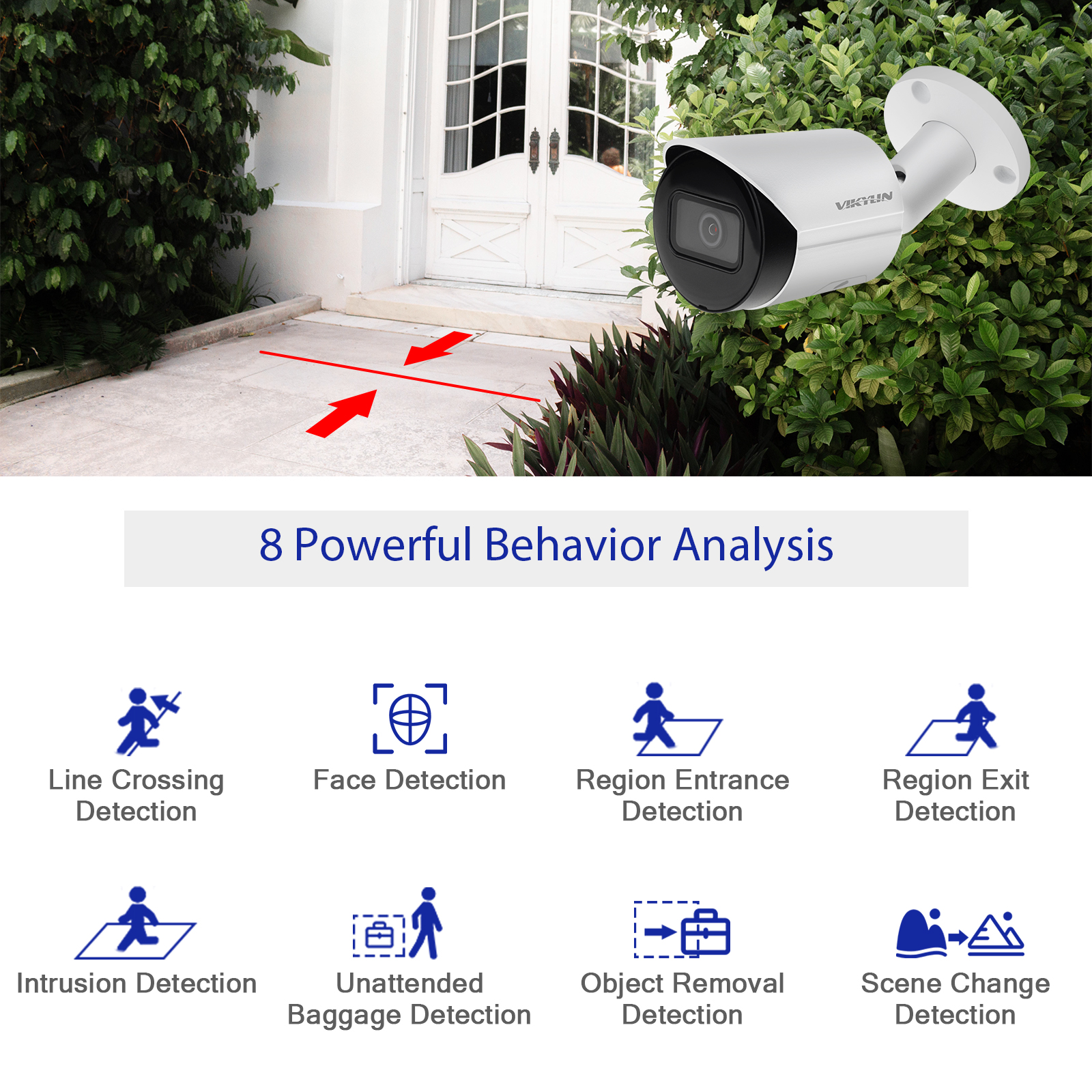 Motion Detection And Email Alert
You can enable motion detection alerts, when the object moves, the camera will send the abnormal situation to your Email.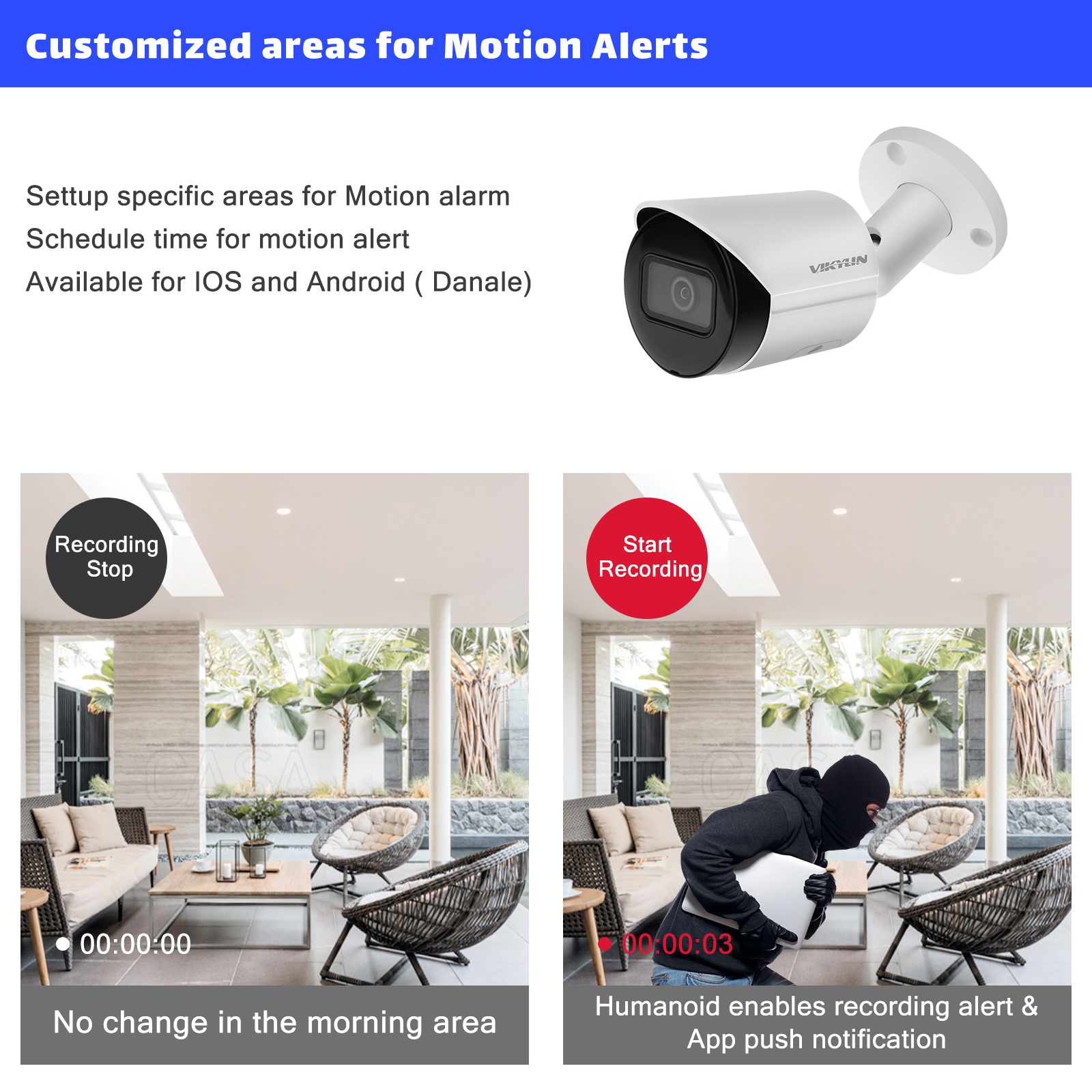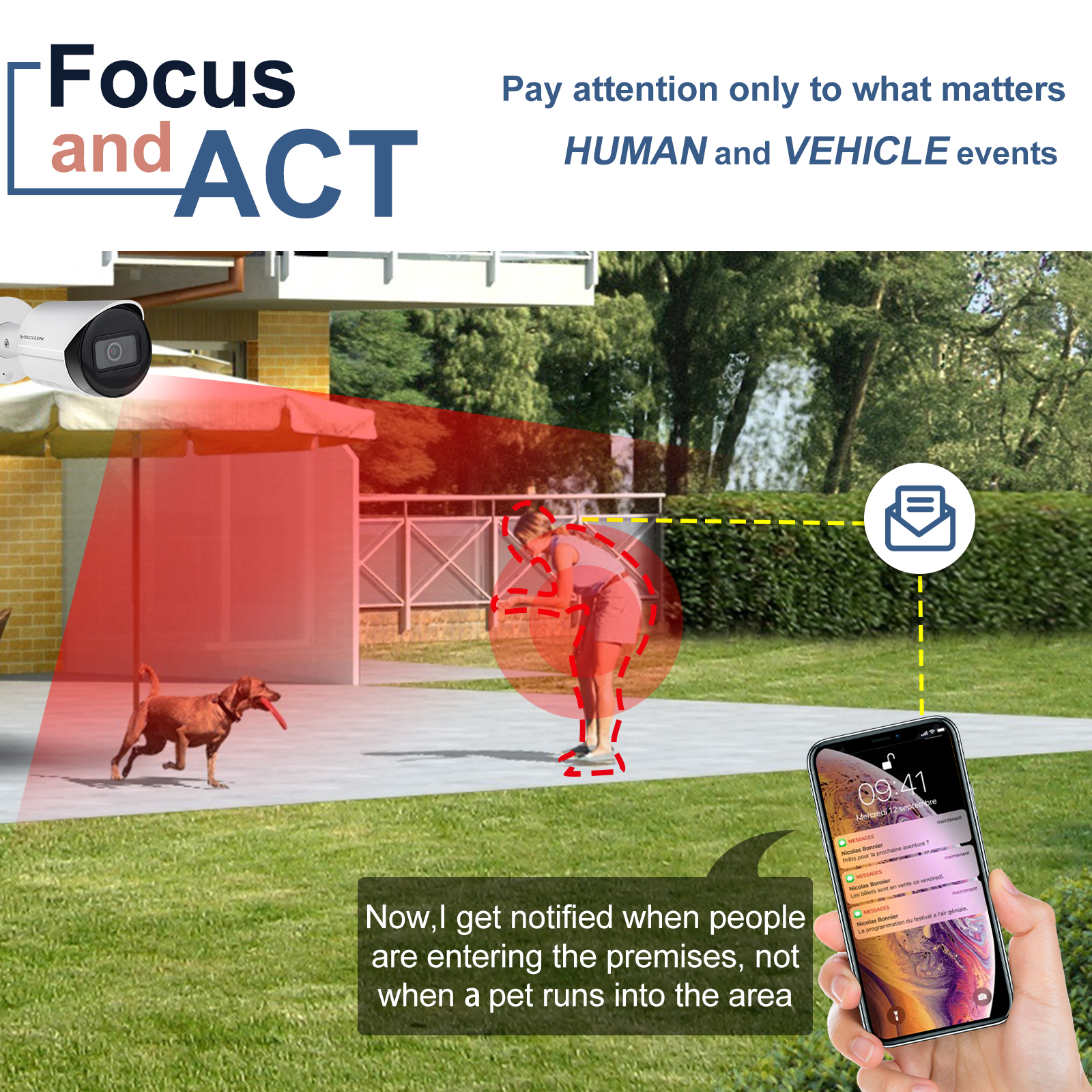 Night Vision For All-Night Security Coverage
Rest assured knowing that your security camera can see up to 30m in total darkness.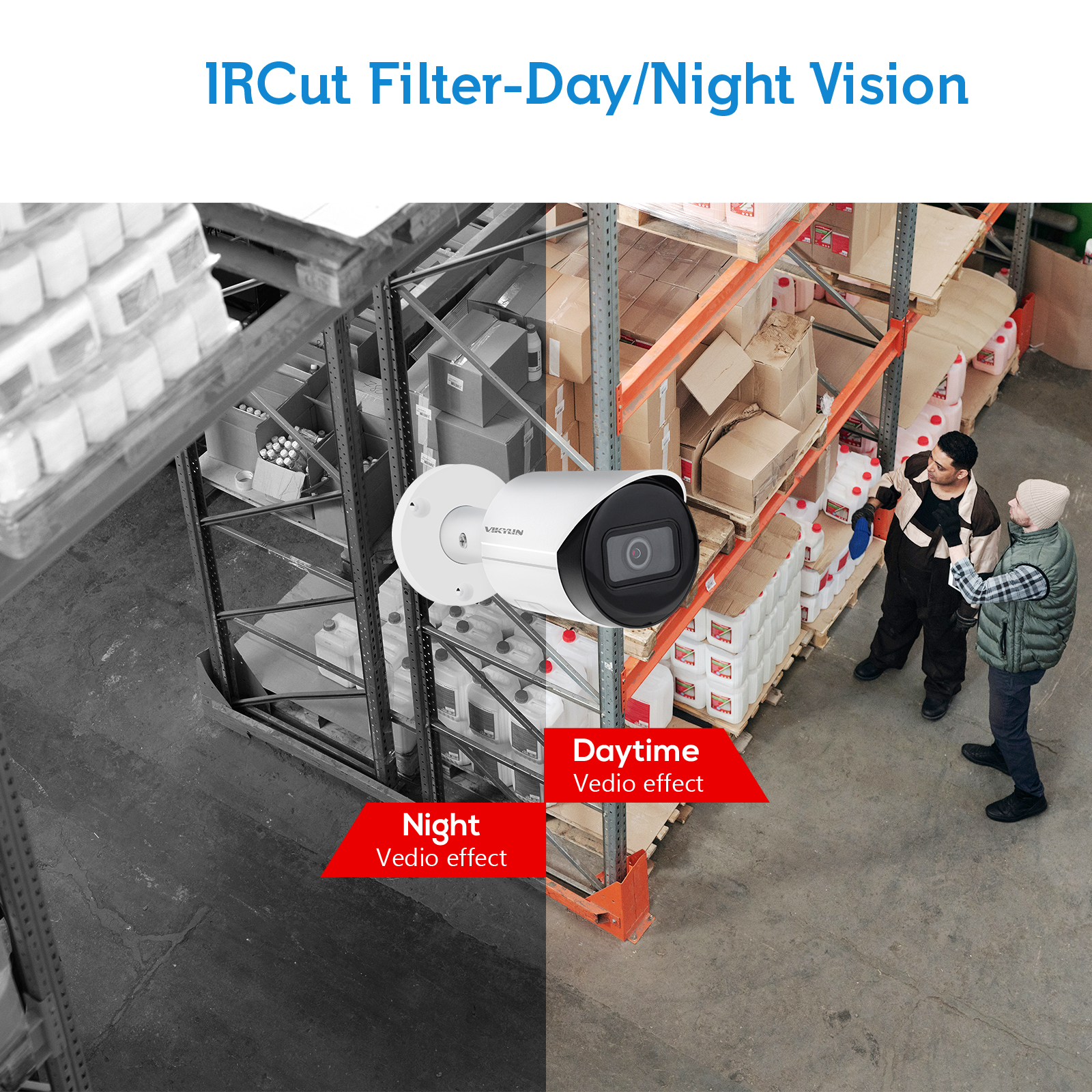 120 dB True WDR & 3D DNR
The true WDR ensures even illumination for all areas of an image and balances the lighting to produce sharper videos.Eliminate the image noise day & night greatly with the 3D DNR for clean images and save the video storage space.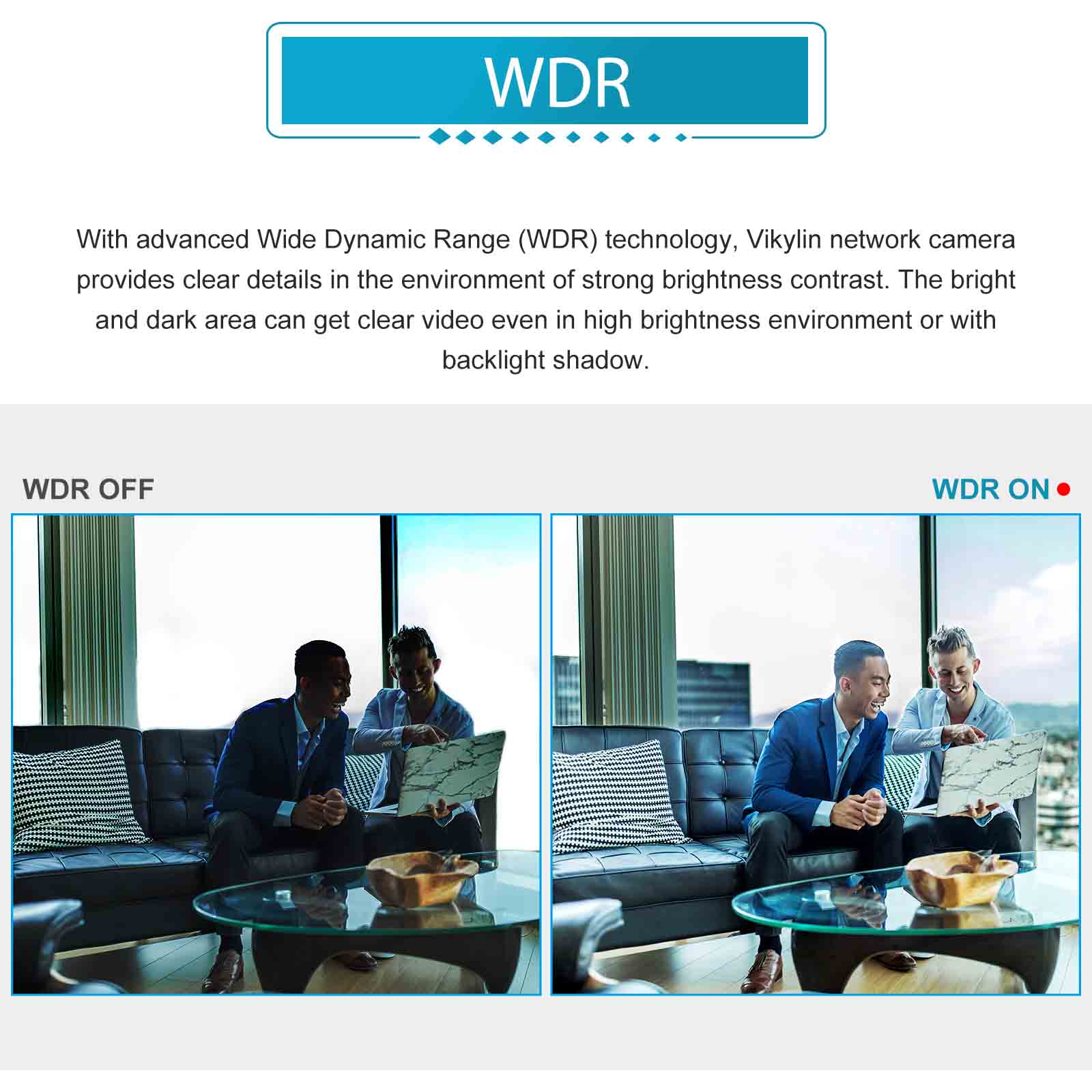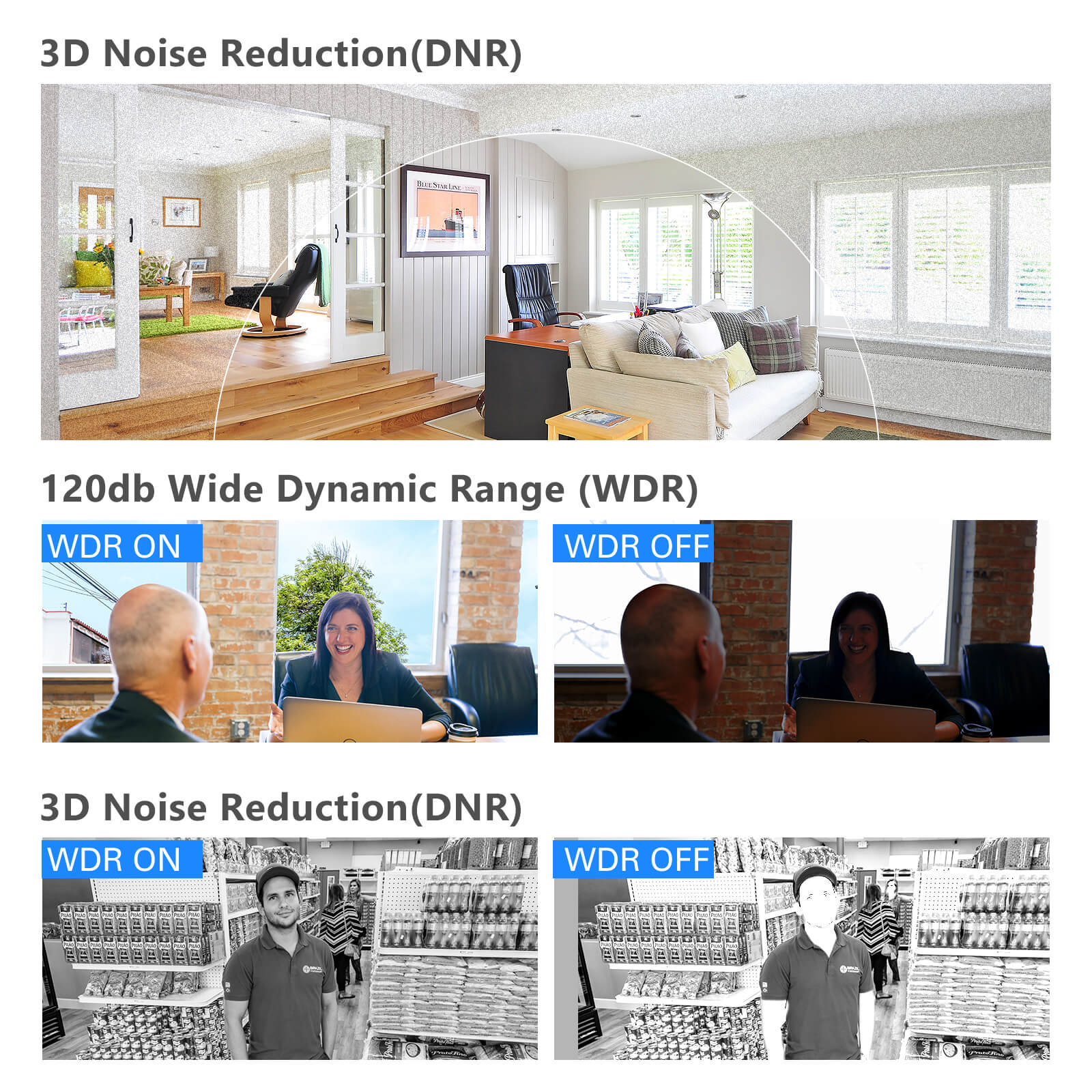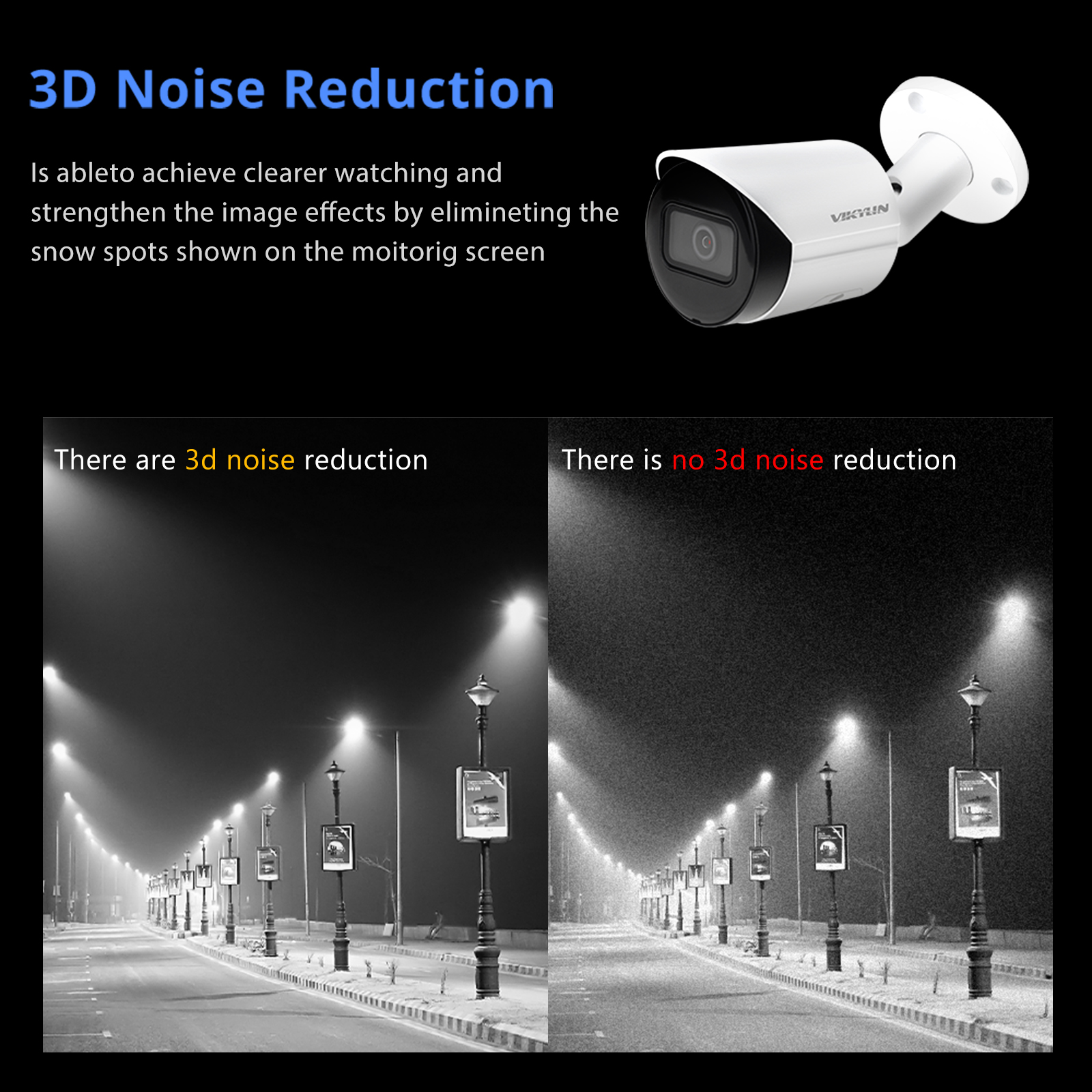 Advanced H.265+ Video Format
Save storage space and view fast stream with H.265+ coding and switch to H.265, H.264+ & H.264 coding based on the storage space & network condition.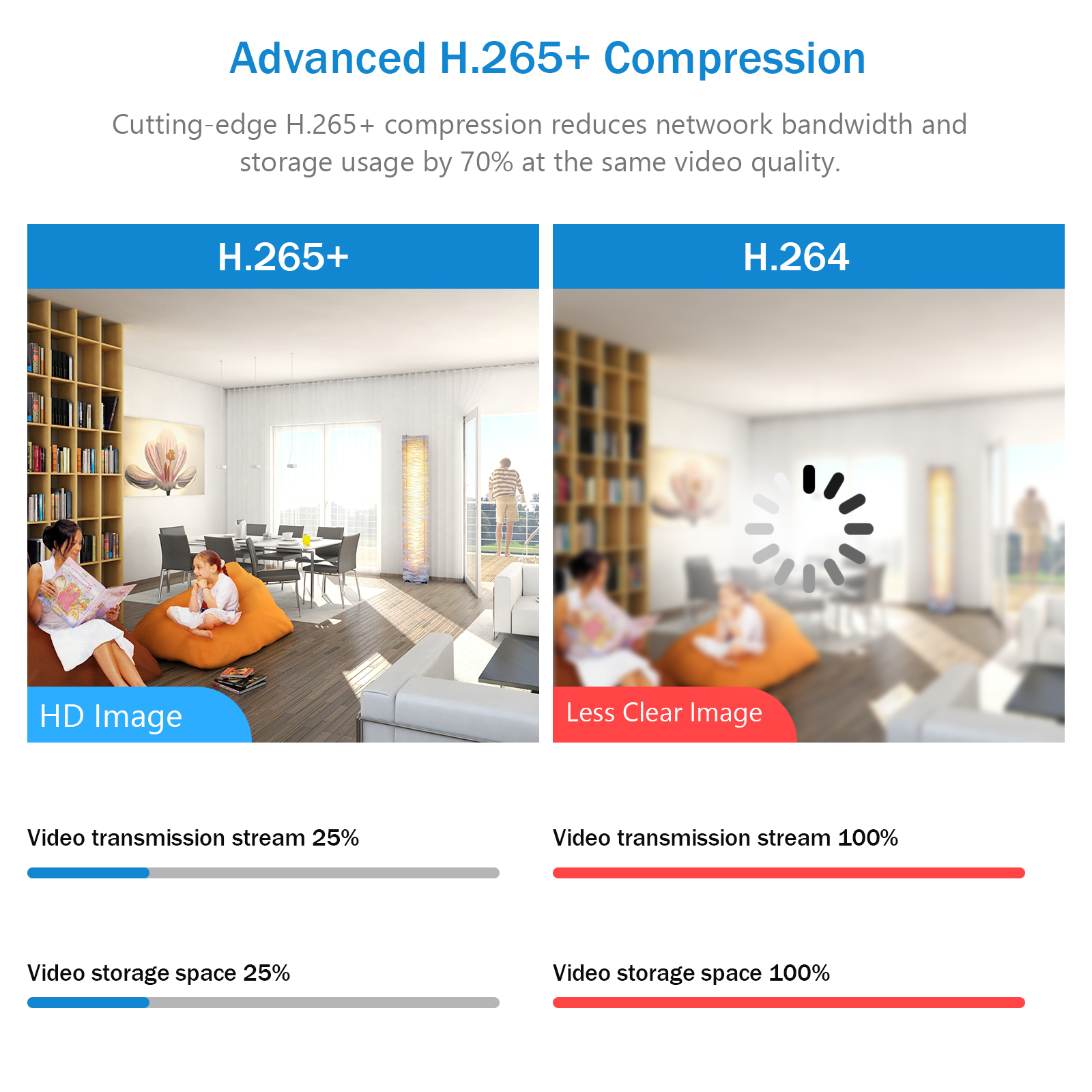 IP67 Waterproof
This 8mp poe ip camera features a heavy-duty metal Weatherproof IP67 housing.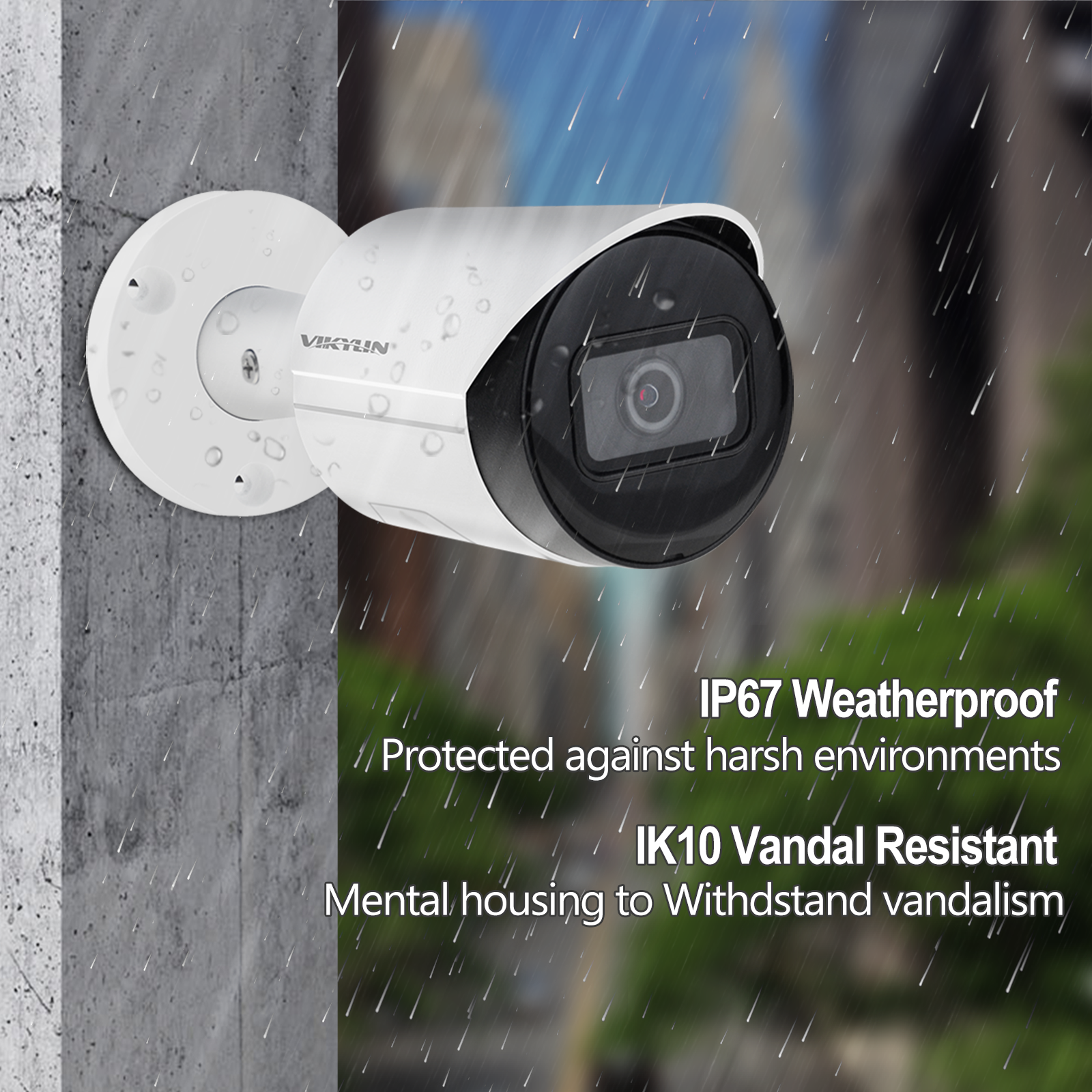 Onvif Protocol
The camera conforms to the ONVIF (Open Network Video Interface Forum) specifications, ensuring interoperability between network video products regardless of manufacturer.The camera compatible with Hikvision's private connection protocol, it can be plug and play with Hikvision's video recorder,perfect connection.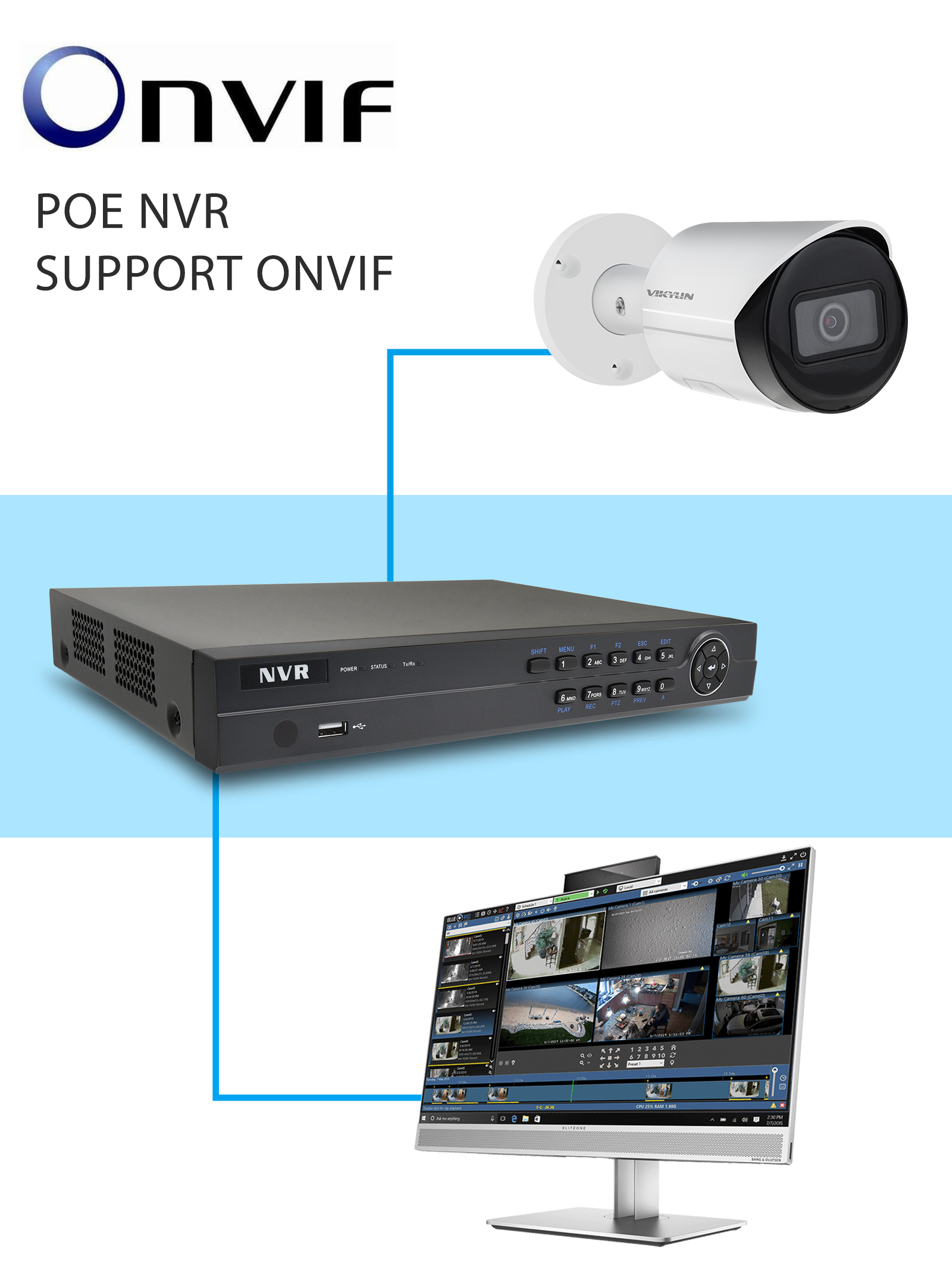 Applied to Multiple Occasions
Applied to Multiple Occasions Widely used for a variety of environments, like home, meeting room, warehouses, library,scenic park,amusement park,shop,mall,restaurant,movie theater,club,Health clinic,health clinic,school,and so on. The IP security system is very easy to use, it is a best choice for your life.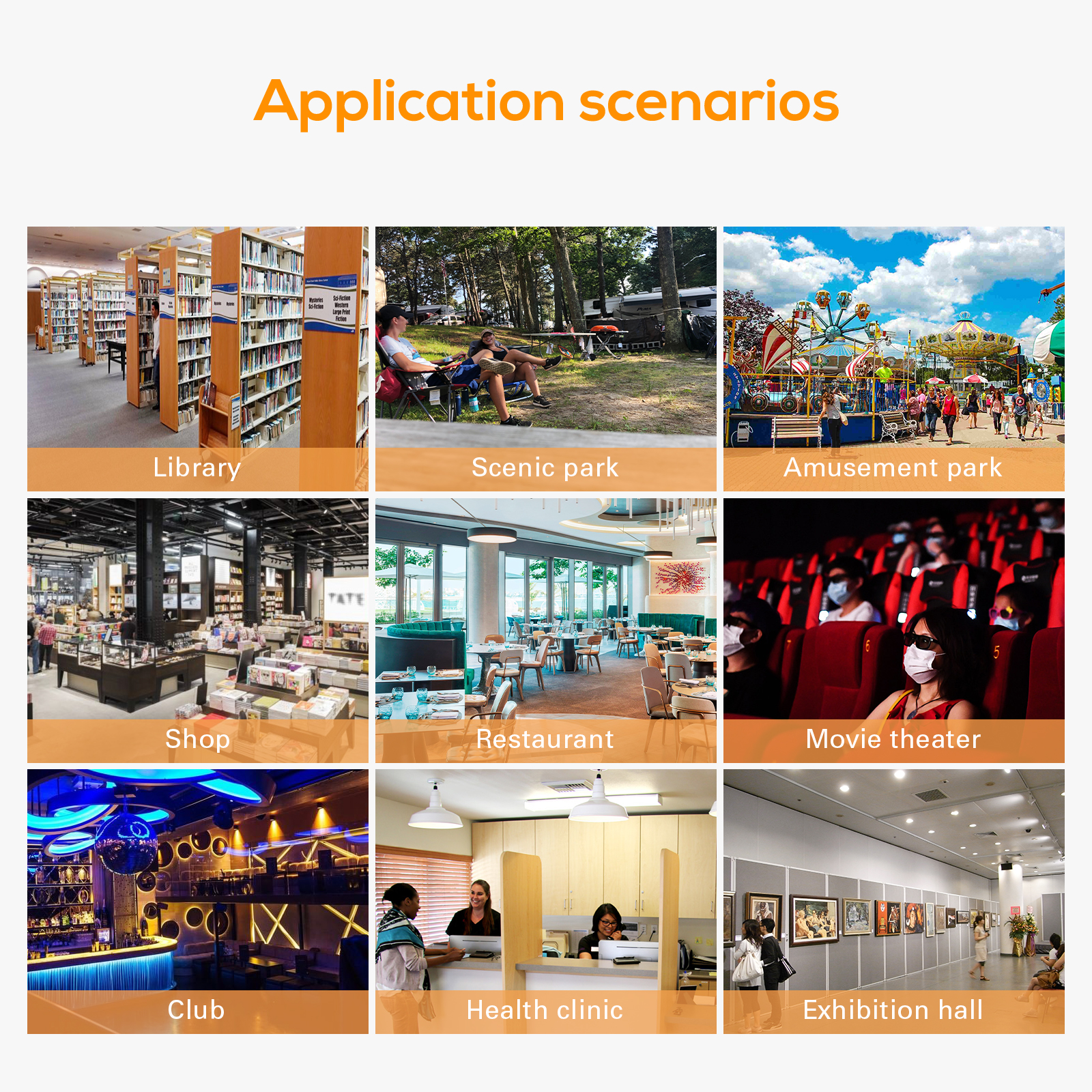 Do you need this 8 MP Fixed-Focal IP Camera?
We are proud to introduce our latest security camera offering, the 8MP Fixed-Focal IP Camera. This camera has been designed with the latest technologies to provide exceptional image quality and performance, making it an ideal choice for businesses and homeowners who demand the best.
One of the key features of the 8MP Fixed-Focal IP Camera is its high-resolution image sensor. With a resolution of 8 megapixels, this camera delivers sharp and detailed images, ensuring you never miss a thing. Whether you're monitoring your business during the day or checking on your home at night, this camera delivers the clarity and detail you need.
Another important aspect of this camera is its IP connectivity. This allows you to access the camera from anywhere in the world, as long as you have an internet connection. Whether you are at work or on vacation, you can always keep an eye on your property with the 8MP Fixed-Focal IP Camera.
In addition to its high resolution and IP connectivity, the 8MP Fixed-Focal IP Camera is also equipped with a fixed-focal lens. This provides a fixed field of view, ensuring that you always have a clear and precise view of your property. Whether you are monitoring a specific area or need a wide view, this camera is designed to deliver the coverage you need.
Finally, we are proud to say that the 8MP Fixed-Focal IP Camera is incredibly easy to install and use. It comes with everything you need to get up and running, and its user-friendly interface makes it simple to access and control the camera from your smartphone, tablet, or computer.
In conclusion, the 8MP Fixed-Focal IP Camera is the perfect solution for businesses and homeowners who demand the best in security cameras. With its advanced features, high-quality image sensor, and user-friendly design, you can feel confident that your property is always protected. So why wait? Invest in the peace of mind that comes with knowing your property is always protected, and order your 8MP Fixed-Focal IP Camera today!