8MP 4X Controller Remote Control IR PTZ Network Camera
▶ 1/2.8" Progressive Scan CMOS
▶ 3840 x 2160@20fps
▶ HD 2.8-12 mm Motorized lens,4× optical zoom
▶ Color: 0.01 Lux @(F2.0, AGC ON)
▶ B/W:0.004 Lux @(F2.0, AGC ON),0 Lux with IR
▶ H.265+,H.265,H.264,MJPEG
▶ Support PoE
▶ BLC/3D DNR/HLC/WDR
▶ Built-in Mic
▶ IP66
Availability: 99 in stock
All these resources and support services are subject to updates, so check back regularly for the latest releases and information.
---
Firmware
Download it to update and enhance the ip camera's surveillance performance.
User Instruction
Detailed steps to ensure users install and configure the camera correctly.
Quick Start Guide
Provides simple steps to help users quickly install and configure the camera.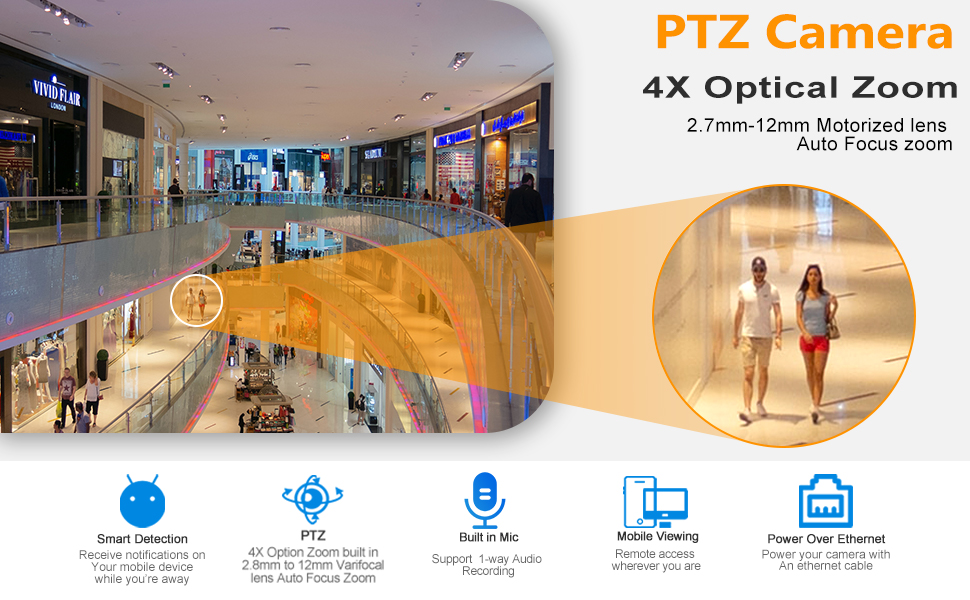 In order to bring you a better user experience, please pay attention
1) About the AjDevTools Software pls don't worry this is an absolutely safe application software, beacause there is a protection mechanism inside the program to prevent others from cracking the application at will. This protection mechanism will make the computer unable to recognize the internal program normally, so the computer will prompt that it is unknown software or virus software. so please ignore the prompt to continue the installation
2) It will be better to log in to the camera with the IE browser, use other browsers sometine will cause operation delay and lag problems due to compatibility issues, so in order to bring you a better product experience, please use the IE browser
3) pls follow up the steps to get the camera work for you : step 1 use the same poe switch to connect your computer and the ptz camera; Step 2 Use hikvision SADP tools or AjDevTools to search and modify for the camera's IP address , ensure the camera IP address and your computer IP address are in the same segment, the AjDevTools and SADP tools you can downlaod from the website: (ourdownload.store) ; Step 3 use the Internet Explorer brower by type the camera's ip address,so that you can access and view the camera

8MP Outdoor Poe PTZ IP Camera with Pan Tilt 4x Optical Zoom/2.8-12mm Lens
This PTZ IP security camera includes an unique zoom lens, that enables remote customization of your viewing area (and focus). Focus on a small area in astonishing detail thanks to the 4X optical zoom 16X Digital Zoom or survey a larger scene for maximum coverage
Default IP address: 192.168.1.110, username: admin, password: 123456
Please modify the default ip address and password by installing the device search tool 'SADP Tool or AjDevTools
Working with Internet Explorer by type the camera's ip address
Real time view on mobile phone after installing the 'Danala' app from APP Store or GooglePlay Market
Compatible for Hi-kvision,Plug and Play with hikvision NVR
Support most of the other brands NVR that support on-vif protocol
12V DC/POE power supply IP66, IK10 protection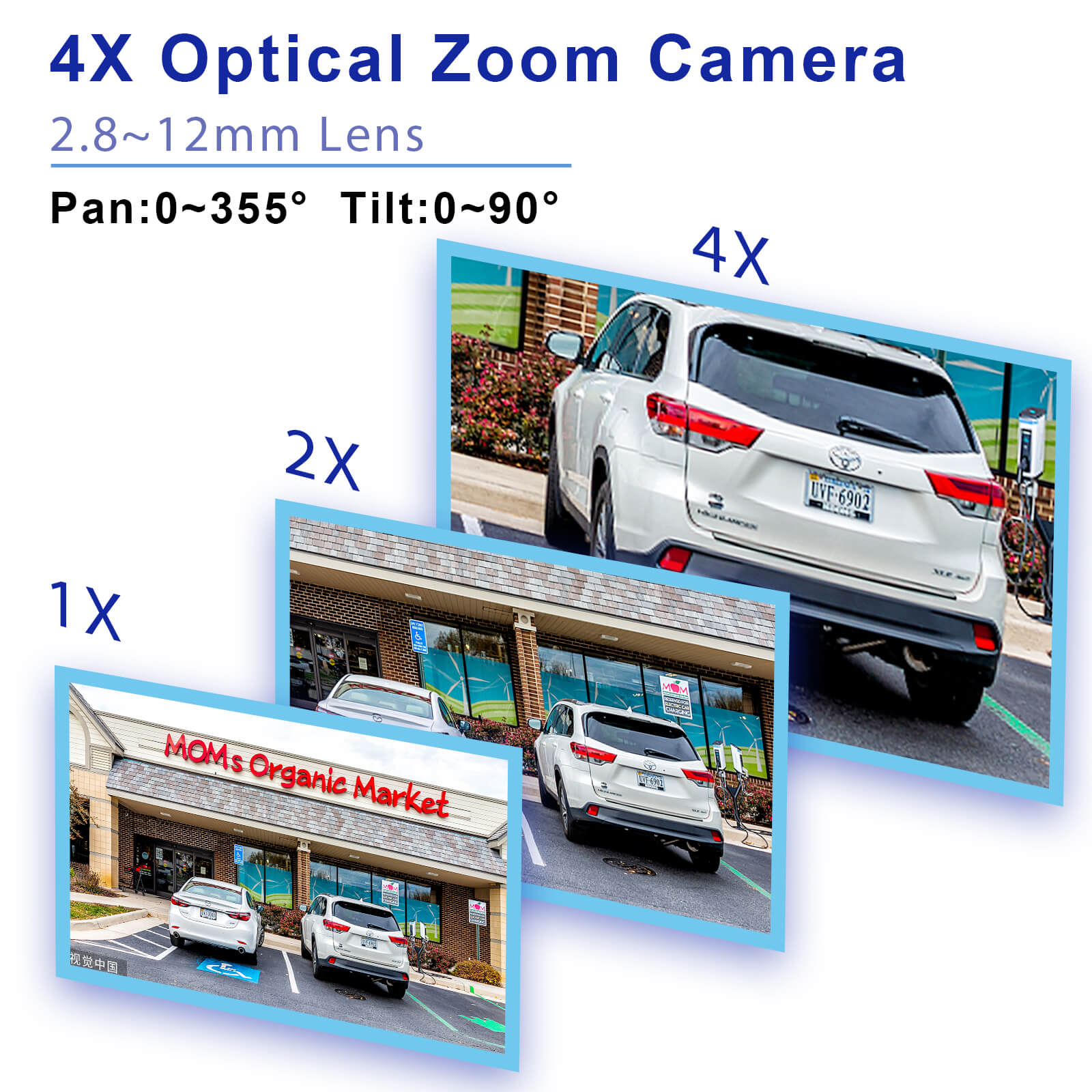 High-Speed Pan/Tilt & 4X Optical Zoom
The outdoor PTZ PoE camera rotates both horizontally & vertically at up to 330° & 90° and at 110°/s high spped. * The 4X optical zoom with auto focus and 16X digital zoom ensure precise zoom-in or zoom-out for finest details or wide viewing angle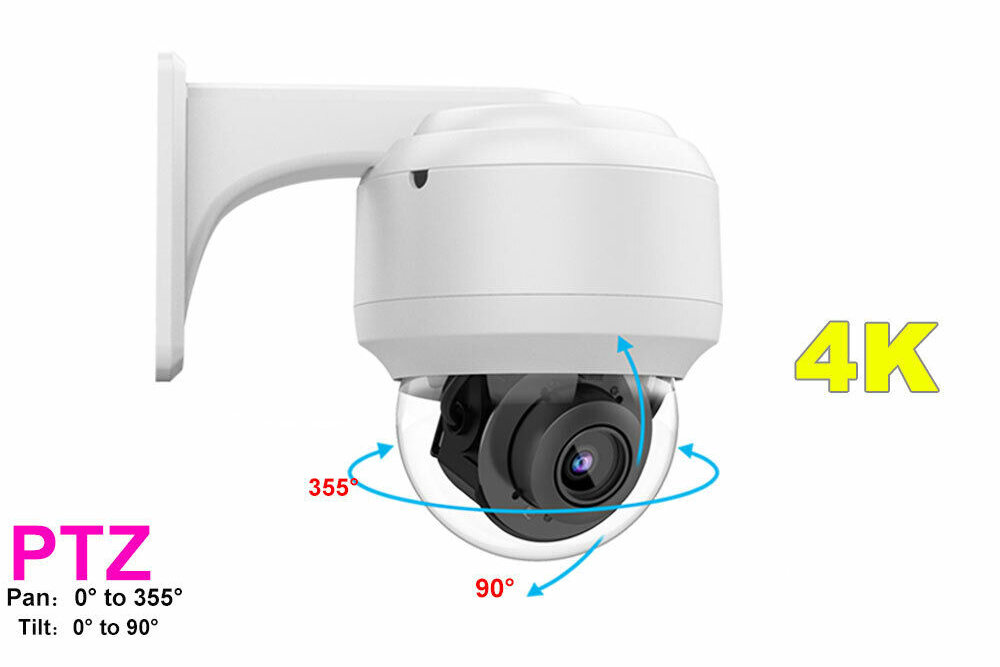 Built in Mic
Support 1-way Audio Recording for real time remoter monitoring,allow you to hear the people in front of the ptz cameraAccess the PTZ PoE video camera remotely with your smartphone, tablet, computer or a browser wherever you are. Keep tabs on your property when you are in the office, shopping or traveling. Get instance app pushes when there are motion events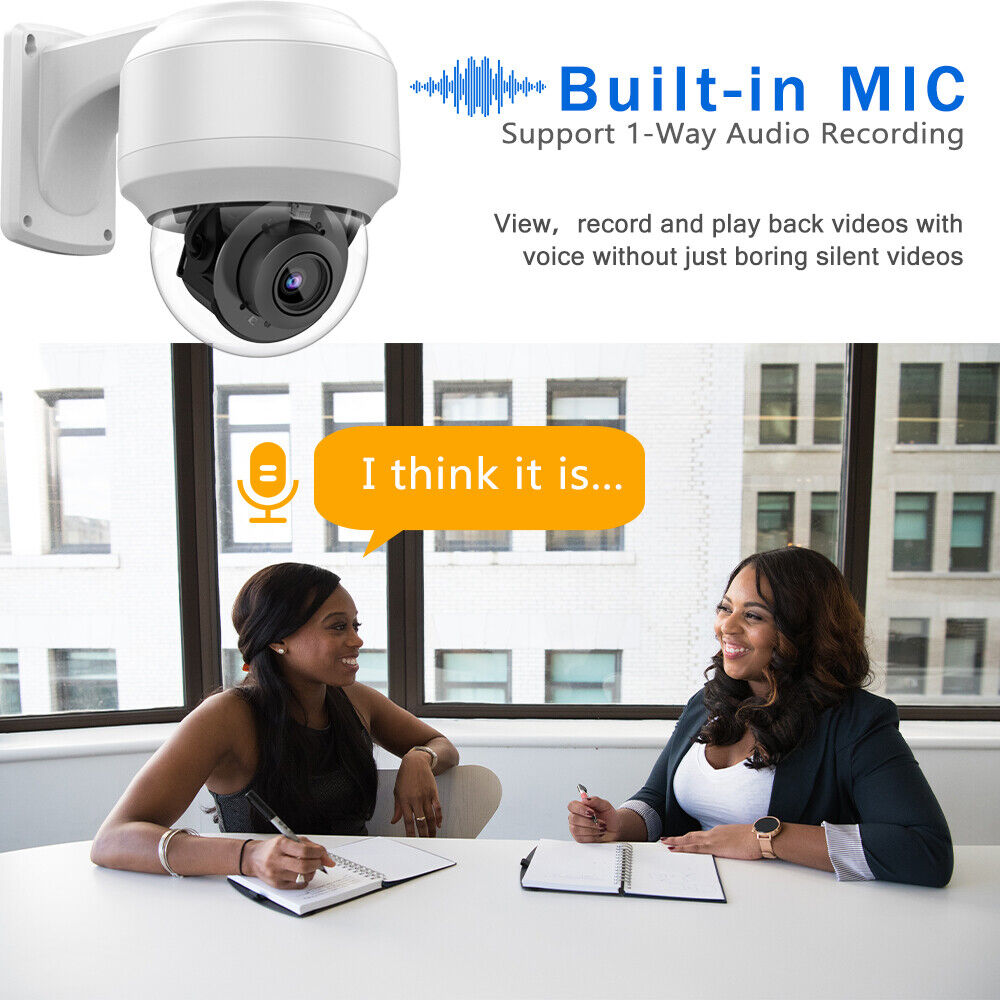 4K 8MP PTZ Surveillance Camera Image
8MP@20fps 6MP@30fps resolution featuring the latest 1/2.8" 8MP progressive scan CMOS,come with 2 IR leds illumination can be captured clear images in low light or total darkness, up to 132ft ultralong night vision distance, 4XOptical zoom enables you to zoom into see more details of far-away objects without impairing image quality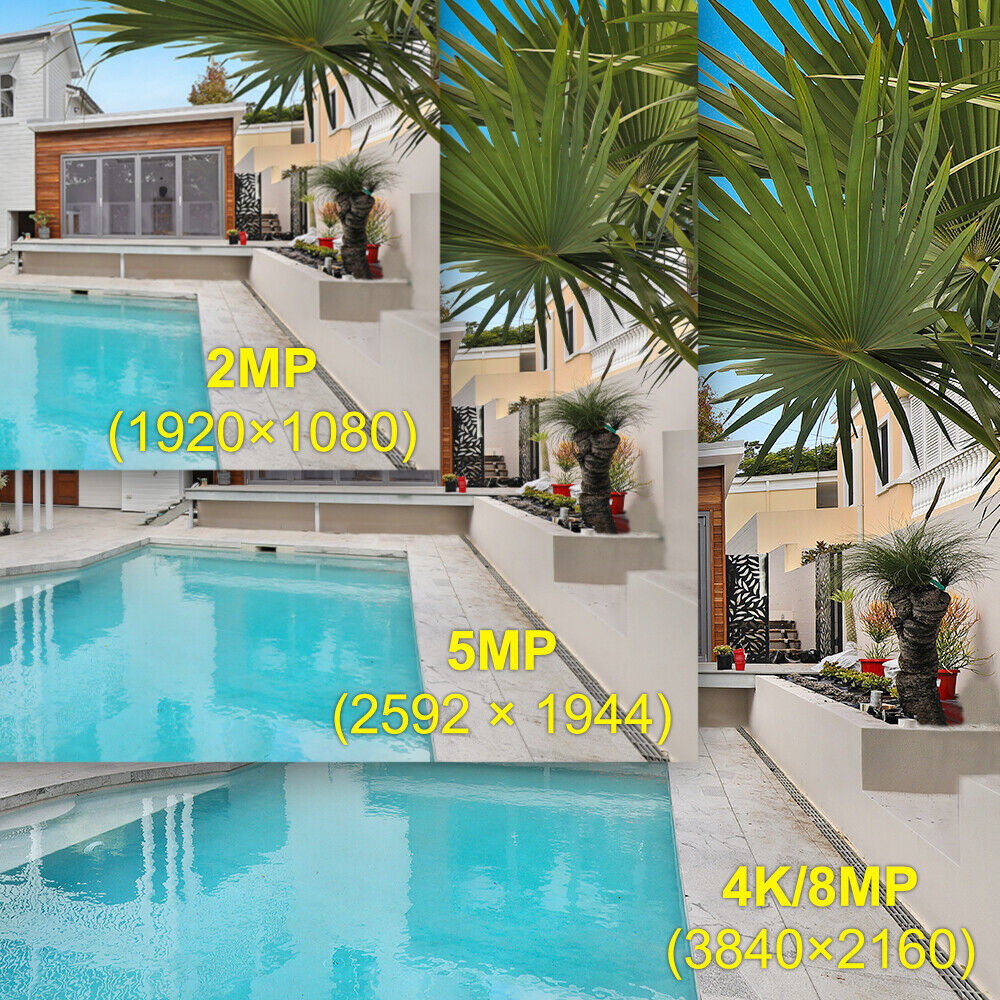 Works with PoE NVR, NAS, Ispy Etc
Featured with Hikvision Private Protocol, camera Plug & Play with HikNVR. Supporting O-N V-I-F protocol, it's connectable to other brands NVR,and work with Blur Iris and iSpyConnect the PoE surveillance video camera to the NVR with just a single network cable (cat5 or cat6) can realize data and power transmission, it reduces the need to add a power adapter., thus simplified installation and saves money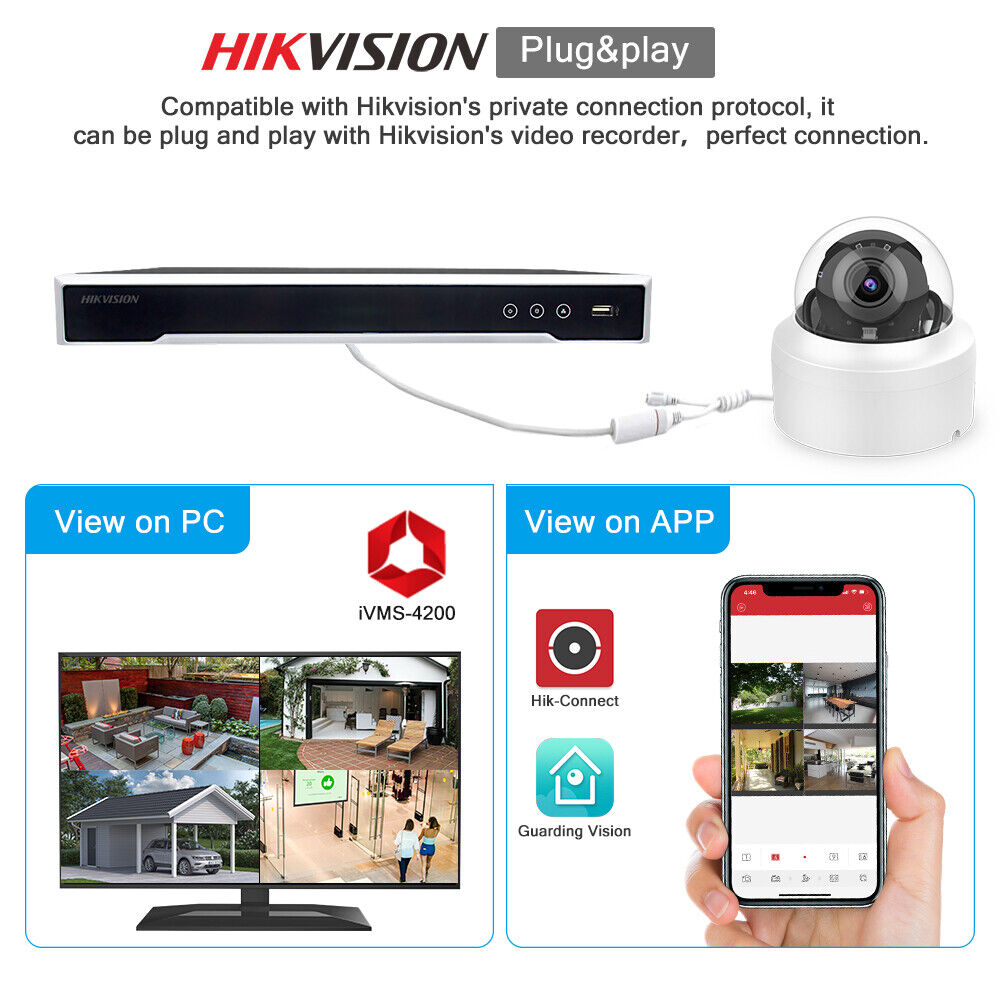 Motion Detection And Email Alert
You can enable motion detection alerts, when the object moves, the camera will send the abnormal situation to your Email.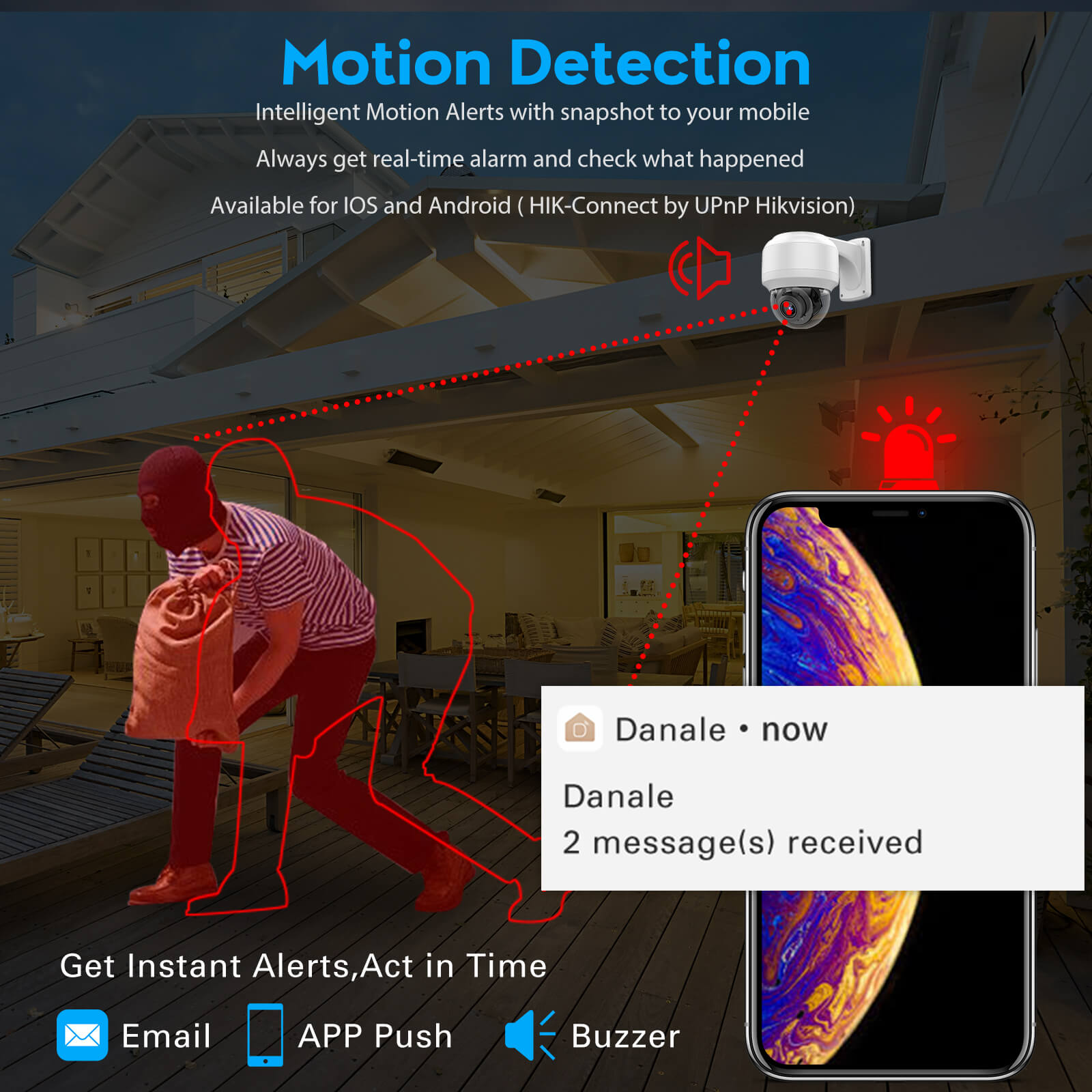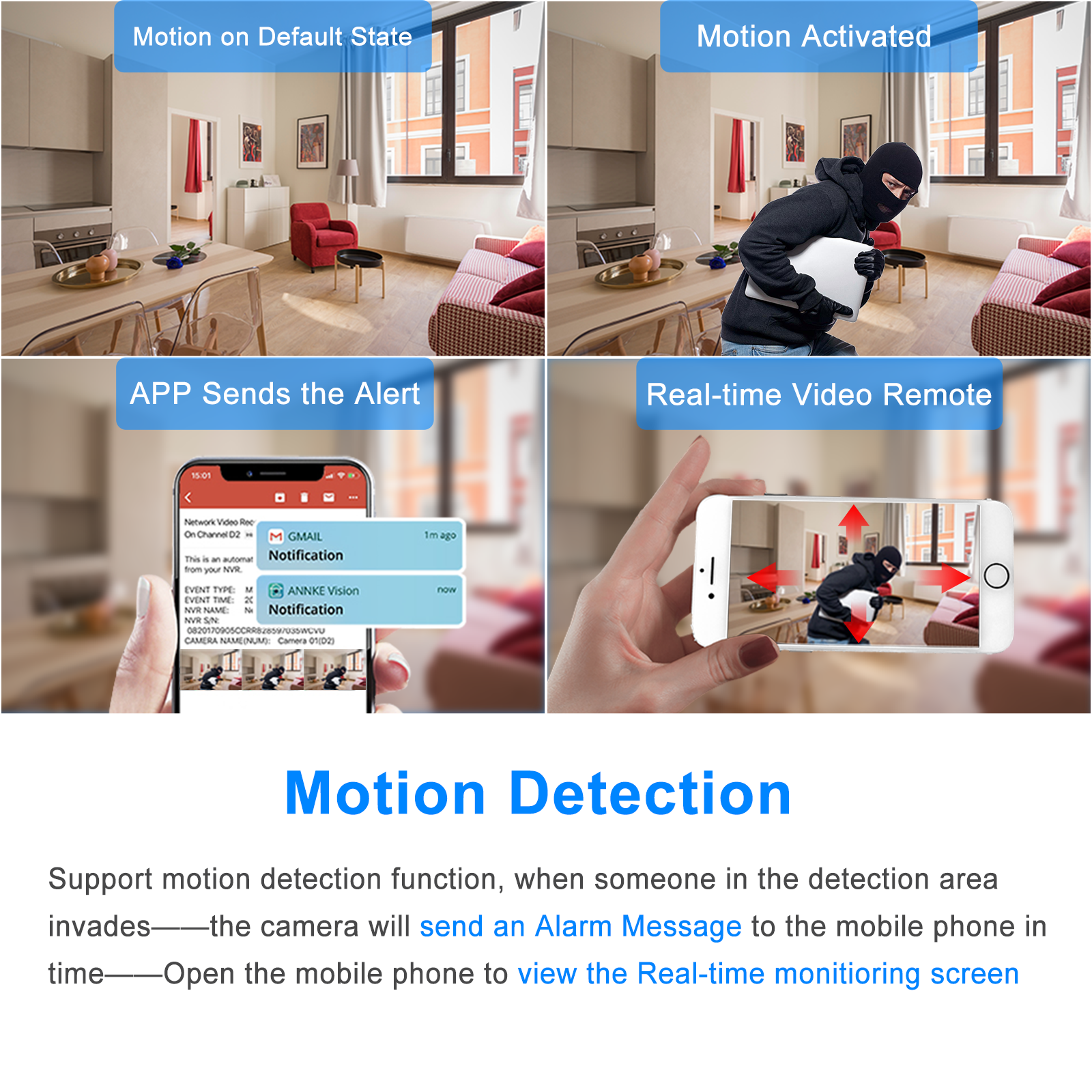 Darkfighter PTZ
It mainly applies to the environment of low illuminance,and it can provide clear video.Even in the environment of ultra-low illuminance,the technology can guarantee the good image effect.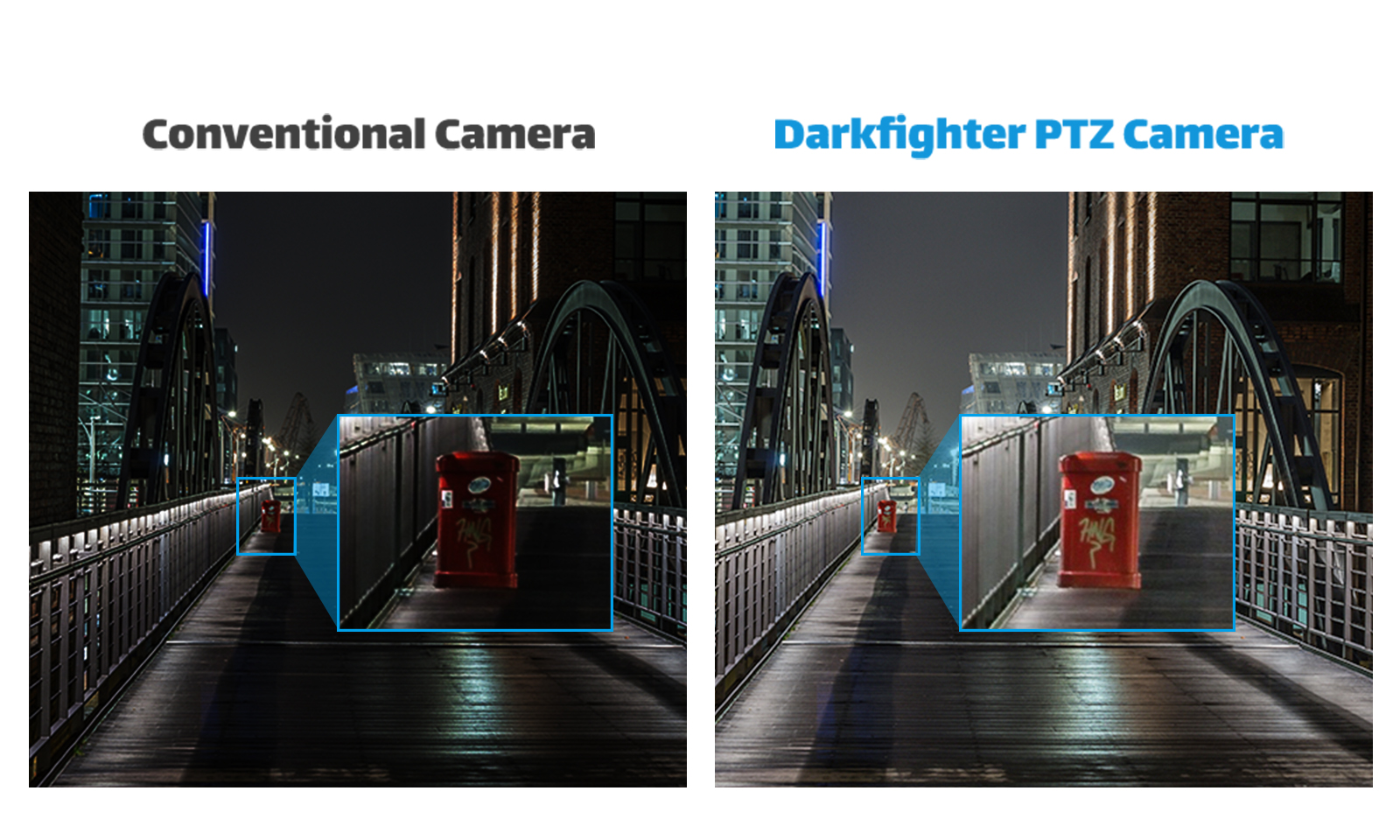 Night Vision For All-night Security Coverage
Rest assured knowing that your security camera can see up to 100ft / 30m in total darkness.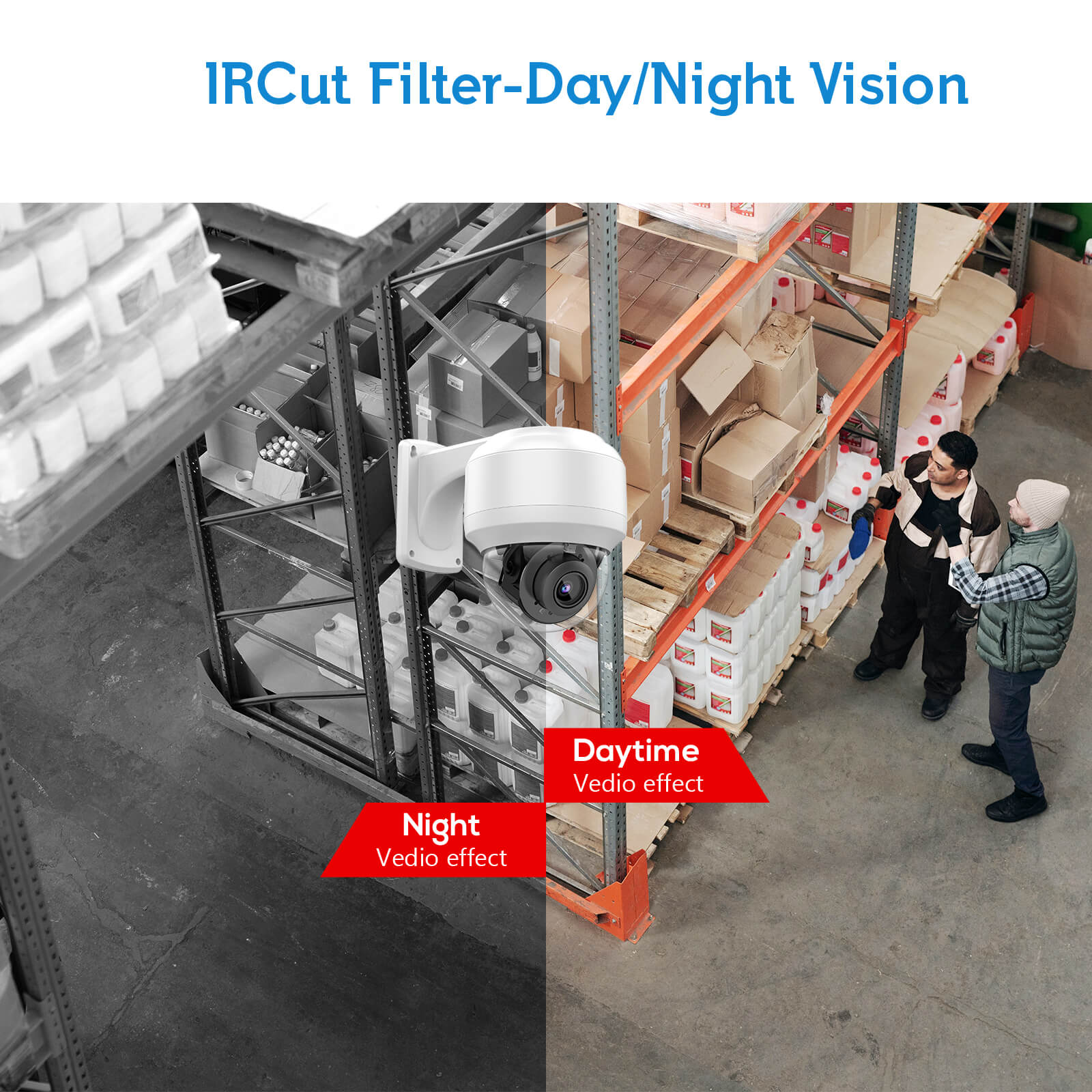 120 dB True Wide Dynamic Range ( WDR ) & 3D Noise Reductions (3D DNR)
Advanced wide dynamic range (WDR) technology. You can get clear details in the environment of strong brightness contrast. In high brightness and back-light environment, bright region and dark region with strong light source, you can also get clear images.Eliminate the image noise day & night greatly with the 3D DNR for clean images and save the video storage space.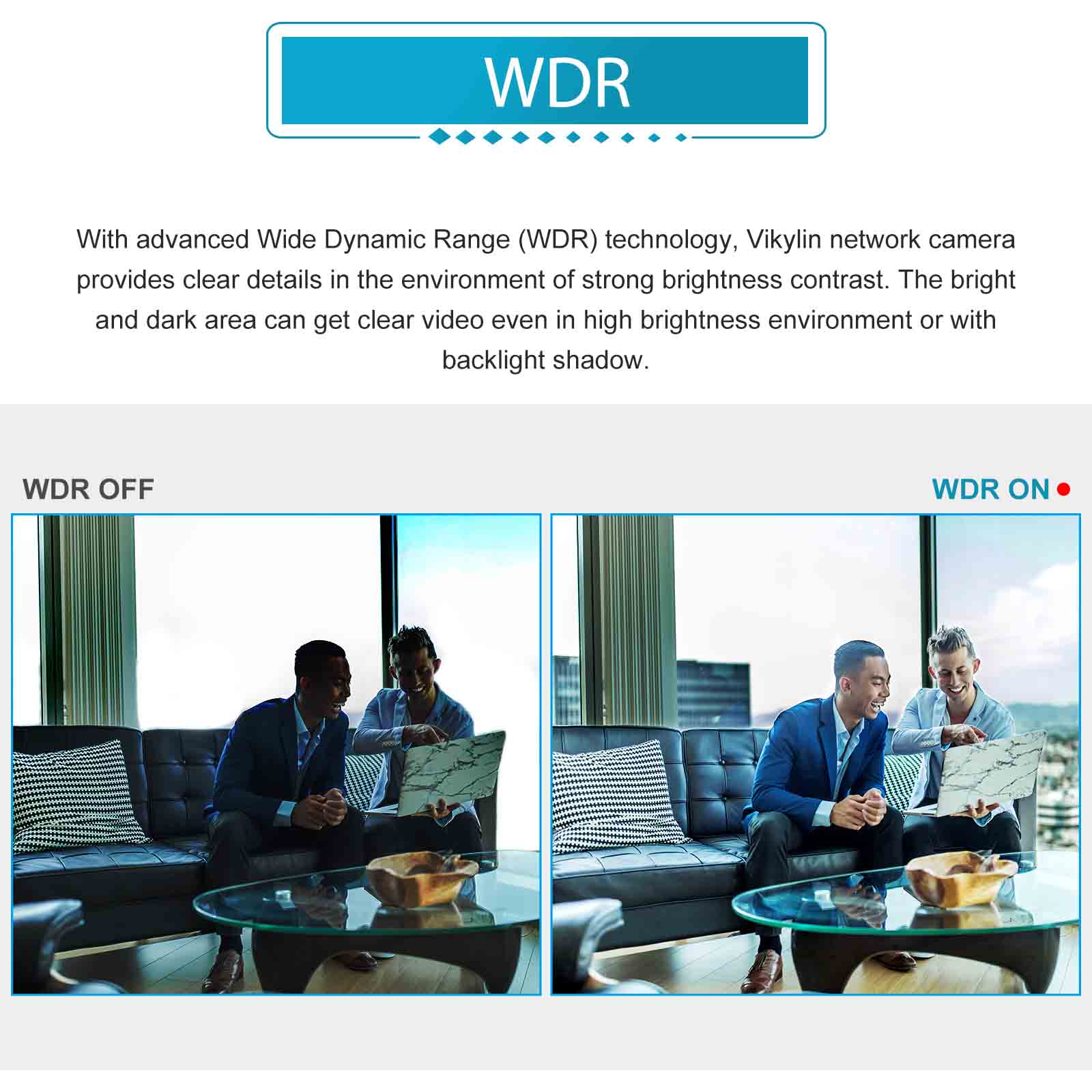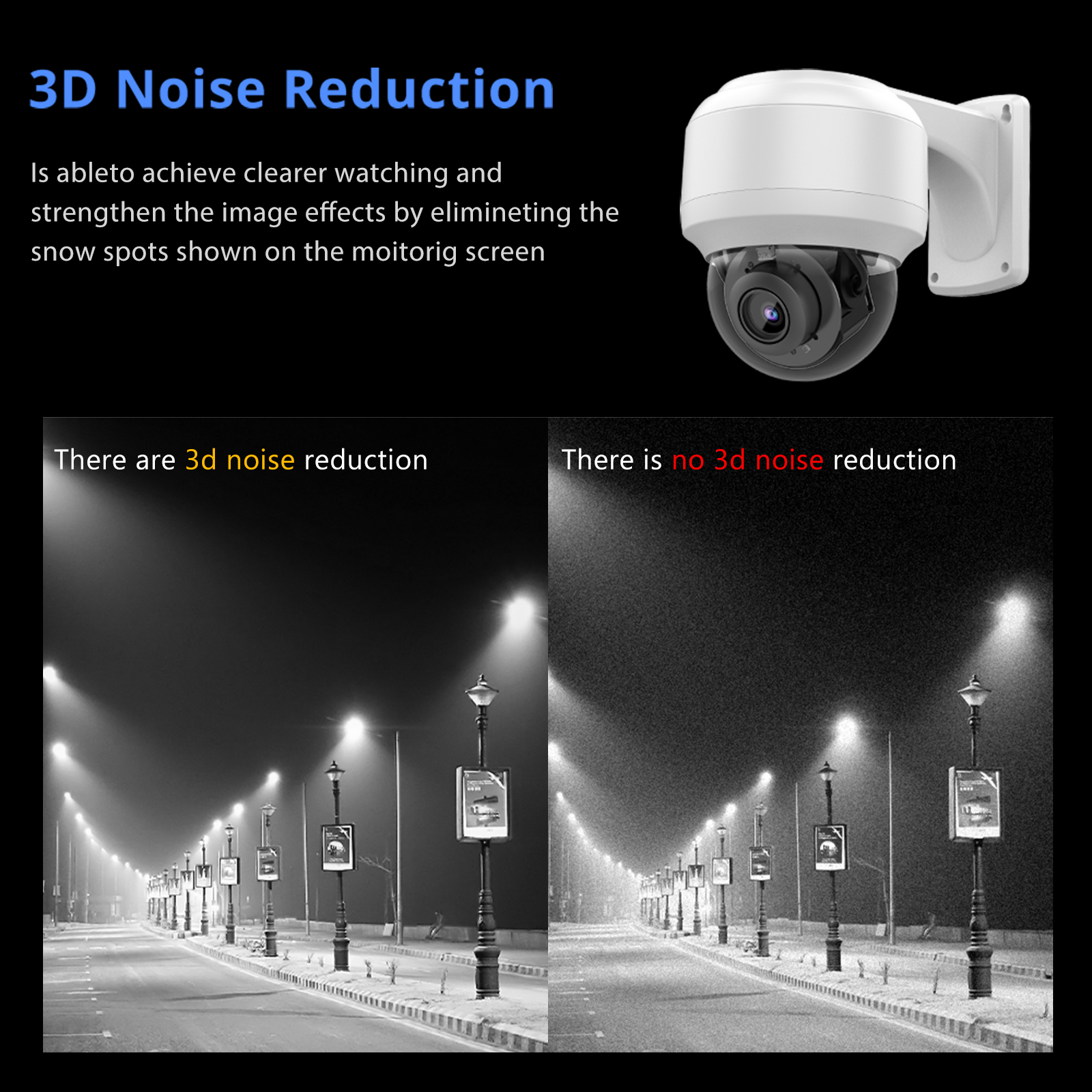 POE Camera
Can be connected to various brands of network cameras, and Hikvision brand cameras can be plug and play.

Dustpoof and waterproof IP66 waterproof
The use of environmentally friendly metal is not afraid of wind  and sun IP66 waterproof sunscreen can easily cope with various harsh environments.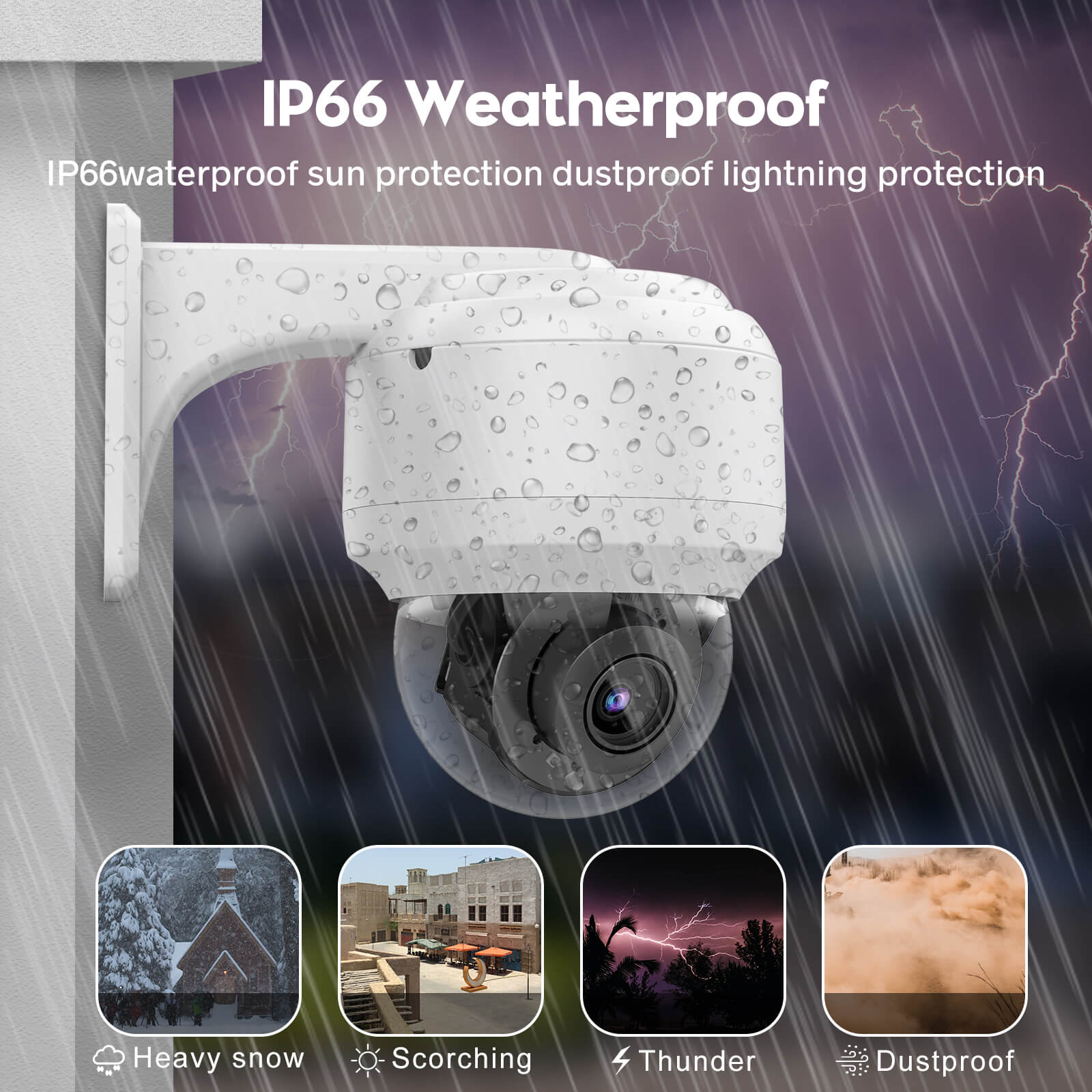 P2P Remote Access
P2P technology, now you can view the live footage whenever you want to, just log in the P2P account on the app viayour Smartphone or tablet and start monitoring your house in no time.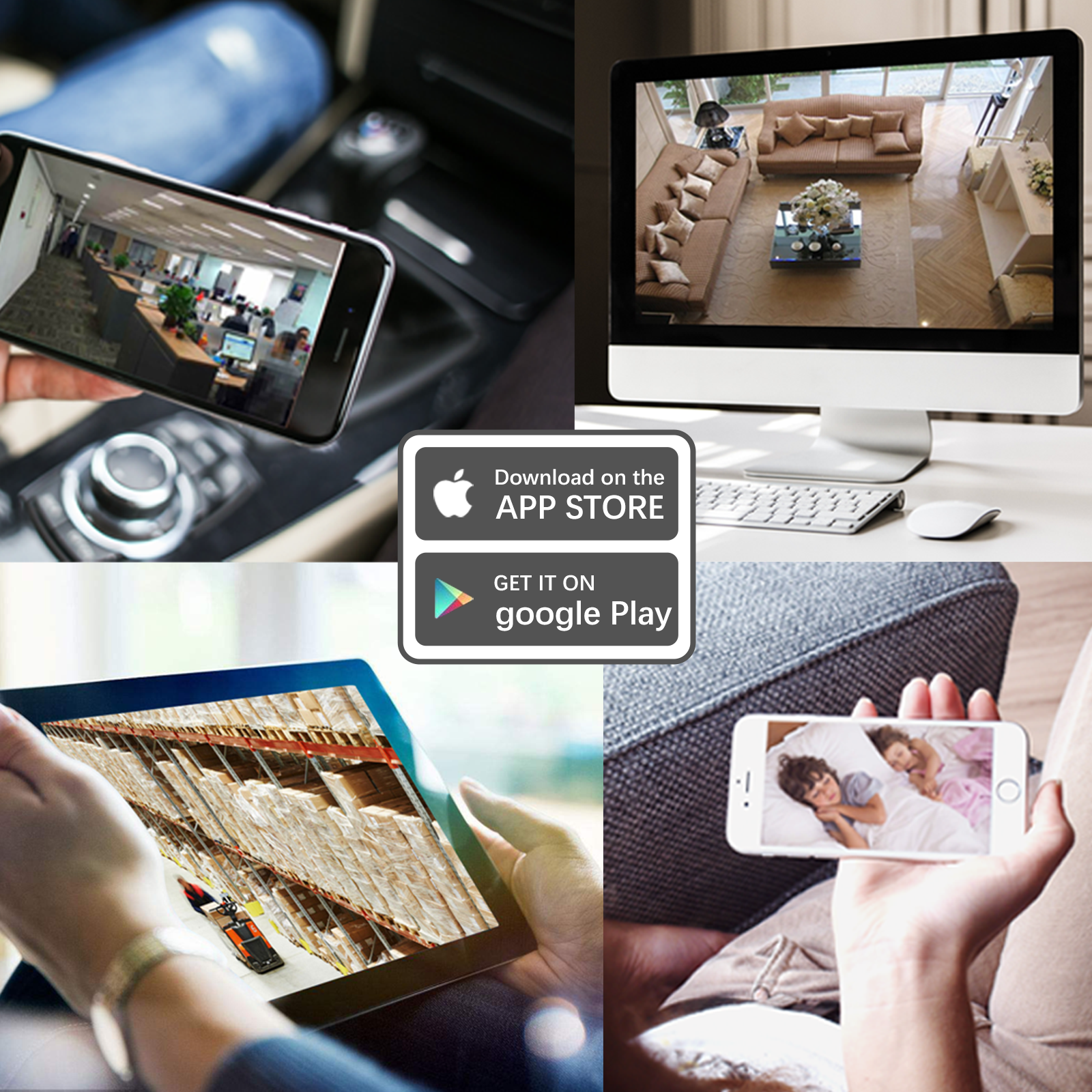 Built-in SD Sard Slot
Easy to install SD card, recording time depends on the size of the SD card you install.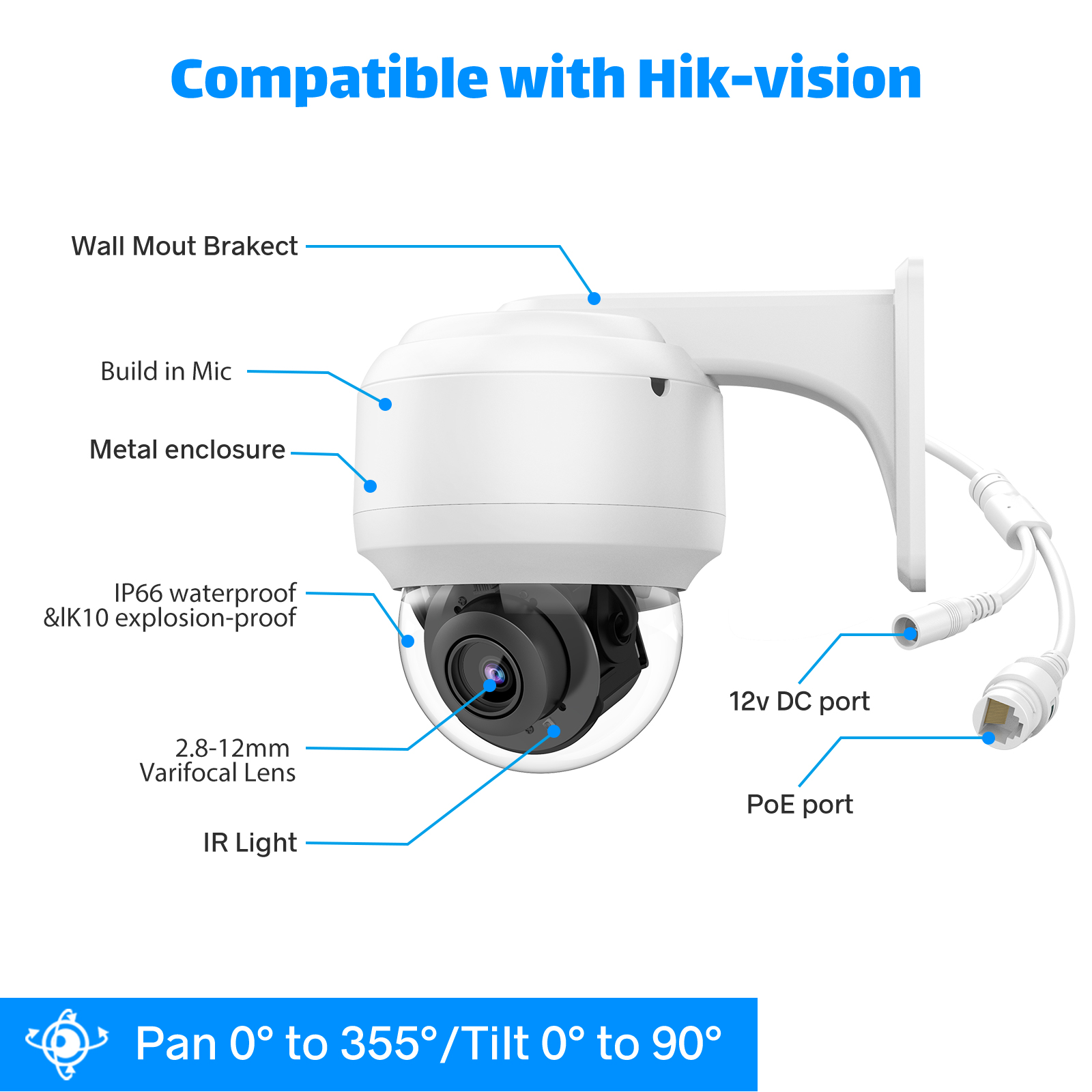 Smart H.265+/H.265/Smart H.264+/H.264/MJPEG
H.265+technonlogy reduces bit rate and storage requirements by up to 70 when compare to standard H265 video compression.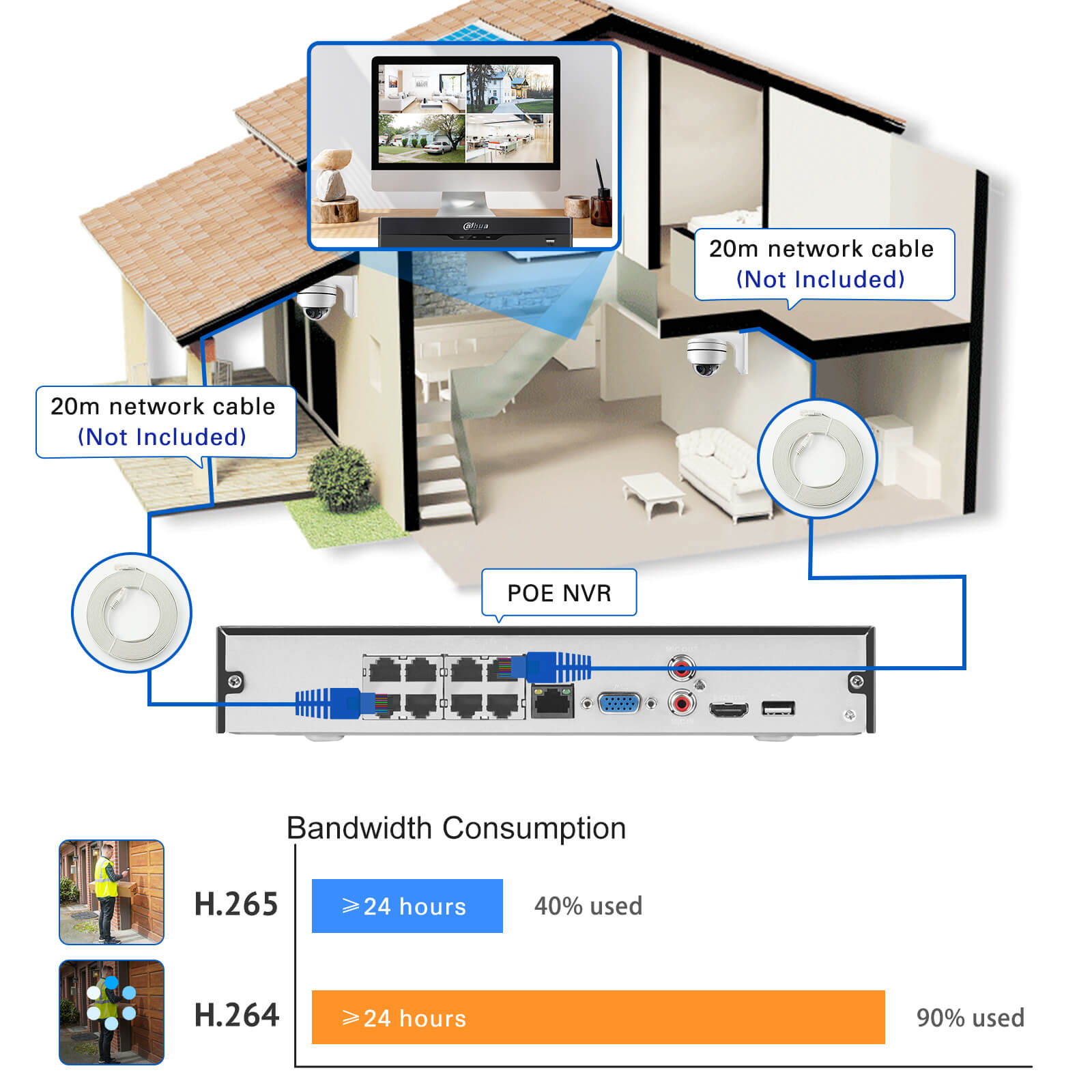 Applied to Multiple Occasions
Applied to Multiple Occasions Widely used for a variety of environments, like home, meeting room, warehouses, library,scenic park,amusement park,shop,mall,restaurant,movie theater,club,Health clinic,health clinic,school,and so on. The IP security system is very easy to use, it is a best choice for your life.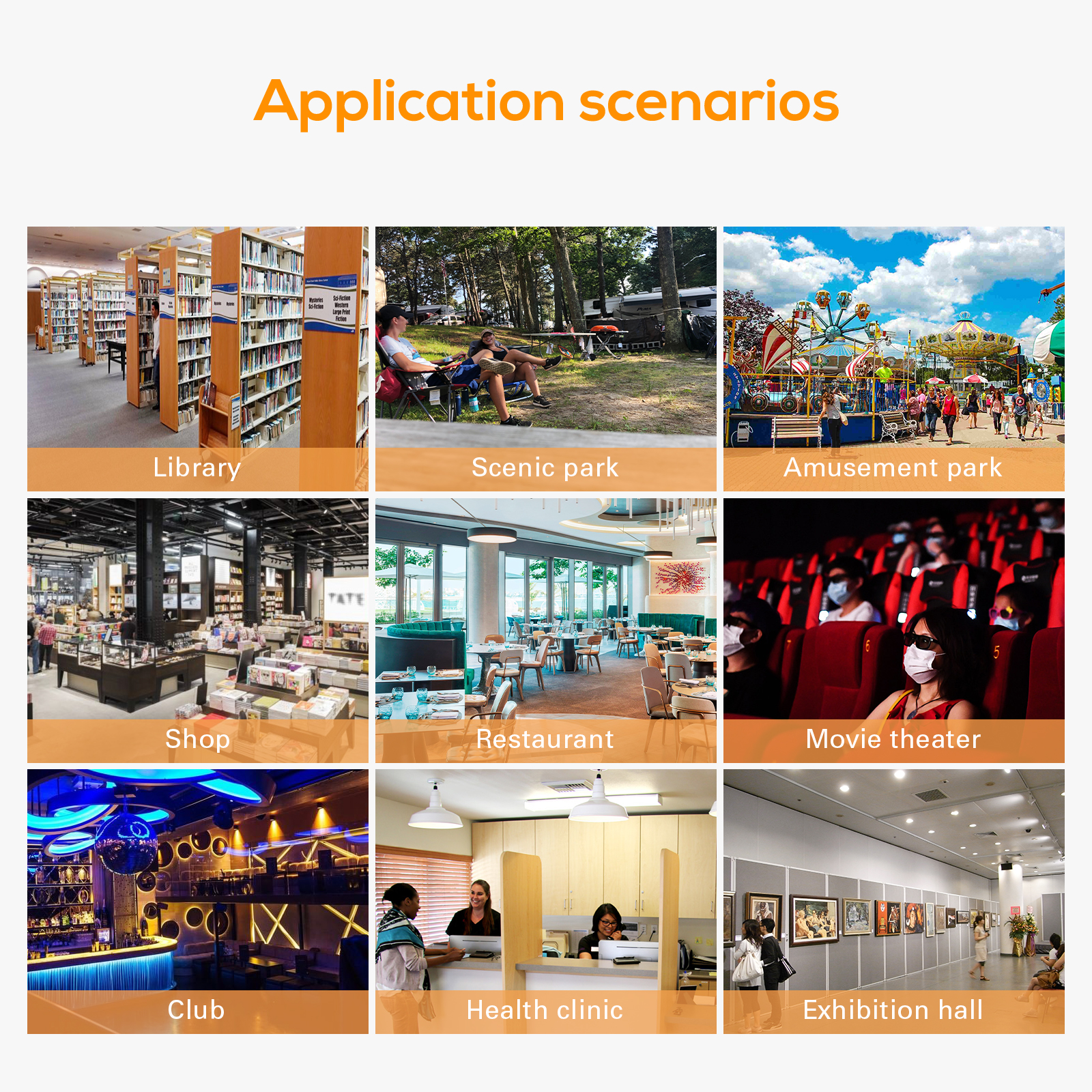 Easy To Install
Easy To Install Security Camera.A real play and plug security! It features POE (Power over Ethernet), with a single cable connecting each IP camera to the NVR for both power supply and video and single transmission. Easy wiring – the wiring process can't be simpler for DIY enthusiasts and beginners.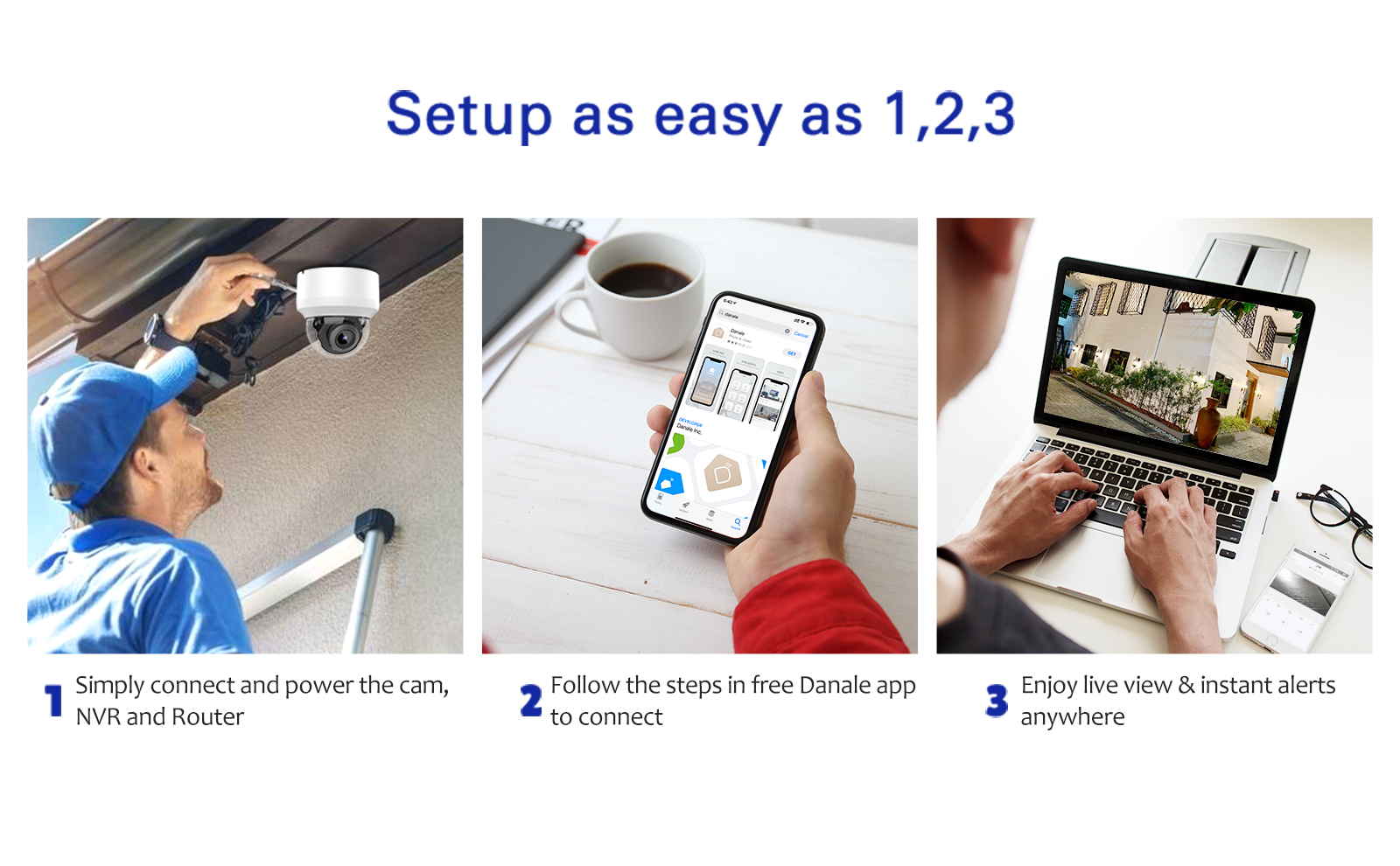 There are two installation methods for PTZ-2504X-IZ camera, one is ceiling and the other is wall-mounted.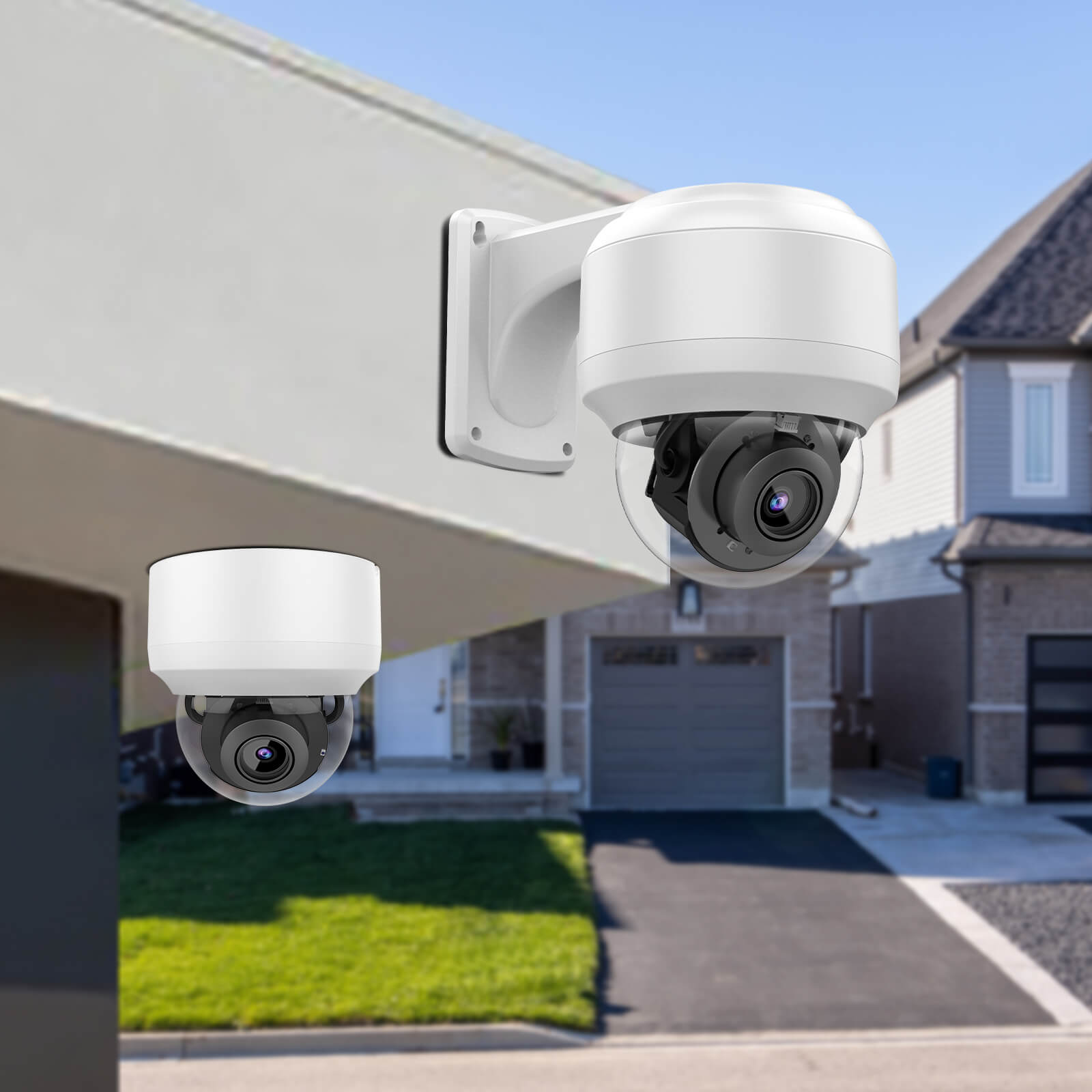 Connecting Camera To NVR