8CH Wireless CCTV System WiFi Video Surveillance 3MP Solar Powered Security Camera
▶  3MP solar powered wifi security camera, HD quality
▶  Wifi connection, 100% completely wireless
▶  Built-in 2 21700 lithium batteries, long standby
▶  PIR+ intelligent detection, quick start recording
▶  Sound and light alarm, intelligent alert
▶  Built-in MIC and speaker, sound and picture synchronization, two-way intercom
▶  The camera is IP65 waterproof, no fear of wind and rain
▶  The 8-channel host comes with 4pcs cameras as standard, and 4pcs cameras can be added
▶  Comes standard with 4 1.6W solar panels, one installation will never power off
▶  Built-in wireless network card, get rid of the shackles of network cables
Availability: 99 in stock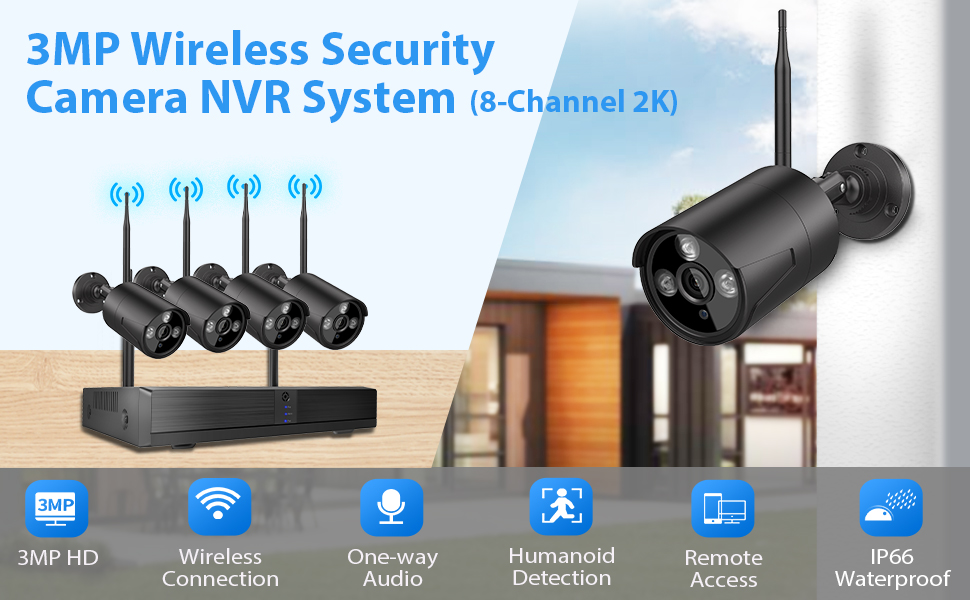 VIKYLIN 3MP Wireless Security Camera System
Some tips you might be interested in:
Please test the cameras' wi-fi signal before Installation.
This system supports wired transmission via LAN cable as well.
The cameras are not battery operated, but we offer power supply for each camera.
WIFI Range Restriction: The WIFI signal is reduced by walls. Please place the cameras as close to the NVR as possible.
You will need an HD TV or PC monitor with HDMI or VGA cable to view and perform system settings, the HDMI or VGA cable is not included.
You can watch live videos, record and play video without internet. If you want to watch cameras remotely, you need to connect the NVR to the internet (e.g. router) through network cable (included).
Rechargeable Battery, or Solar Panel Powered
wireless camera has built-in 2 21700mAh rechargeable battery, long standby and allows to charged on a 5V power adaptor. It also can connect to the included solar panel to get running in 365 days with non-stop.

Wireless connection
No need to connect with network cables, just connect to power adapter, and camera will connect to NVR automatically.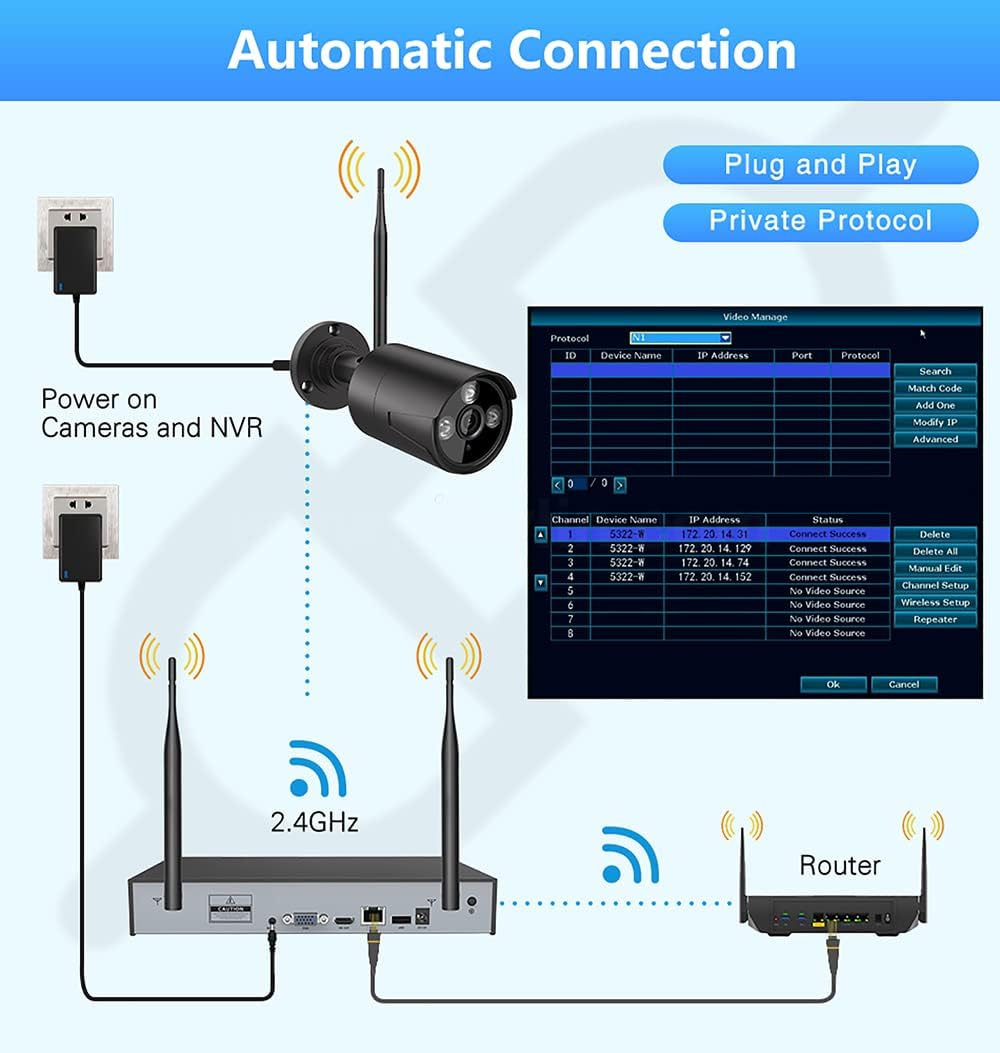 Motion Detection & Real-Time Alert for Home Security
Delimit the area you want to control, when it is intruded, message will be sent to you. You can get the first hand information, no matter when and where you are.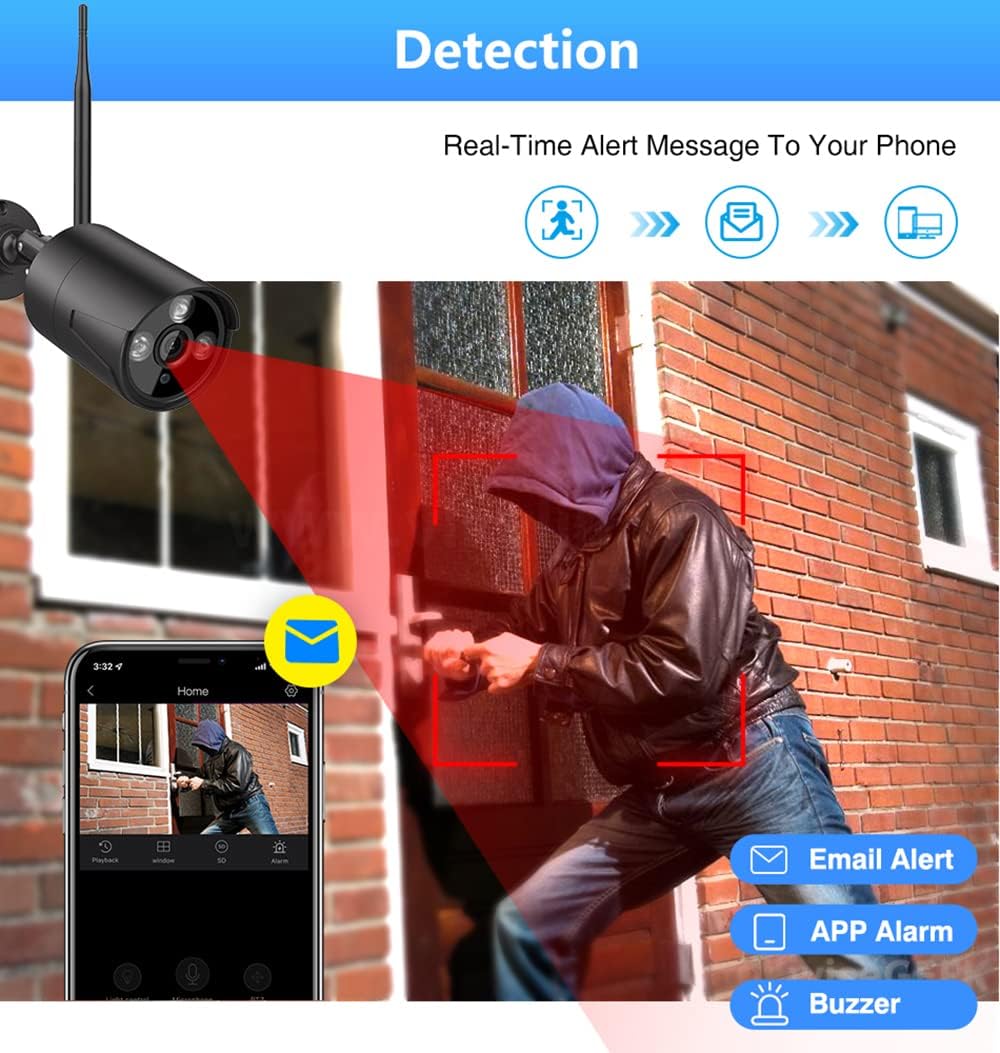 Real-time Two-way Audio
With the built-in microphone and speaker of the wireless security camera, you can see, hear and talk to anyone who appears on the screen of your device. You can communicate with your elders, children, nanny and pets even if you are thousands of miles away. You can also verbally warn any uninvited people.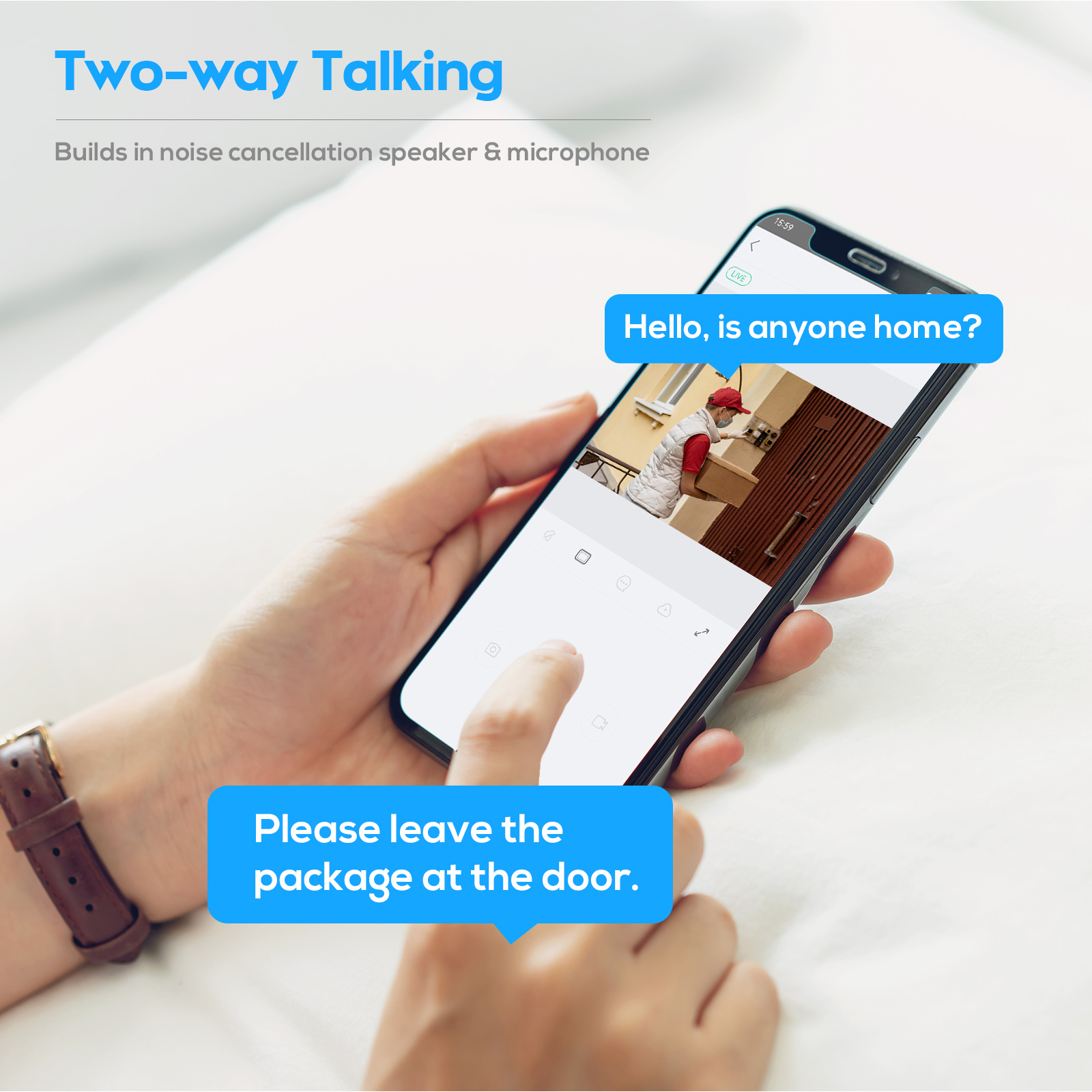 Get Remote Access Anywhere Anytime
Connecting the app to the camera is easy and fast! Just follow the steps on the app, scan the QR code, wait 30 seconds, and your connected. You can see remotely all clear and crisp live footage from your phone or computer and share with family (It can only be shared by the 1st user, the shared users cannot share to others, protect your data privacy).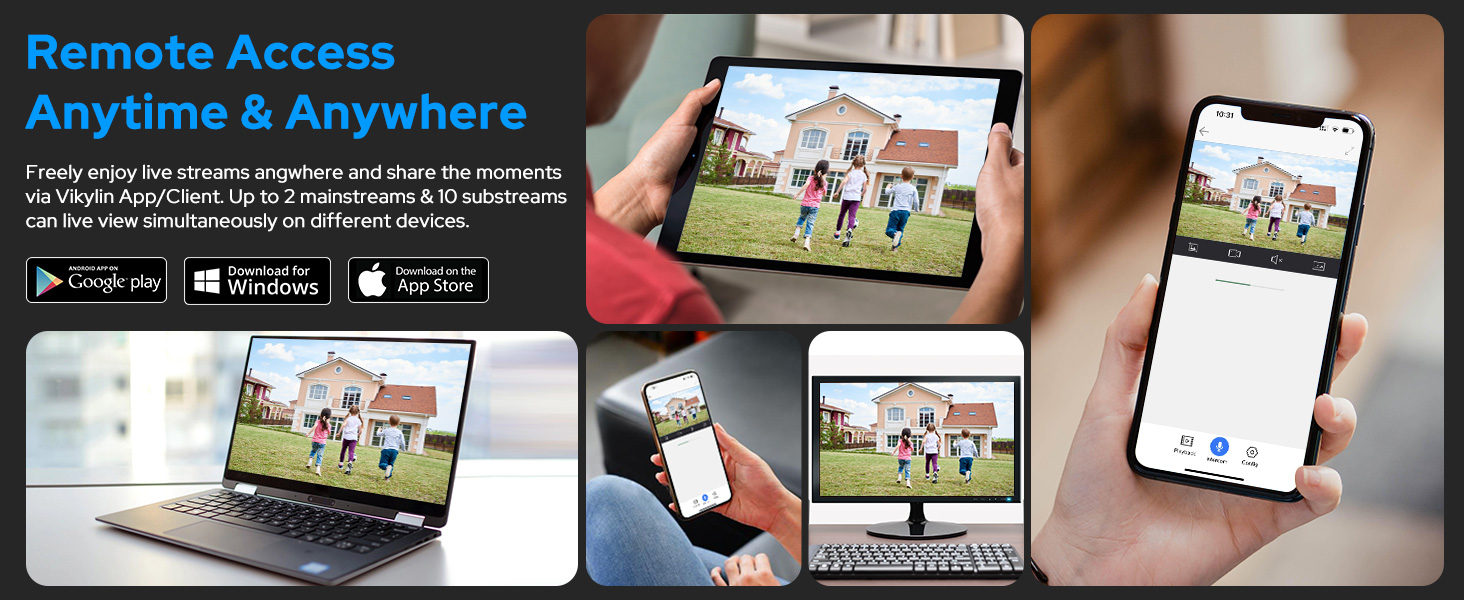 Video With Smart Playback
Smart playback can customize searching area, reduce playback time by speeding through unimportant videos.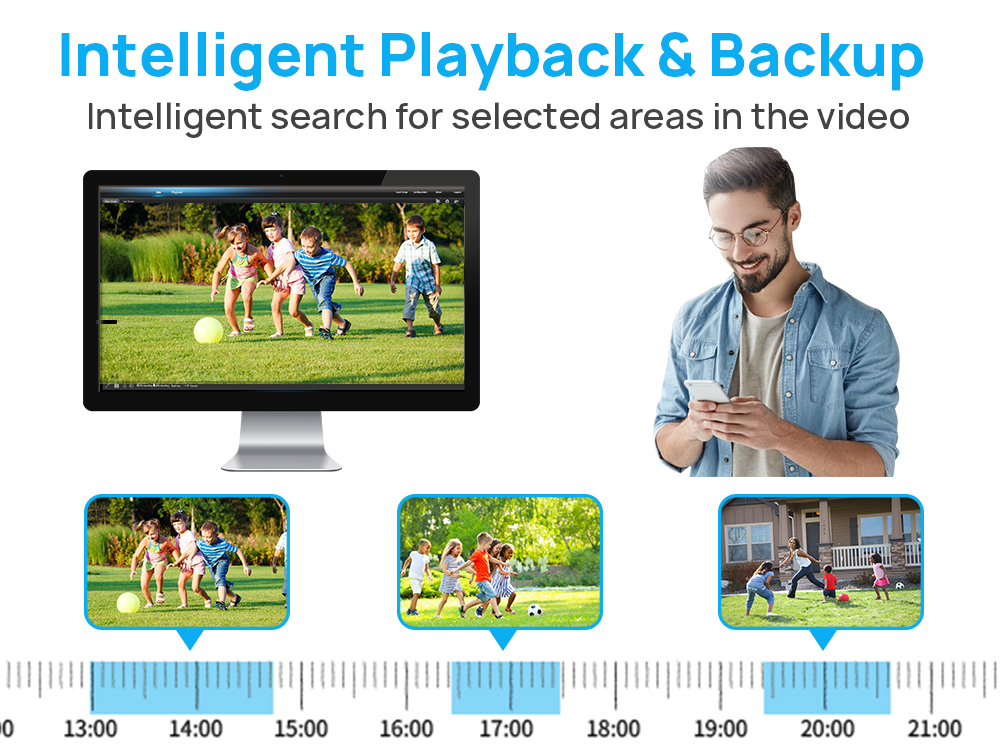 Easy and Quick Installation
This Outdoor security camera is completely cordless, no wiring or power cords needed. You can choose to install it without drilling and mount wherever you want, the bracket is 360-Degree adjustable which make the installation more easier.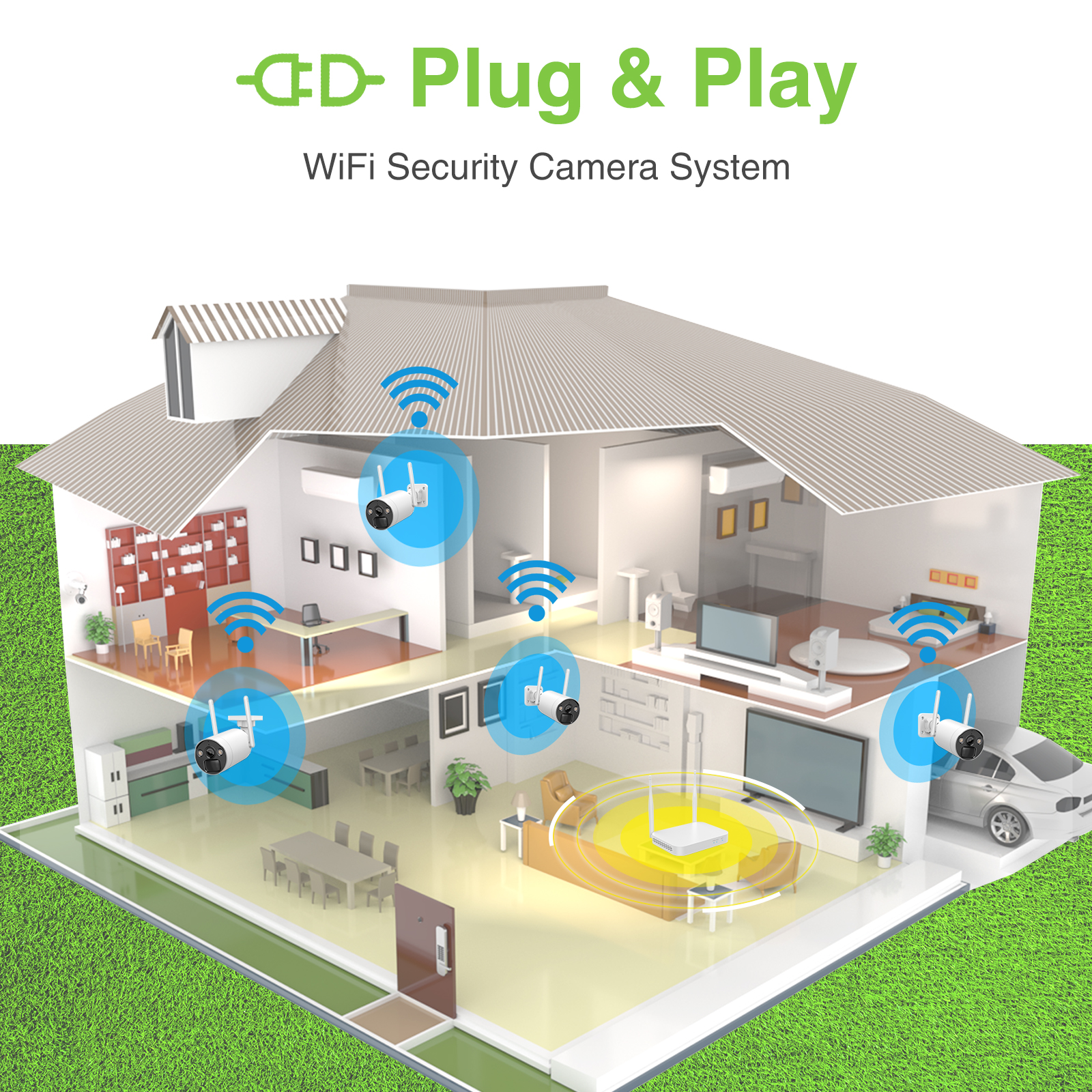 What is included?
8CH Wireless NVR *1,3MP Wireless IPC *4,Solar panels *4,Brackets *4,Installation Sticker (for IPC)*4,Power Adapter & Mouse *1,Power & Cable for IPC *1,LAN Cable for NVR *1,Sets of Screws *4,User Manual *1