PTZ, or pan-tilt-zoom cameras, are devices that do exactly as their name implies: pan, tilt and zoom. It is a camera that automatically turns towards the speaker, following preset positions with the help of a rotary device. PTZ cameras can rotate, tilt, and zoom picture thanks to the special mechanical/electronic drives. PTZ cameras are equipped with a variable focal length lens. PTZ cameras have a wide range of view provided by a built-in rotation mechanism.
Controlled PTZ camera is an integral part of the surveillance system. It is used both for outdoor and indoor surveillance. During a video conference, PTZ cameras play the most important role as an inevitable attribute of the conference room or meeting room.
Though these cameras are a bit more expensive than others, they can do the work of several fixed ones. For this reason, many home and business owners use these types of cameras when building their security systems. Instead of relying on multiple devices to catch some action, they can rely on one and set it to move in the direction of motion whenever motion is detected. If you're in the market for new security cameras for your home or business and want to know more about PTZ—this post was made for you.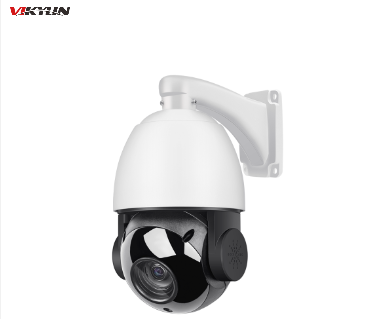 The key features of a PTZ-camera
The image quality is provided by a CCD sensor. Color reproduction depends on the size and the quality of that sensor. Some PTZ-cameras provide high-quality recording even in low-light conditions. This property is particularly important for video conferencing as most conference rooms are under-equipped in terms of illumination.
Preset positions. PTZ cameras have a different number of presets – from five to a hundred. The more preset positions a PTZ-camera includes, the better.
Range of rotation and tilt. A PTZ camera should have a wide range of tilt/rotation angles at a maximum speed.
Ceiling/desktop/wall installation. PTZ-cameras can be mounted anywhere in the room with special brackets.
PTZ mechanism. It determines the range of pan, tilt and zoom.
Control. You can control PTZ the tilting, zooming and panning features of the camera using various interfaces (like IR remotes and controllers).
Alarming function. This feature is supported by most PTZ cameras. "The alarm" is activated when the illumination changes in a particular area.
Why We Love PTZ?
It Comes With Built-In Motion Tracking
One of the best features of PTZ cameras is their motion tracking feature. Intruders who want into your property bad enough may figure out where your cameras are placed and try to avoid each one's line of vision. With fixed cameras, they would be successful, but with PTZs, they may be highly disappointed. If there is motion within a certain distance of each camera, the lens wills swivel towards it and zoom in for more accurate viewing purposes. If theft or vandalism does occur, you can be sure that the perpetrator will be clearly visible in the footage.
It Provides for a Larger Field of View
These devices can cover a 360 degree area, which is nearly four times the amount of coverage that a fixed device can achieve. You can either preprogram your devices to focus on certain areas at certain times of day or you can control it remotely and change the field of view whenever you feel it is necessary to do so. Consequently, this makes installation easier, as instead of having to have your cameras placed in precise locations, you can have them installed in general areas, and then focus them wherever you want whenever you want.
It's Weatherproof and Tamper Resistant
Because PTZ cameras are meant to be placed in areas that can achieve the greatest ranges of vision, they are generally placed out in the elements and up high. For this reason, they are designed to be both weatherproof and vandal resistant. As a result, you can capture footage in rain, sleet, snow or hail, and can rest assured that while you're away, no vandals will be messing with your security equipment.
It Comes With Several Upgrade Options
PTZ cameras are already pretty spectacular as is, but they can be made to be even better with high definition options, alarm outputs and night vision. Most modern cameras come with resolutions that range from 720i to 1080P, high definition video, HD-SDI technology, advanced PTZ domes and much more.
We are a PTZ Camera supplier. If you are interested in our products, please contact us now!