This camera has built-in infrared detector and also high-power light, so when the sensor detects an intruder to quickly send him a picture block you.
IP Camera IVS function. Provides the best image quality, unique features and lowest cost available in the market. The role of IVS (Intelligent Video Surveillance), which includes this camera allows the user to obtain images as a warning, which are sent directly to the time of the incident. Provides fast response and real time monitoring with excellent performance and intelligent IP surveillance system without additional accessories.
The MOS sensor which includes this camera is the new generation of sensors that provides high image quality of a CCD sensor and low power consumption of a CMOS sensor. VD-2T81-ZS IP Camera offers a picture quality real time video VD-2T81-ZS. It also has a stylish look and offers more than you can imagine.
This product is ideal for securing all sorts of places, including the home, gardens, shops, ATMs, ticket-issuing centers, nurseries, veterinary clinics, restaurants, hotels or business buildings. This IP camera is very reliable and produces excellent image quality and professional visualization capabilities.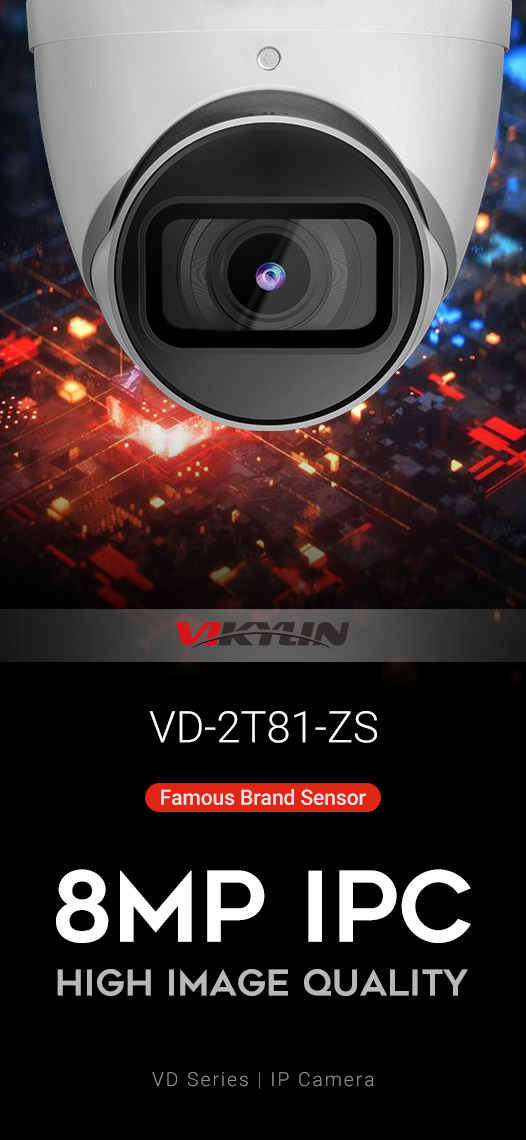 Features:
• 4K 8MP Ultra HD 5X Optical Zoom Camera-3840 x 2160 resolution featuring enhanced Starlight utilizing the latest CMOS 1/2.7″ image sensor,with advance image processing thechnology and optical thechnology, still provide clear colorful video in the enviroment of very low illuminance;support Micro SD card storage(up to 256GB),132ft ultralong night vision distance, comes with 2.7-13.5mm motorized zoom lens allows you to cover more ground and see clearer picture of object details to keep your safety.
• Smarter detcetion (IVS)-With advanced video algorithm,it supports many intelligent functions like tripwire and instrusion, to quickly and accurately respond to monitoring events in specific area,enhance monitoring efficiency. In addition, the 8mp poe ip camera supports intelligent tamper detection, which is to generate warning message via detecting dramatic scene change,receive motion alert notifications and remote via your smartphone with the View app(gDMSS for Android, iDMSS for IOS).
• 120dB True WDR &SmartH.265+ Compression – The WDR enable objects in both bright and dark areas of a scene to be visible(a short exposure for very bright areas and long exposure for dark areas),3D digital noise reduction to provide clear images with less noise in low-light surveillance scenes compared to conventional cameras.3DNR can be used to enhance image quality and save bandwidth,With SmartH.265+ compression, provides high-quality video, and reduces the cost of storageand transmission.
• Simple and Reliable-Power Over Ethernet (POE camera) for easy installation (POE Injector or Switch Required;Not Included,Sold Separately), so easy set up even for a beginner;come with IP67 water and dust resistant,professional varifocal ip security camera can withstand temperature ranges from -22°F to 140°F(-30°C to 60°C), which means this 8mp 4k security outdoor camera is strong enough to withstand rough weather, even in the storm and snowy weather.
• Secure,Quality,Service-This VIKYLIN 4K 8mp poe ip turret camera made by Dahua OEM factory ,OEM same as dahua Original Model IPC-HDW2831T-ZS-S2, 100% compatible with dahua systerm.it is compatible with Hikvision, Lorex and other third-party NVR brands that support ONVIF,we want to ensure the safety of our customers,their loved ones, homes and businesses,we support 3-year warranty and lifetime tech support,contact our friendly.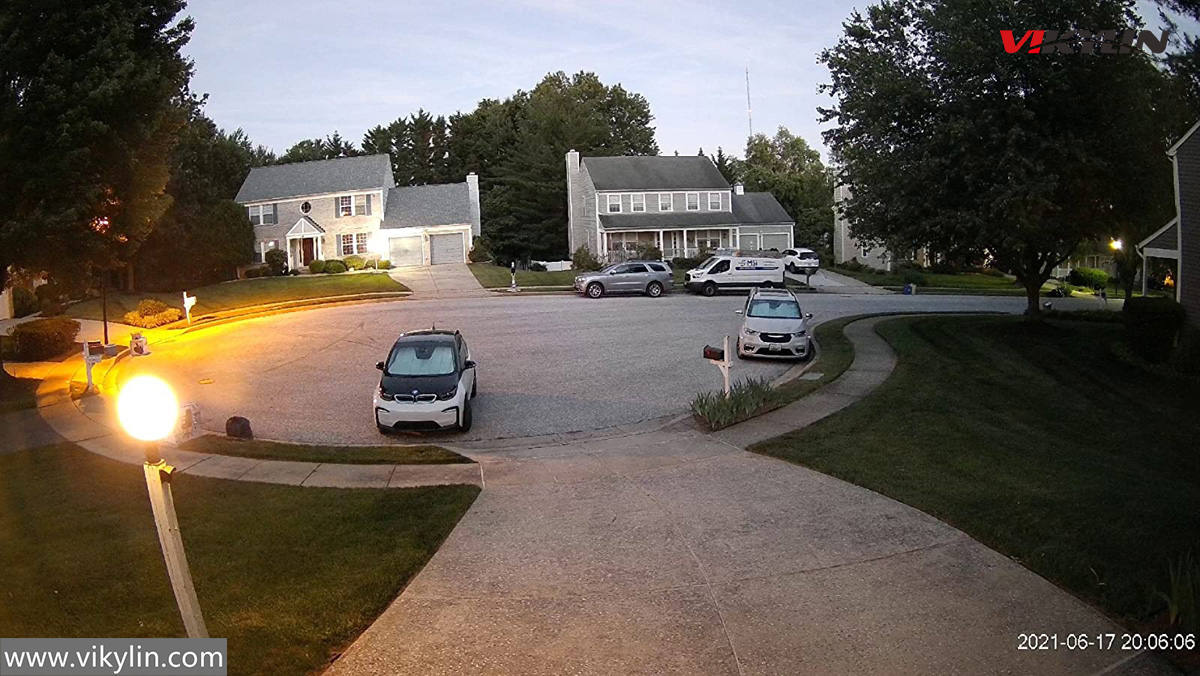 8MP Lite IR Vari-focal Eyeball Nework Camera-VD-2T81-ZS
5X Optical Zoom – No Distortion
This 8mp 4k Bullet camera features a motorized varifocal lens. Thanks to the 5X optical zoom, you can zoom in on a small area in astonishing details or zoom out for maximum coverage, without reducing the image resolution or quality.
Focal Length:2.7mm~13.5mm Electric 5X Zoom Lens
Intelligent Video Analysis & Alert Push
The camera is equipped with a built-in intelligent analytic algorithm based on video, which can realize intelligent functions like Tripwire,Intrusion,to quickly and accurately respond to monitoring events in specific area, receive motion alert notifications and review footage via your smartphone with the Phone app
Real 120dB Wide Dynamic Range (WDR)
Embeded with real wide dynamic range (WDR) technology, vivid picutures are achieved even in the most intense contrast lighting conditions. For applications with both bright and low lighting conditions that change quickly, True WDR (120dB) optimizes both the bright and dark areas of a scene at the same time to provide usable video
Starlight Technology
With advanced image processing technology and optical technology,Starlight technology can provide clear colorful video in the environment of low illuminance. It widely applies to various environments of low illuminance. The camera's integrated infrared illumination provides high performance in extreme low-light environments up to 131.23 ft
Smart Codec H.26.5
Smart Codec H.26.5 is the optimized implementation of standard video compression that uses a scene-adaptive encoding strategy, dynamic GOP, dynamic ROI, flexible multi-frame reference structure and intelligent noise reduction to deliver high-quality video without straining the network. Smart Codec technology H.26.5 reduces bit rate and storage requirements by up to 70% when compared to the standard video compression H.264.
Multiple Storage Options
The camera conforms to the (Open Network Video Interface Forum) specifications, If you have multiple IP cameras or want 24/7 recording,the VIKYLIN 6MP super HD camera supports Plug and play with Dahua NVR, it can also record to Synology, QNAP, NAS, FTP server, Blue Iris, onto your local computer, or compatible with any ON-VIF NVRs (not included) ,Support Micro SD memory(Max 256G) (SD card not included)
IP67 Waterproof
This 8mp 4k VF ip camera features a heavy-duty metal Weatherproof IP67 housing and Protection cover protects against most weather effects, such as Rain, exposure, frost, dust, and even vandalism.
Mobile Remote Access
Easy to add the camera to mobile phone via gdmss, idmss APP, video surveillance is a total breeze. You can enjoy live video, play back, take snapshots, receive motion alarms anytime from anywhere. You can also share the device's live video with your families and friends.
Still have questions?
Not only can we answer all of your questions, but we will also work with you to offer the best options for your security camera while keeping your project on budget. Contact us now!