4MP Full Color Night Vision PoE Security System HD NVR Kit 4 Cameras 8 Channel
▶ High-end security camera kits comes with 4MP HD colorVu Full color technology security cameras.
▶ High definition image sensor,excellent low-light performance.
▶ 30m night vision protects your property 24/7
▶ Ultra-Wide field of view captures the entire scene for superior coverage
▶ IP67 waterproof – suitable for indoor and outdoor usage
▶ Access your system remotely thanks to APP support
▶ Versatile ceiling or wall mounting options
▶ UL compliant cable suitable for surface and in-wall installation,5*100ft utp cat5e  Network Cable
▶ NVR 8 channel PoE network interfaces are provided,Up to 8 IP cameras can be connected
▶ Supports live view, storage, and playback of the connected camera at up to 4K resolution
▶ Connectable to the third-party network cameras
Availability: 99 in stock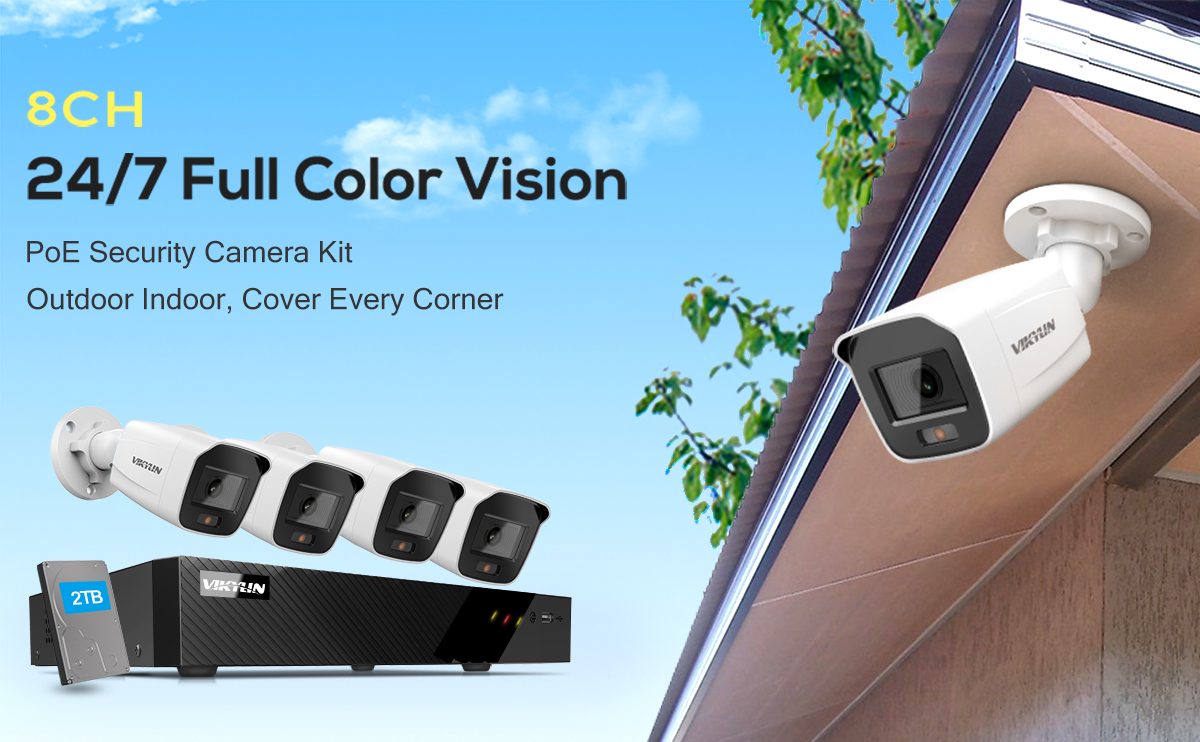 ColorVu Full Color Technology
ColorVu Full color Cameras' powerful ability to capture details in low lighting comes from two specific breakthroughs in hardware technologies: advanced camera lens(F1.0)and high-performance sensors(0.001 Lux). coupled with a supplemental light for extremely dark scenarios, Full color cameras provide video with colorful details when you need them.


4MP Ultra HD
With their  1/2.7 inch CMOS, the NVR cameras produce crisp and detailed HD footage at any time of the day. Ultra-low illumination, clear images and high brightness.
Super Wide Angle Security Cameras
Ultra Wide Angle HD Outdoor Security Camera, 121 Degree Field of view.
Your VK047 security camera is the perfect choice for large area or doorway monitoring. This camera provides superior coverage thanks to its massive  102° horizontal /  54° vertical / 121° diagonal field of view. Whether you need to monitor a large room, the street in front of your house, or a wide backyard, a single wide angle security camera can often take the place of multiple standard viewing cameras.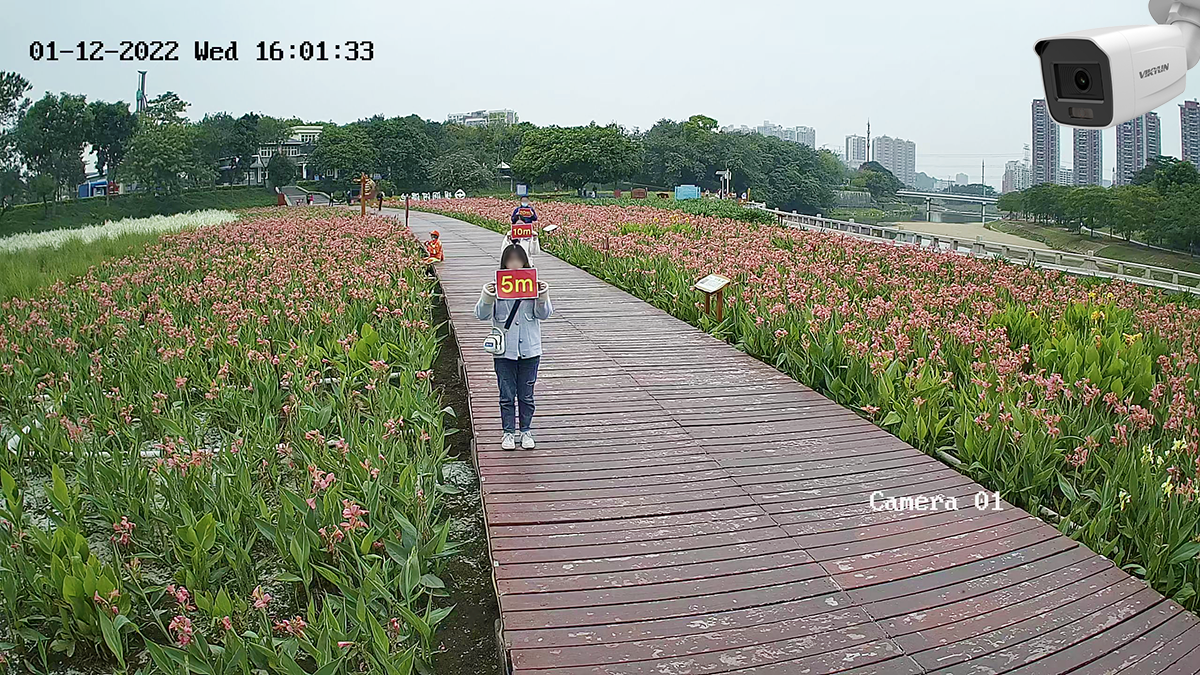 Advanced Motion Detection Recording And Email Alert
The motion detection recording function: when motion is detected the NVR will save the footage into hard disk without missing any important events.
This motion-activated email alert function allows you to always stay connected to all the unexpected movements happened in your house. Smart notifications with email/ snapshot alerts will be pushed to your phone/email via iPhone/ Android ( Danale) App…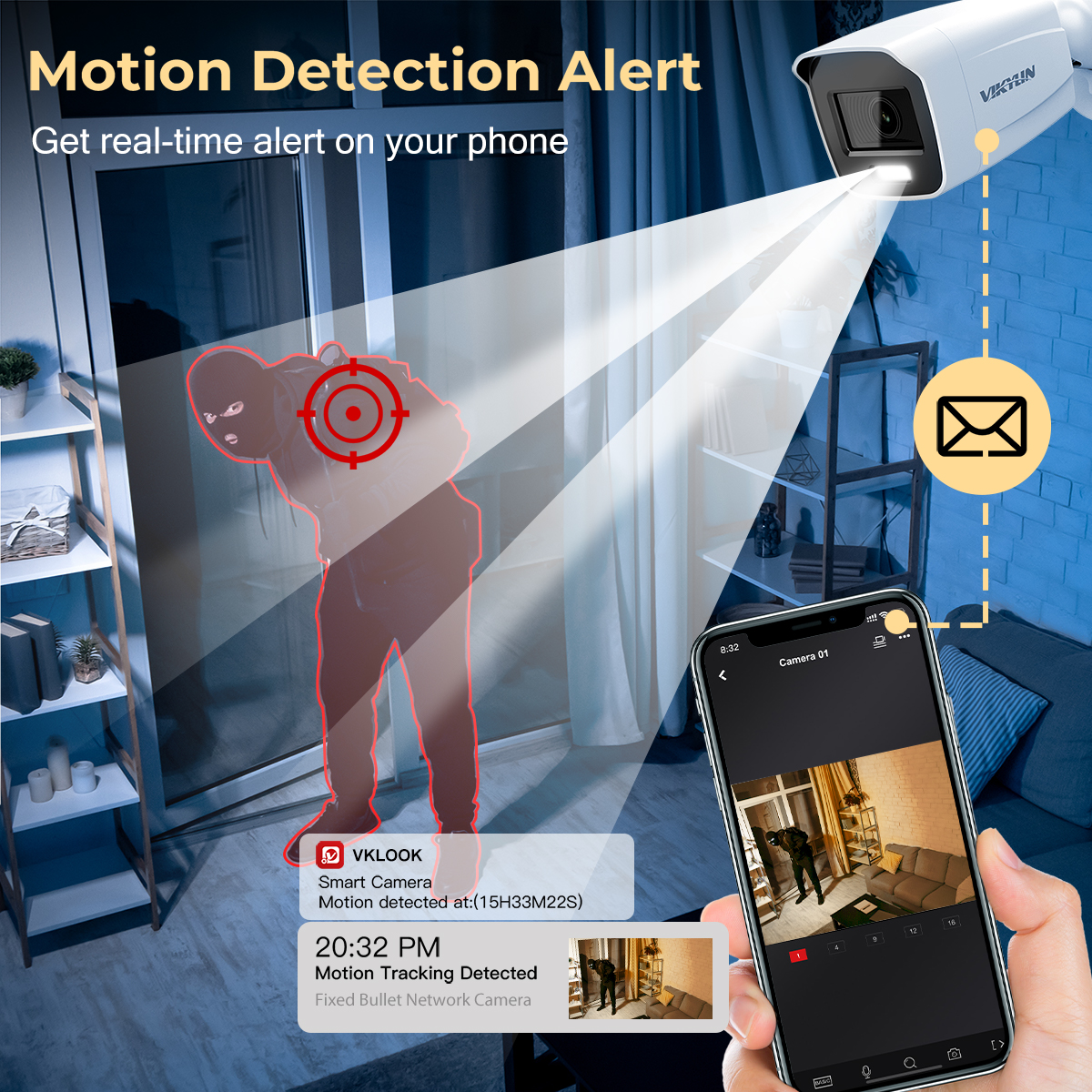 You can customize motion detection sensitivity, time and area (focus on important areas like doors or windows) properly to reduce false trigger such as plants blown by the wind and frequent lighting changes.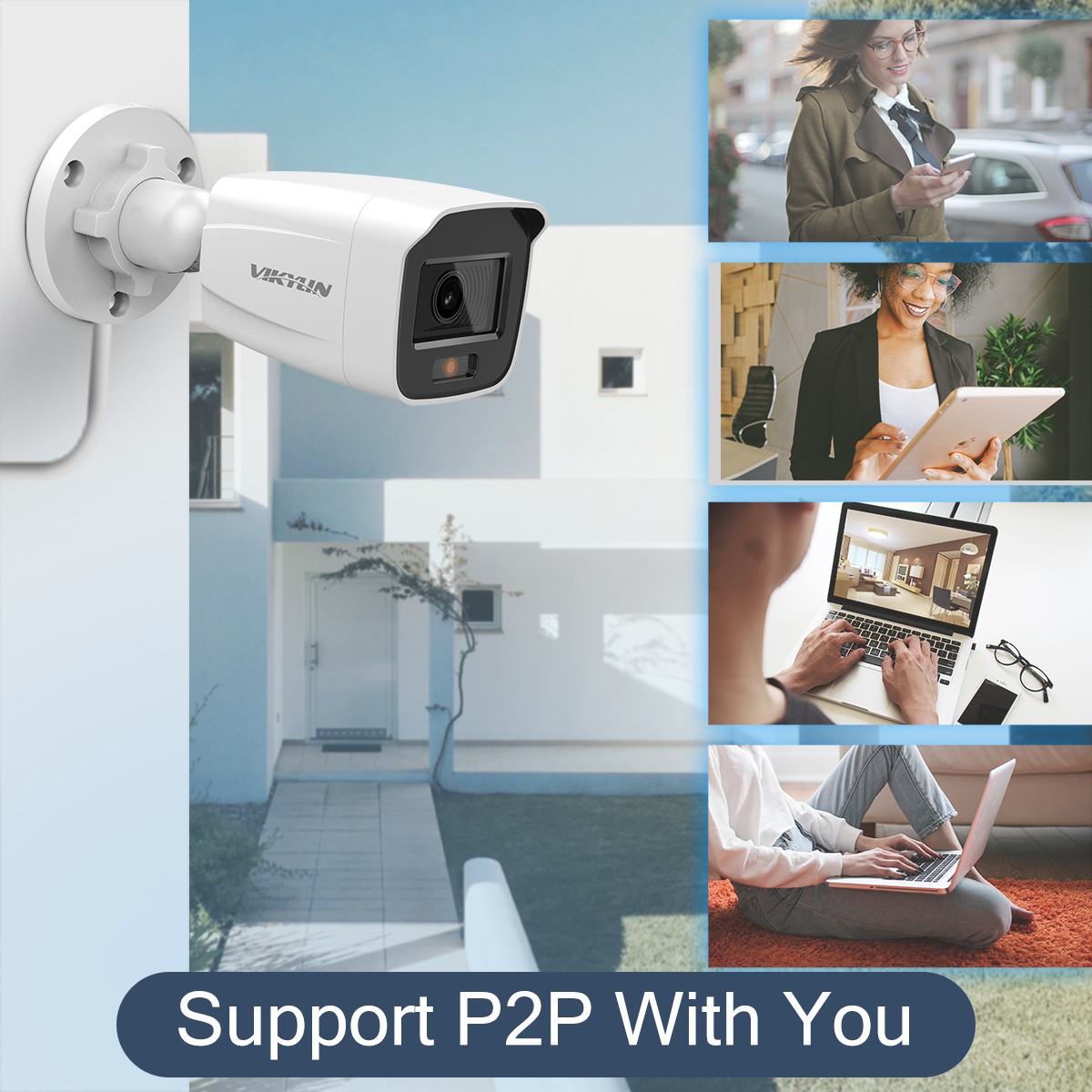 Remote Viewing Anytime from Anywhere
No matter where you are, you can remotely access the camera to see live streaming and stay connected.
Based on P2P (peer to peer) technology, support plug-and-play installation. Access the IP camera through its web interface via Internet Explorer (VKTOOL), also comes with a free smartphone App(VKLOOK ) Android & iPhonefor remotely view from anywhere.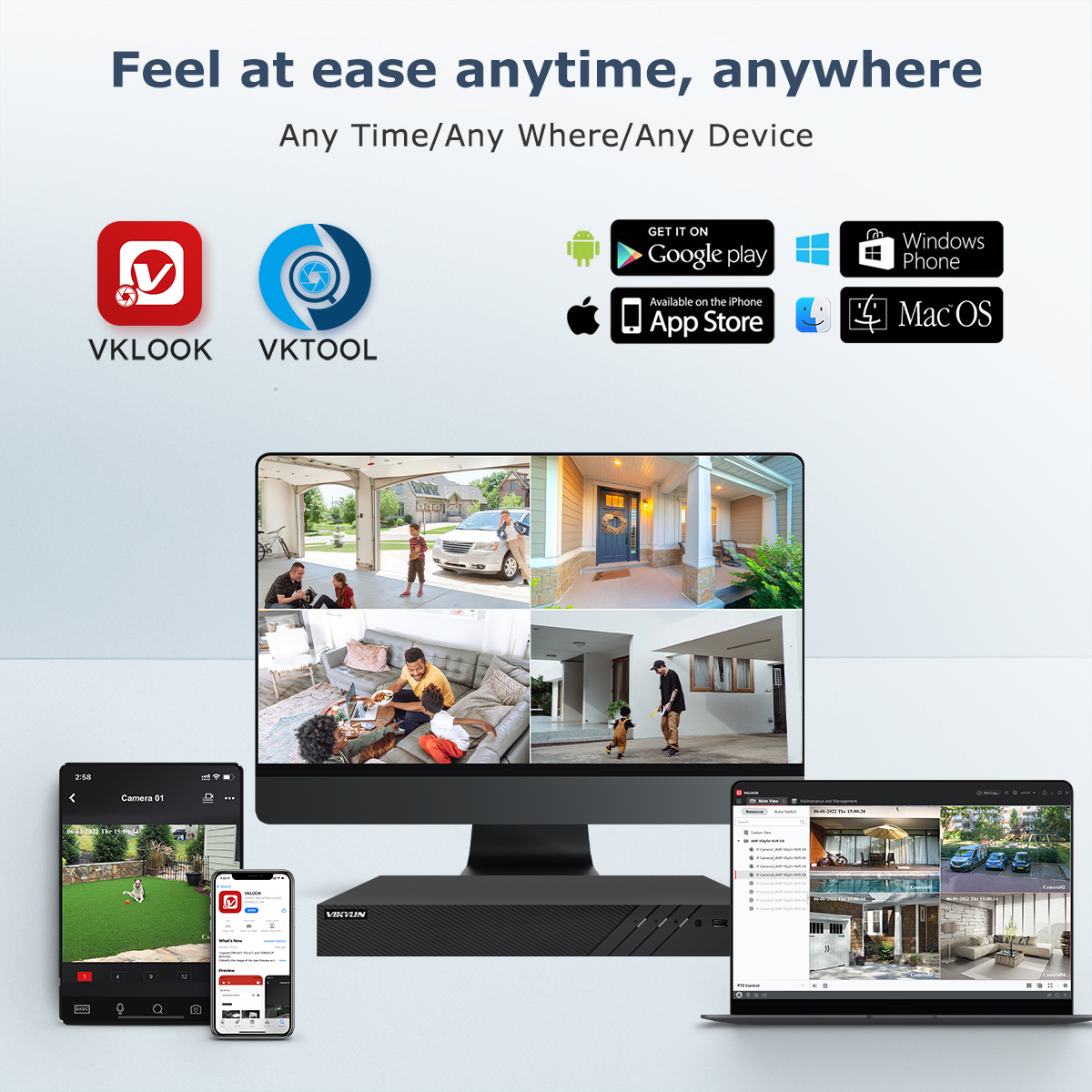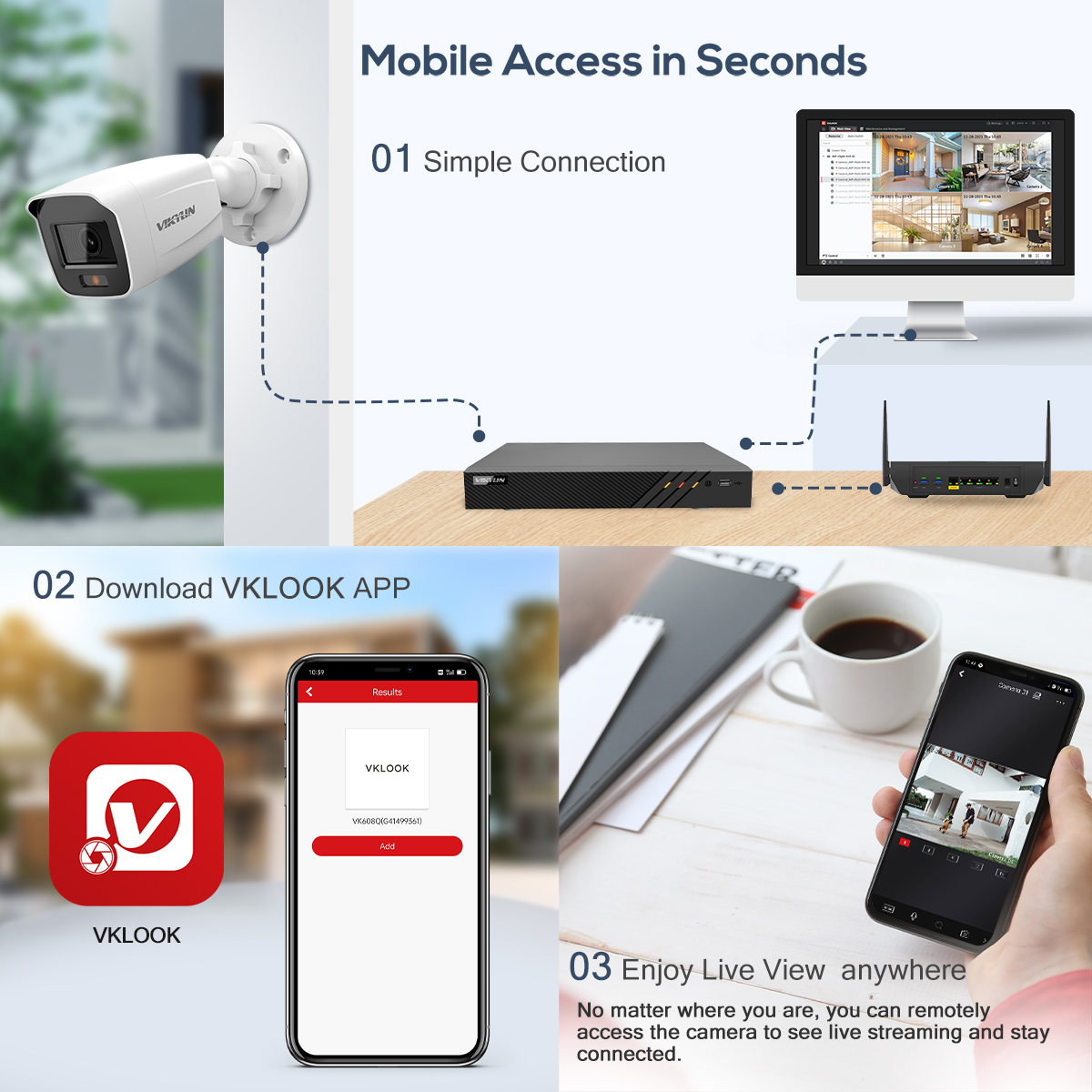 P2P Remote View:Support iOS and Android Device Access. Scan QR-Code to login. Download free app in Apple App store / Google play.The interface is simple, the operation is smooth, and the system is stable. 
IP67 Waterproof
This ip camera features a heavy-duty metal Weatherproof IP67 housing protects against most weather effects, such as Rain, exposure, frost, dust.This security camera provides round-the-clock observation for your security system in any weather.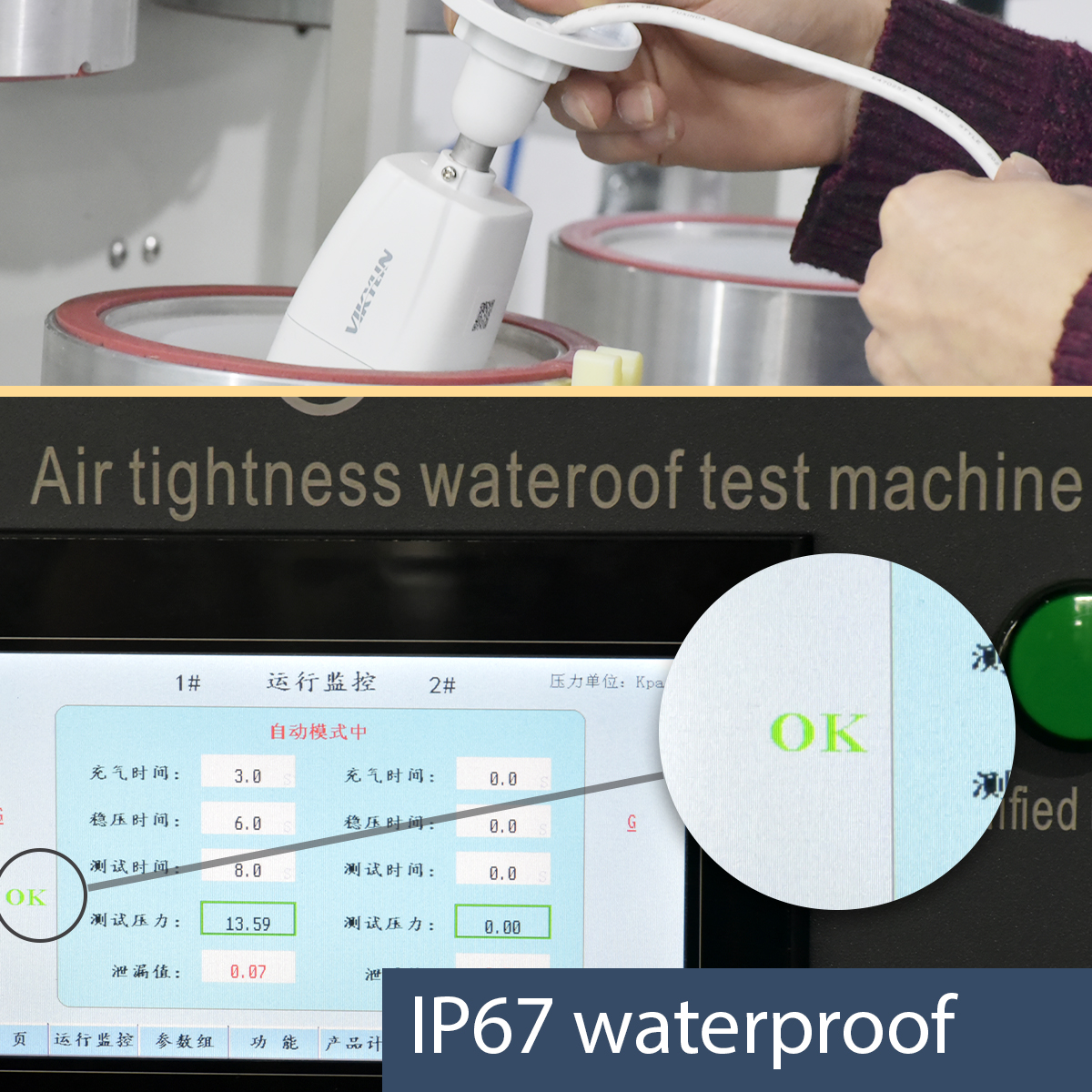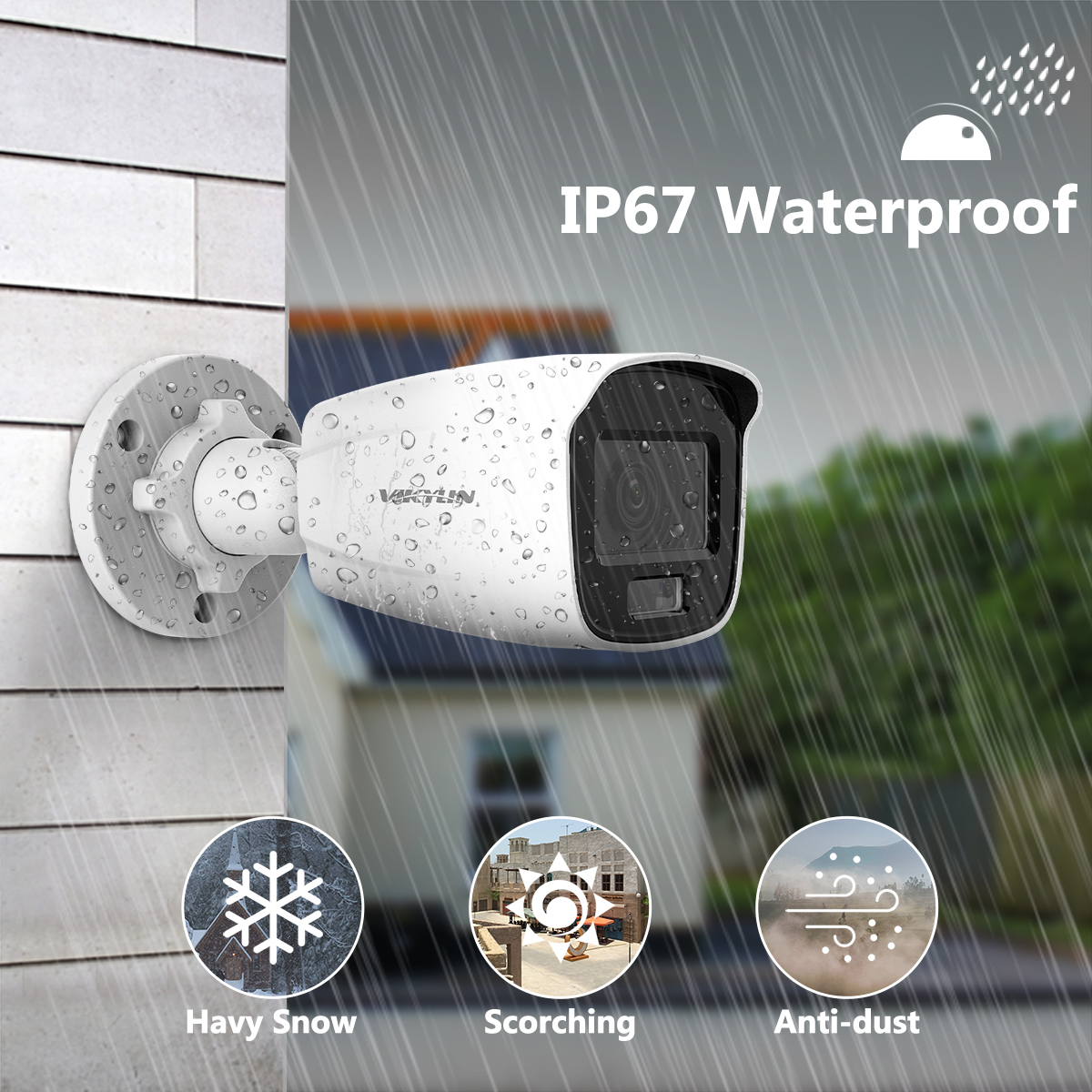 Advanced H.265+ Video Format
H.265 smart codec can save up to 80% on network bandwidth.Save storage space and view fast stream with H.265+ coding and switch to H.265, H.264+ & H.264 coding based on the storage space & network condition,the hard disk can be stored for up to 75 days when 6T is installed.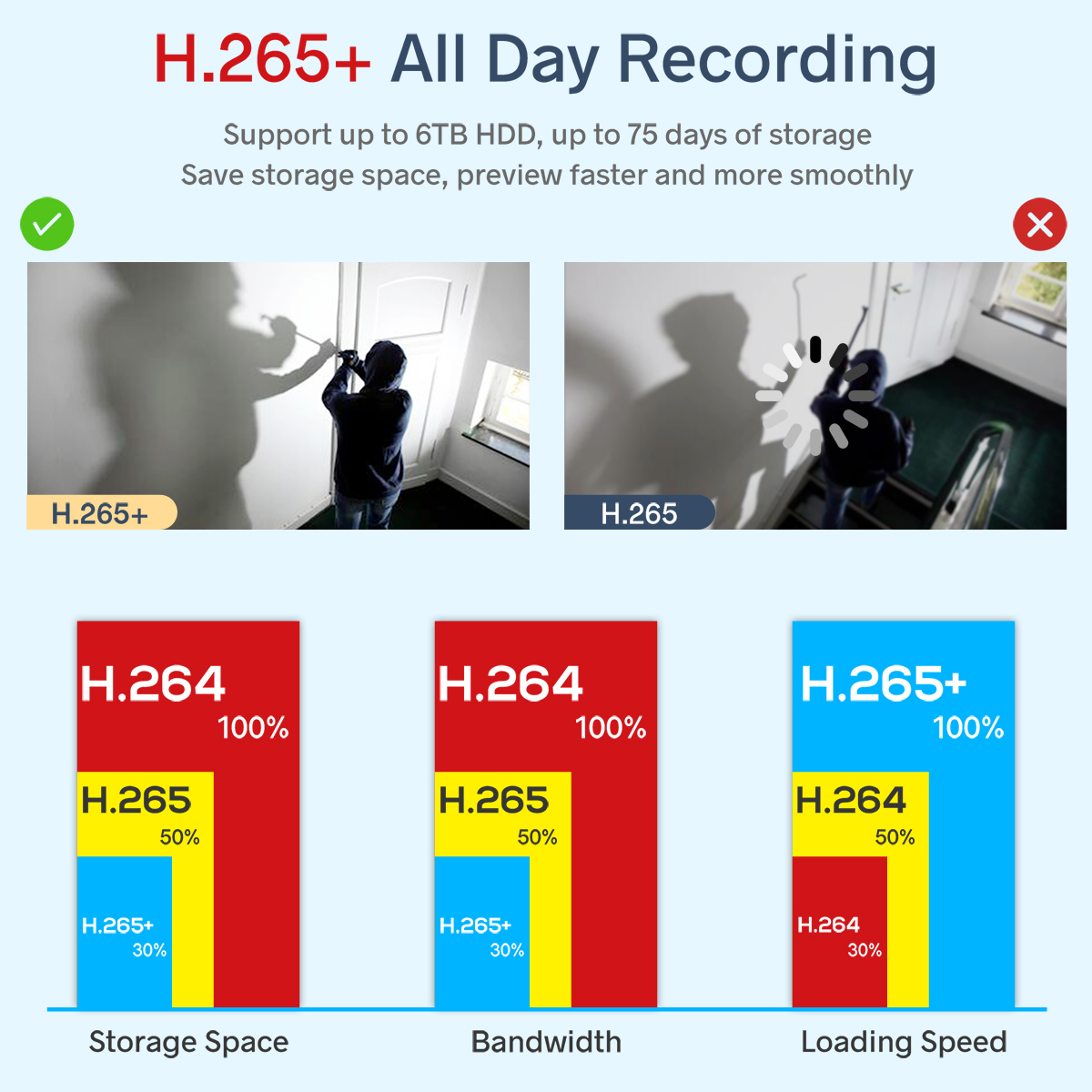 Camera LED Light
White Supplement Light, Up to 30 m. Helps you see more clearly in the dark night.
Mini Bullet Camera Kit
Length 5.84″xWidth 2.44″*Height 2.27″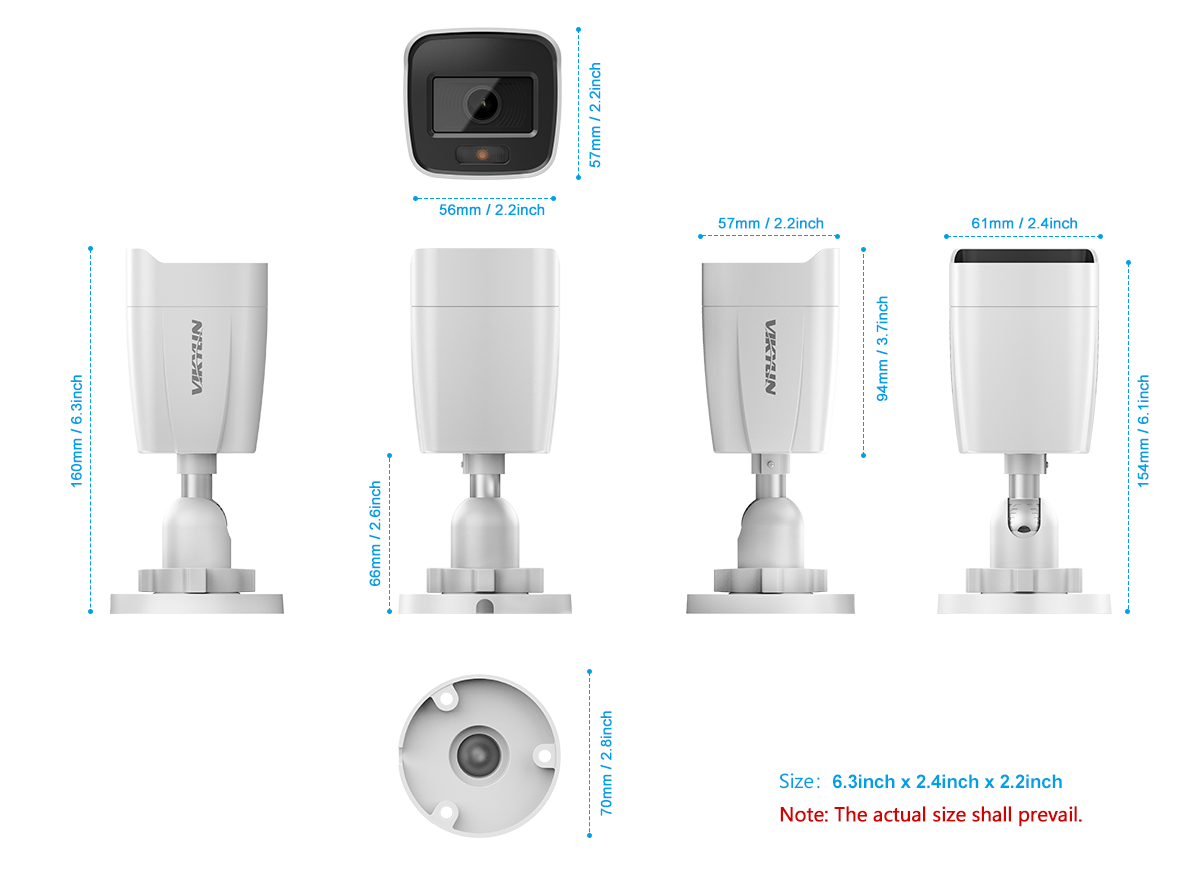 High Quality Cat5e Network Cable (100ft)
Cat5e ethernet cable is made by high quality plastic & PVC connector. More stable and durable.
The ethernet cable high-Performance for Home and Office.Cat5e network cable could be highly compatible for Power over Ethernet security system, such as PoE security cameras, PoE security NVR, PoE switch etc.
8-Channel NVR
NVR 8 independent PoE network interfaces are provided,Up to 8 IP cameras can be connected.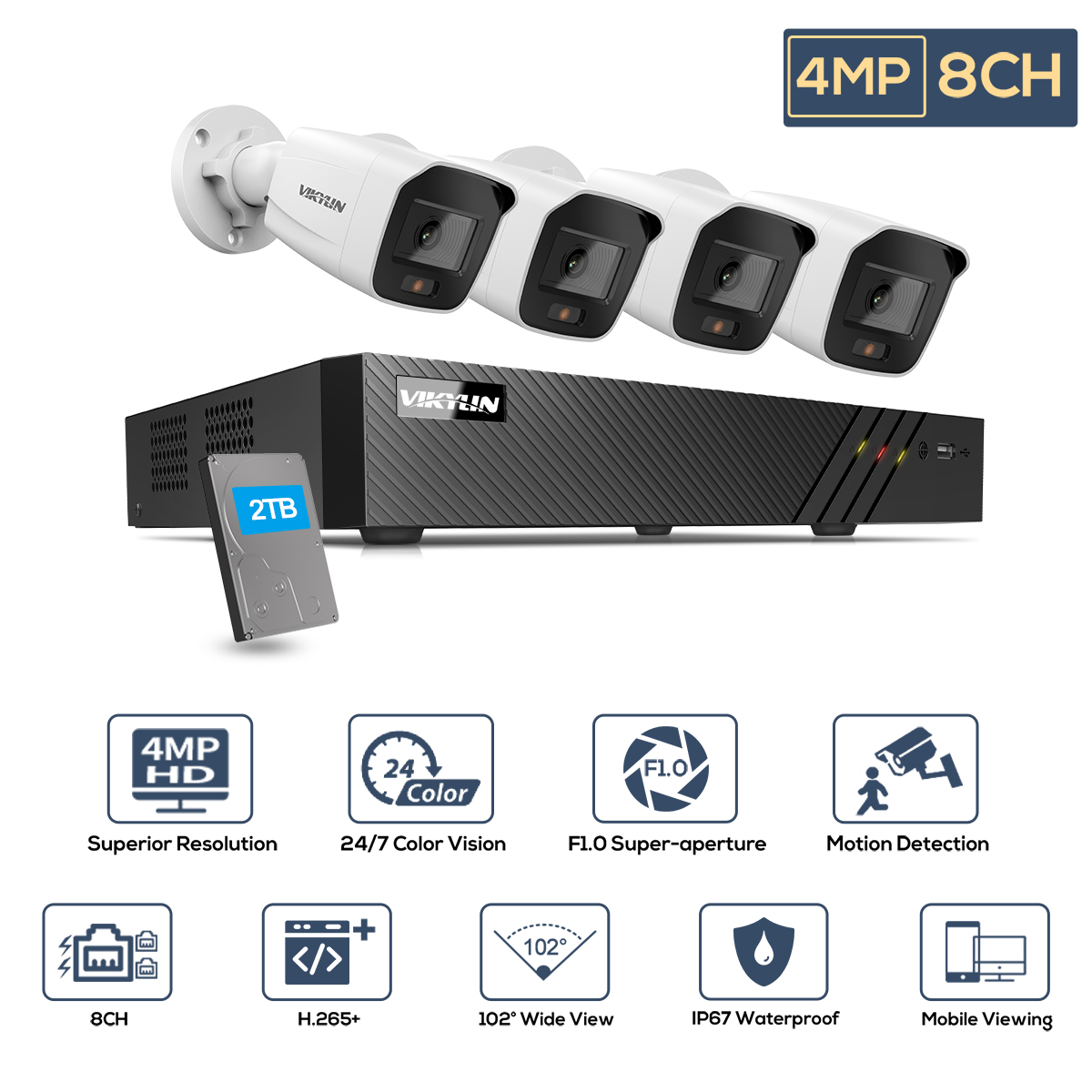 Applied to Multiple Occasions
8-Channel NVR Kit applied to Multiple Occasions Widely used for a variety of environments, like home, meeting room, warehouses, Basement, parking lot,library,scenic park,amusement park,shop,mall,restaurant,movie theater,club,Health clinic,health clinic,school,and so on. NVR camera system is very easy to use, it is a best choice for your life.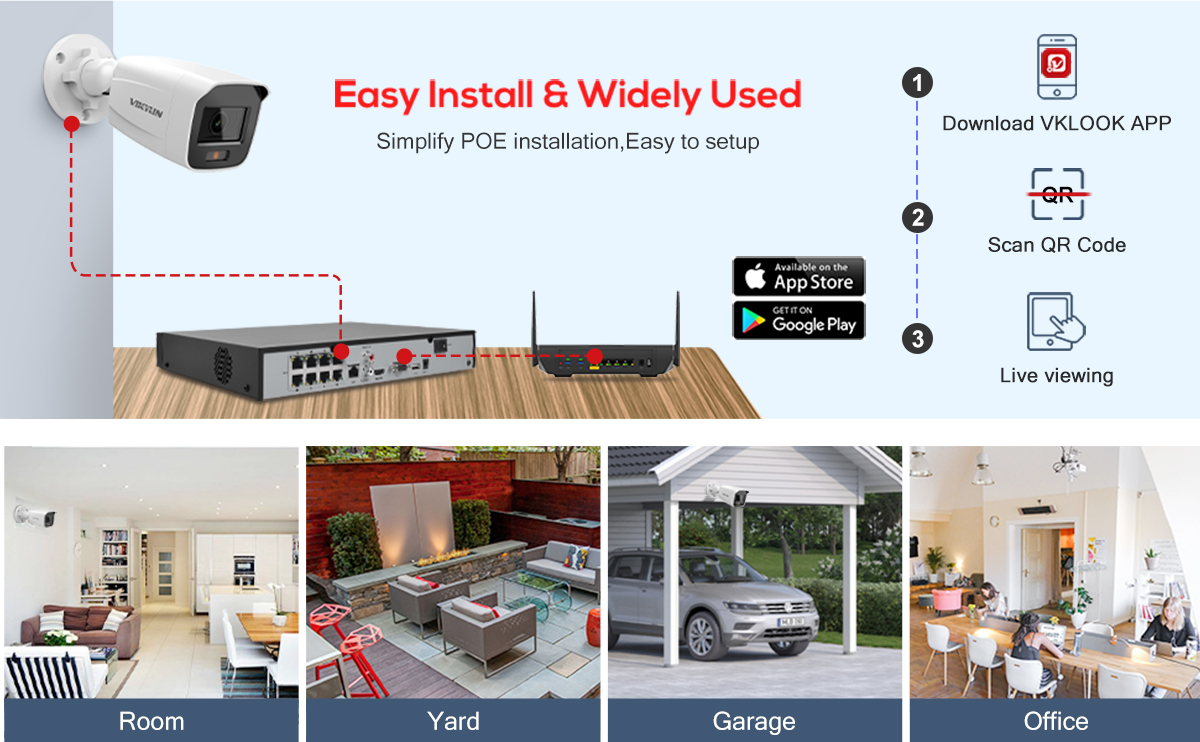 Easy To Install
Easy To Install Security Camera.A real play and plug security! It features POE (Power over Ethernet), with a single cable connecting each IP camera to the NVR for both power supply and video and single transmission. Easy wiring – the wiring process can't be simpler for DIY enthusiasts and beginners.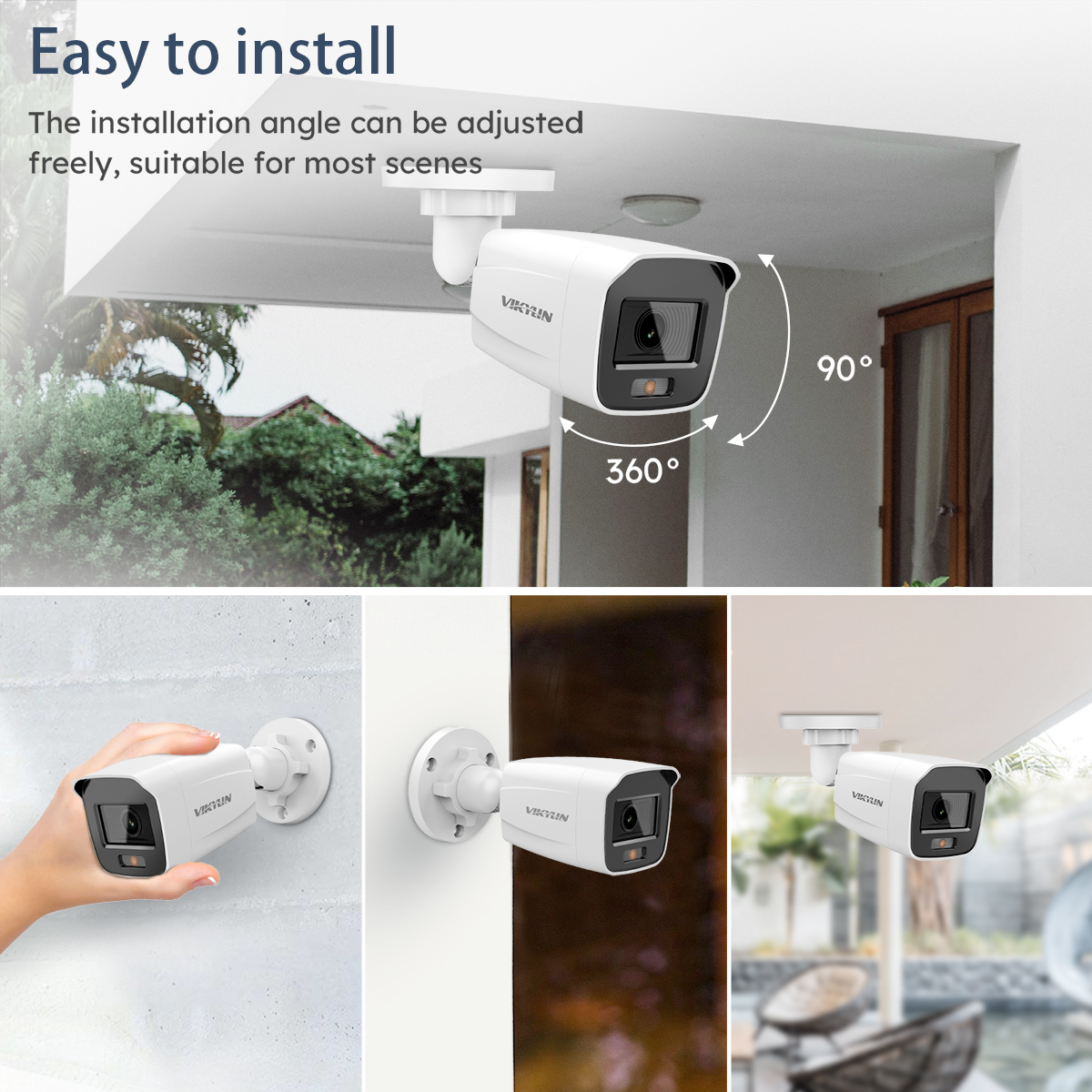 Kit Includes:
1* VK608Q  NVR 8CH PoE w/2TB Storage
4* VK047 4MP colorVu Bullet IP Cameras
5* 100ft utp cat5e Network Cable
1* 6.7ft Network Cable
1* US Plug Power Supply
1* HDMI Cable
1* USB Mouse
1* Bag of Mounting Screws
1* Drill Template
2* User Manual(English)