4MP Best Surveillance Camera Outdoor 197ft IR Bullet Network Cameras
▶  4 Megapixel high resolution (2688×1520) Fixed IP Camera , 2.7~13.5mm Motorized Varifocal Lens, Auto Focus , 5X Optical Zoom
▶  Support Smart IVS Detection, Tripwire, Intrusion, Motion Detection
▶  Up to 197ft Smart IR Night Vision , High performance anti-light infrared light,Day/Night(ICR)
▶  Support Smart H.265+, H.265&H.264 codecH.265&H.264 codec
▶  120dB Wide Dynamnic Range, 3D Digital Noise Reduction, Backlight Compensation, 3 video streams
▶  Rugged all aluminum alloy Case, Outdoor weather protection level of IP67 prevents failure in inclement weather
▶  Support mobile phone APP remote access,Supported Smart Phone, iPhone, iPad, Android,Window PC
▶  128GB Micro SD Card Slot
▶  Multiple network monitoring , Web viewer, CMS(DSS/PSS) & DMSS
Availability: 99 in stock
All these resources and support services are subject to updates, so check back regularly for the latest releases and information.
---
User Instruction
Detailed steps to ensure users install and configure the camera correctly.
Quick Start Guide
Provides simple steps to help users quickly install and configure the security camera.


4MP WDR IR Bullet Network Camera
VIKYLIN's indoor/outdoor 4MP H.265 WDR PoE IR Bullet Network Camera, model TV-IP314PI, offers day and night surveillance with a night vision range of up to 197 feet. Featuring an IP67 weather-rated housing, this network camera provides year-round surveillance and can withstand outdoor environments. Supports Smart IVS detection, tripwire, intrusion, and motion detection. Support Smart H.265+, H.265&H.264 codecH.265&H.264 codec. 120dB wide dynamic range, 3D digital noise reduction, backlight compensation, 3-way video streaming. Support mobile APP remote access, support smart phone, iPhone, iPad, Android, Window PC.

Super HD 4-Megapixel High Resolution
High-Definition interface output,Support for online playback,Mobile remote,Multi-window display with 4MP Resolution.The angle will be more larger,and the image will be more clearer.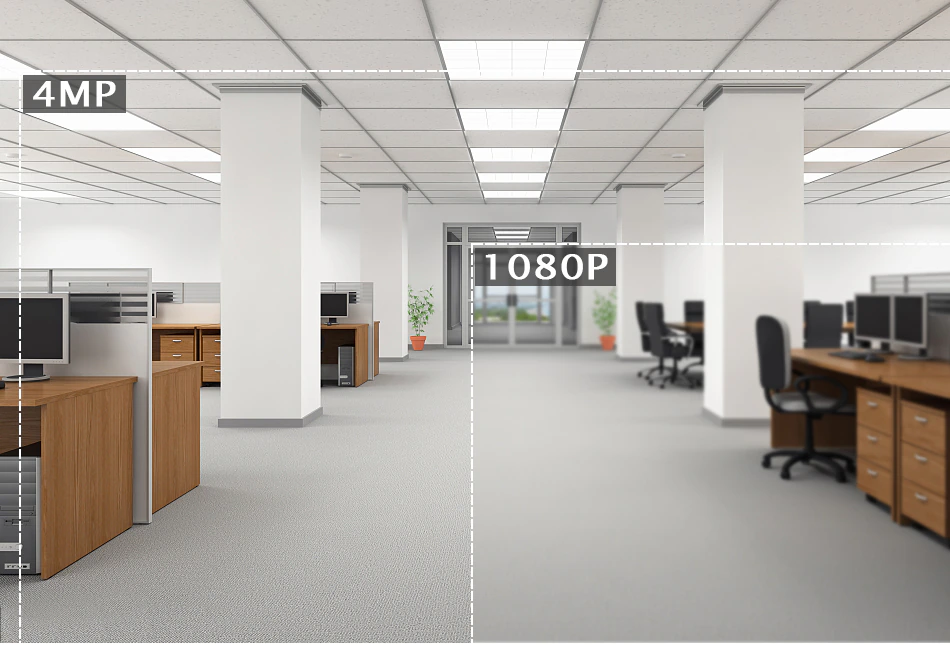 Intelligent Video Analysis & Alert Push
The camera is equipped with a built-in intelligent analytic algorithm based on video, which can realize intelligent functions like Tripwire,Intrusion,Abandoned/Missing,Scene Changing,Loitering Detection,Crowd Gathering Estimation,Fast-Moving,Parking Detection, to quickly and accurately respond to monitoring events in specific area, receive motion alert notifications and review footage via your smartphone with the free Phone APP

Real 120dB Wide Dynamic Range (WDR)
Embeded with real wide dynamic range (WDR) technology, vivid picutures are achieved even in the most intense contrast lighting conditions. For applications with both bright and low lighting conditions that change quickly, True WDR (120dB) optimizes both the bright and dark areas of a scene at the same time to provide usable video

Smart IR Technology
With Performance IR illumination, detailed images can be captured in low light or total darkness. The camera's Smart IR technology adjusts the intensity of camera's infrared LEDs to compensate the distance of an object. Smart IR technology prevents IR LEDs from whitening out images as they come closer to the camera. The camera's integrated infrared illumination provides high performance in extreme low-light environments up to 197 feet

Smart Codec H.26.5
Smart Codec H.26.5 is the optimized implementation of standard video compression that uses a scene-adaptive encoding strategy, dynamic GOP, dynamic ROI, flexible multi-frame reference structure and intelligent noise reduction to deliver high-quality video without straining the network. Smart Codec technology H.26.5 reduces bit rate and storage requirements by up to 70% when compared to the standard video compression H.264.

IP67 Waterproof & Vandal-Proof
This 4mp VF bullet ip camera features a heavy-duty metal Weatherproof IP67 housing and Vandal-Proof Protection cover protects against most weather effects, such as Rain, exposure, frost, dust, and even vandalism.

Remote Access in Multiple Devices
Easy remote viewing on iPhone, iPad, Android devices and PC. You can access the camera through the APP. Get live streaming and other control through multiply ways, protect your home and business.

Easy Setup and Installation
Outdoor PoE camera is easy to install and setup. The surveillance camera transmits both data and power via a single network cable to avoid complicated wires. PoE switch/12V DC adapter/Hikvision NVR (Not included) is required to power on the camera.