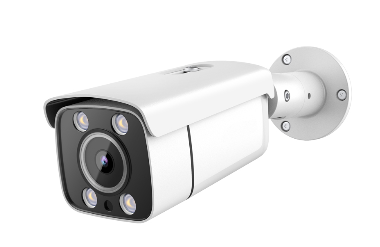 5mp IP Security Camera
Mines can often be controversial in their local areas, with local residents torn between supporting mines due to their positive impact on the economy and opposing mining due to occupational hazards and environmental impact. However, whether you support the industry or not, aggregation plays an important role in our economy.
In fact, in 2017 the aggregate industry mined and sold 2.12 billion metric tons of crushed rock, sand, and gravel which was valued at $20.9 billion. The majority of aggregate is used by the construction industry as it is the main ingredient in concrete and asphalt.
With all of those assets and personnel tied up in your aggregate company, it's important to have your property under 24/7 surveillance for an array of reasons like employee safety, reduced crime risk, and improved quality control.
Benefits of IP Security Cameras for the Aggregate Industry
Due to their size and complexity, aggregate facilities present several challenges for maintaining a safe work environment, in addition to reducing theft, vandalism, and other potential liabilities. If you manage a facility, odds are you're already facing these types of obstacles. Some of the most important, and most difficult, jobs as a supervisor for an aggregate facility is maintaining employee safety, avoiding liability, and protecting your assets. These jobs can be achieved through management review and various security measures — most importantly, security cameras.
With a robust security system, you can have eyes on all angles of your facility around the clock. Surveillance cameras have truly come a long way in the last few years, giving you crystal clear quality video (up to 4K) of any location on your company property — which is important for a number of reasons.
Ensure safety protocols are being followed – If your facility is concerned with high turnover rates and doesn't have the staff to support it, this could create an environment with a reduced emphasis on safety. Increased overtime, 24/7 operations, and/or inexperienced workers create a higher risk of serious injuries or even fatalities — which are more common in industrial companies.
Employees are more likely to follow company safety practices when they know that they are being monitored. While you could hire staff in order to monitor employees, security cameras are a more efficient option. On top of that, you'll have access to video footage in the event of any workplace accidents. Video proof is the best way to reduce your exposure to workers' compensation claims and other workplace lawsuits.
Industry Example – One of our mobile security cameras captured a bulldozer picking up a large boulder. The driver was struggling to get the boulder into the blade (or scoop), but he wasn't going to give up. Once he finally got the boulder into the scoop, he raised the scoop and started to move. He quickly discovered that the load was too heavy when the scoop fell to the ground, causing the rear of the bulldozer to raise an equivalent distance in order to drop the blade carrying the boulder. Consequently, the boulder slipped out of the scoop, causing the bulldozer to plummet to the ground from over eight feet in the air. This shattered the glass in the driver's cabin, broke the axle, and sent a giant tire wobbling from a massive dust cloud — right towards one of our mobile security cameras that was installed high up on a pole.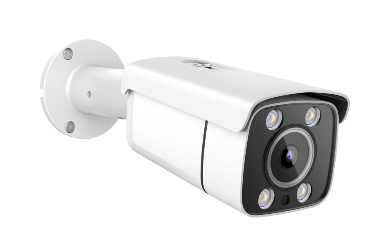 5mp IP Security Camera
Improved quality control – Using security cameras to monitor day-to-day operations at your facility is a great way to discover potential issues with current processes and procedures.
Not only can you make sure all of your employees are making good use of their company time, but you can also identify personnel who may need additional training. Properly installed and maintained security cameras never take a day off. When supervisors can't be present, this 24/7 monitoring creates the opportunity to capture real footage that can be reviewed with employees or to provide aid in training classes to facilitate overall improvement. On top of that, video observation allows operations managers to spot any unsafe practices and proactively make necessary changes before any injury or liability takes place.
Equipment failures – It's important to know that mechanical breakdowns aren't always covered by commercial property insurance. Equipment failures are common in the aggregate industry, but it isn't always easy to determine who is at fault. If your employee wasn't following established company safety protocols during an equipment malfunction, they could be liable for the considerable cost it may take to repair the equipment.
Avoiding Theft – Theft is more common in the aggregate industry than you may think. While securing your assets from outside thieves is a concern, it's important to know that statistically, employees cause 90% of all significant losses due to theft. This is why you need proof of operations and quantities in all facets of your business — and security cameras are the only way.
Theft from an aggregate site could include stolen equipment, tools, or materials. Thieves can be intelligent, sometimes employees will even steal project materials that have already been built into a project, which causes damage to other items and costs additional work to repair the damages.
If your aggregate company uses suppliers or subcontractors, it is not uncommon for suppliers to invoice materials that weren't delivered or to overcharge for materials. It is also common for subcontractors to invoice work they haven't done or charge more than the agreed price for their services. If you've got security footage and the original contract, you won't end up overpaying for goods or services that you didn't receive.
Another common theft or misconception is when employees use company assets for their own personal gain. Whether this means they used company equipment to work on their own property or provide work for someone else and reimbursed directly through the client, using company assets is theft and should be accounted for with the proper use of security cameras.
We are an IP Security Camera supplier. If you are interested in our products, please contact us now!